Shahpura is a city and a municipality in Bhilwara district in the Indian state of Rajasthan.

Shahpura is known as the jagir (estate) of Surajmal, second son of Maharana Amir Singh I; their title is Raja Dhiraj. Surajmal had two sons, Sujan Singh and Veeramdeo. During Shah Jahans period, Sujan joined the service of the Emperor, who gave him the district of Phoolia and a mansab (military posting) of 800 Jat (foot soldiers) and 300 Sawar (horse or horsemen). In 1643, Sujan Singhs mansab was raised to 1,000 Jat and 500 Sawar, and in 1645, to 1,500 Jat and 700 Sawar. Later, he went to Kandahar with Mughal Prince Aurangzeb and, in 1651, his mansab was again raised, to 2,000 Jat and 800 Sawar.When Shah Jahan sent his army, under the command of Saddulla Khan, to Chittor to demolish a wall that had been restored in contravention of the 1615 treaty (see AMAR SHINGH I, MAHARANA), Sujan Singh was with him. To revenge Sujans ungrateful act, Maharana Raj Singh I attacked Shahpura (1658) and exacted a penalty of Rs. 22,000/-. Maharana Raj Singh also burnt the area governed by Sujans younger brother, Veeramdeo. Later, Shah Jahan sent Sujan to Dharmat to assist Maharana Jaswant Singh in his fight against the rebellious Prince Aurangzeb. There, Sujan died with his 5 sons. Veeramdeo, Sujans brother, also left the Maharana and joined Shah Jahan, where he received the mansab of 800 Jat and 400 Sawar. He fought bravely in the Kandahar expeditions and his mansab was raised to 3,000 Jat and 1,000 Sawar. At the battle of Samugadh, Veeramdeo was in the first flank of Mughal Prince Daras force against Prince Aurangzeb. After Dara was defeated, Veeramdeo went over to Aurangzeb. Later, he was sent to Assam with Ram Singh of Jaipur. After this, he returned to Mathura with Safshikan Khan, where he died around 1688.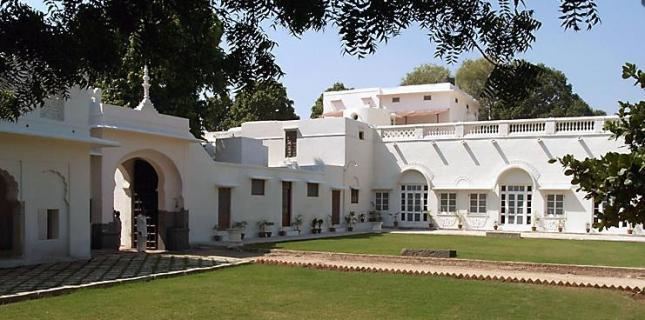 Fateh Singh, elder son of Sujan Singh was also killed at Dharmat, and Fatehs son, a minor, succeeded him. Six years later, Sujans fourth son, Daulat Singh, usurped Shahpura and became its ruler. (Fatehs descendants are now at Gangwas and Barliawas.) When Aurangzeb attacked Maharana Raj Singh, Daulat was in the Mughal army. Daulats son, Bharat Singh, fought for Maharana Sangram Singh II in the battle against Mewati Ranbaj Khan. Bharat was imprisoned by his son, Umaid Singh, and died in prison. Umaid Singh wanted to make his younger son, Zalim Singh, his successor; to do this; he poisoned his elder son, Udyot Singh. He even wanted to kill his grandson (i.e., Udyots son) and sent a soldier to commit the heinous act. The soldier struck but missed, only wounding him. At that moment, Ran Singhs son, Bhim Singh, aged only 14, killed the soldier, and Umaids dream to make Zalim his successor was foiled. Many of Mewars nobles were against Maharana Ari Singh II (1761-1773). Ari Singh wooed Umaid Singh to his side and gave him the Paragna Kachola (District of Kachola). Umaid died at Ujjain (see UJJAIN, BATTLE OF), fighting for the Maharana against Madhav Rao SINDHIA. In 1869, Nahar Singh, who had been adopted, became the ruler of Shahpura (he had been the son of Balwant Singh of Dhanop). In 1903, the British awarded him the K.C.I.E., and entitled him to a 9-gun salute. He became a member of the MEHDRAJ SABHA. Later, he refused to go into the service of Maharana FATEH SINGH, claiming to be an independent ruler. However, the British ruled that he would have to comply, every second year, and pay Rs. 1 Lakh to the Maharana as a penalty for not attending his Court.
(,)http://img1.holidayiq.com/photos/13/1348244902-8471-jpg-images-attractions-619x240-1405693846-cropped.jpg(,)http://img.lifeisoutside.com/getaways/671/actual-images/shahpura-bagh-bhilwara-Resort1.jpg(,)http://images4.mygola.com/sam-0045_4922723_m.jpg(,)http://upload.wikimedia.org/wikipedia/en/8/8f/KripaRamJi.jpg(,)http://upload.wikimedia.org/wikipedia/commons/f/f8/Shahpura.JPG(,)http://mw2.google.com/mw-panoramio/photos/medium/71161122.jpg(,)http://www.shahpurabagh.com/sites/default/files/shahpura-bagh-h6.jpg(,)http://i.ytimg.com/vi/lZYW9y2okvs/hqdefault.jpg
(,)http://img.lifeisoutside.com/getaways/671/actual-images/shahpura-bagh-bhilwara-Resort.jpg(,)http://www.nivalink.com/watermark.ashx%3FImageUrl%3Dhotelimages/uploads/8220131513593828331.jpg(,)http://www.nivalink.com/watermark.ashx%3FImageUrl%3Dhotelimages/uploads/10520131305285416066.jpg(,)http://www.indiabycarchauffeur.com/images/offbeat/shahpura-bagh-1b.jpg(,)http://mw2.google.com/mw-panoramio/photos/medium/71161233.jpg(,)http://mw2.google.com/mw-panoramio/photos/medium/71160728.jpg(,)http://mw2.google.com/mw-panoramio/photos/medium/71223025.jpg
(,)http://mytravelpie.com/wp-content/uploads/2013/12/The-Verdant-Shahpura-Bagh.jpg(,)http://images6.mygola.com/sam-0046_4921697_m.jpg(,)http://media-cdn.tripadvisor.com/media/photo-s/03/7f/73/33/shahpura-haveli.jpg(,)http://media-cdn.tripadvisor.com/media/photo-s/03/a4/f9/ff/shahpura-bagh.jpg(,)http://www.thetopcamp.com/camps-retreats/images/shahpura-bagh-bhilwara.jpg(,)http://mw2.google.com/mw-panoramio/photos/medium/71161205.jpg(,)http://i.ytimg.com/vi/Ztg5lu7QPwA/0.jpg