India




Kannada ?????




Karnataka




Yadagiri



Shahapur is a city and taluka headquater located in the Indian state of Karnataka. Shahapur is 597 km north of Bangalore and well connected by road to Gulbarga 70 km, Hyderabad 210 km, Bidar160km and Yadgir 32 km.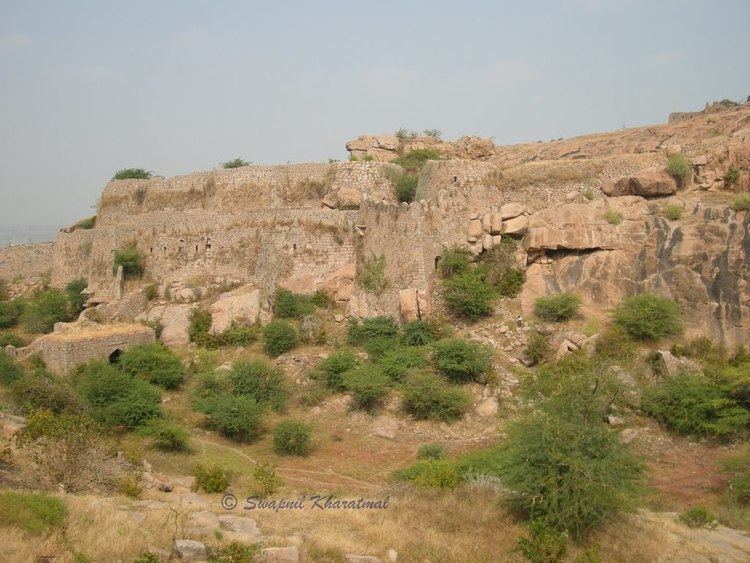 Shahapur is located at 16.7°N 76.83°E? / 16.7; 76.83. It has an average elevation of 428 metres (1404 feet). when you search the karnataka physical map you will see in yadgir district map the hills mentioned by the name SHAHAPUR HILLS these hills spread along shahapur to surpur taluks.
As per the mythology the old name of Shahapur was "Sagar"(???). In support of this name there is historical evidence such as the sobriquet of the Vijayanagara (??????? ?????????)Kingdoms last ruler Ramaraya (son in law of Srikrishna Devaraya), who was also called as "Sagara Sankramanaraya"(??? ??????????). After the Muslim attack the name of the city was changed to Nusratabad.(?????????? ) As per historians after attack "Sagar "village is shifted to the other side of the hill line and the original Sagar has been abandoned for some time and it was called as "Halu Sagar". As time passes and now it is called as "Hali sagar" (??????)means Old Sagar. The area between Krishna and Bhima river is called "Sagara Nadu".(???????) It consists of Shahapur, Surpur (Shorapur) and Jewargi talukas.
Sleeping Buddha Hill, made up of four hills looks like sleeping buddha This is natures gift and popular attraction of Shahapur.Shahapur is also famous for Temples and Fort.
Temples:-1) Chara Basaveshwara temple 2) Siddalingeswara Temple 3) Diggi Sangameshwara temple (origin place of Siddeshwara temple of solapur maharastra)4) Bheemarayan gudi (temple)(5 km) 5)Shri Ananthnath Bhagawan Jain Temple 6) Worlds Finest Urenium Ore Base at Gogi (10 km) 7)shahapur fort(built in950-1150ad) 8)melgiri parvata(cave of lord mallikarjuna linga. 9)mouneshvara betta. 10)pandavra bande(pandavas lived few days here) 11)and more places in city..
Shahapur is famous for Chara Basaveshwara Temple, which is surrounded by hills in all directions. Its annual function called "Jatre" is celebrated every year in April. Thousands of people gather for this special event. They believe that Charabasava will provide health, wealth and prosperity to whole family. The main attraction of this occasion is "bullock festival", thousands of bullocks from different parts of surrounding districts gather here for trade, which used to take place for nearly 10 days. By the side of Charabasava Temple A Large Fort is there. which had seven gates to enter. Within the fort 7 cannons are still present in good condition. As per the historians the construction period of this fort was between 950 AD to 1100 AD. Till the attack of Aurangazebs General Afzal Khan we dont know the pre history of this fort. Mandakini Lake is situated within the fort and the "Lotus Lake" or the "Tavare keri" Beside the Fort surrounded by hills.
According to mythology "Sagar (??? ????????? ) Chakravarti" was grand father of "Bhagiratha" (?????)who brought river goddess Ganga to earth for cleans his ancestors sins. Mandakini was the result of Sagar kings tapasya.
The Bhoruka power company in the private sector to successfully commission a hydro power station in shahapur. The houses of village "Bendegumbali" are considered to be the most well-constructed houses without the usage of modern tools (it has been officially stated by GOVT OF INDIA). Sannati is the Only place in the whole of India where complete unbroken inscription of emperor Ashoka was found.
Shahpur, Karnataka Wikipedia
(,)http://static.panoramio.com/photos/large/46294463.jpg(,)http://static.panoramio.com/photos/large/46294638.jpg(,)http://mw2.google.com/mw-panoramio/photos/medium/46294412.jpg(,)http://mw2.google.com/mw-panoramio/photos/medium/46294798.jpg(,)http://mw2.google.com/mw-panoramio/photos/medium/55294303.jpg(,)http://mw2.google.com/mw-panoramio/photos/medium/46294901.jpg(,)https://mw2.google.com/mw-panoramio/photos/medium/46293043.jpg(,)https://mw2.google.com/mw-panoramio/photos/medium/46294696.jpg(,)http://mw2.google.com/mw-panoramio/photos/medium/46296086.jpg(,)https://mw2.google.com/mw-panoramio/photos/medium/46293831.jpg(,)http://mw2.google.com/mw-panoramio/photos/medium/46296139.jpg(,)https://mw2.google.com/mw-panoramio/photos/medium/46293980.jpg(,)https://mw2.google.com/mw-panoramio/photos/medium/46293005.jpg(,)https://mw2.google.com/mw-panoramio/photos/medium/46296048.jpg
(,)http://shahpur.adseva.in/logo.png(,)https://c1.staticflickr.com/5/4062/4699904642_a57b06cf35_b.jpg(,)http://blog.knowledge-must.com/uploads/Indian_Food-2.jpg(,)http://www.nivalink.com/watermark.ashx%3FImageUrl%3Dhotelimages/uploads/52420141502461190012.jpg(,)https://c1.staticflickr.com/5/4035/4699883858_1916e45b67_b.jpg(,)http://upload.wikimedia.org/wikipedia/commons/8/82/Karnataka-districts-numbered_with_legend.png(,)http://1.bp.blogspot.com/-bA5rbPysjUg/Uy3IgQRMGYI/AAAAAAAAWoE/e0t9oKX0L_M/s1600/49%2BShahpur%2Bhill%2Bfort.jpg(,)http://1.bp.blogspot.com/-an0MMFHyXlg/Uy3HCvhwcbI/AAAAAAAAWm0/O6JE_QoVNus/s1600/39%2BShahpur%2Bhill%2Bfort.jpg(,)http://3.bp.blogspot.com/-7AMbPloNM0Q/Uy3H65q35_I/AAAAAAAAWnM/5QtTuH0zelc/s1600/41%2BShahpur%2Bhill%2Bfort.jpg(,)http://1.bp.blogspot.com/-8UwwBL9La8k/UrquGsi8lRI/AAAAAAAAVbw/BiDQeDSk0Hs/s1600/03%2BSleeping%2BBuddha%2BHill%2BShahpur.jpg(,)http://mw2.google.com/mw-panoramio/photos/medium/46294463.jpg