Name

Shadia Drury




Role

Columnist




Education

Queen's University







Books

Alexandre Kojève, Terror and Civilization, Leo Strauss and the A, Aquinas and Modernity, political ideas of Leo Strau
Shadia drury right wing socialism
Shadia B. Drury (born 1950) is a Canadian academic and political commentator of Egyptian Arab Christian origin. She is Canada Research Chair in Social Justice at the University of Regina, in Regina, the provincial capital of Saskatchewan, Canada. In 2005, she was elected to fellowship in the Royal Society of Canada. She is a columnist for Free Inquiry magazine.
Contents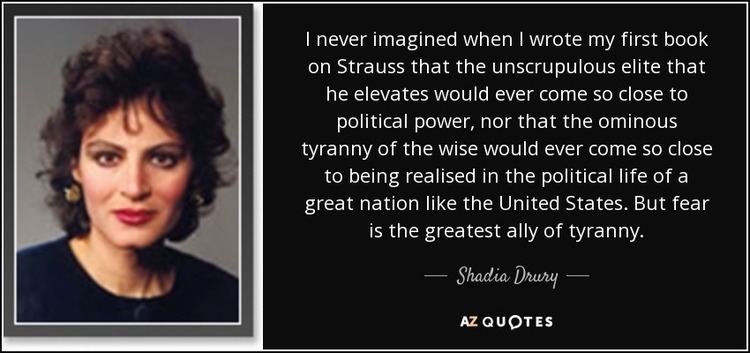 Education and academic interests
Drury was educated at Queen's University (BA Hons, MA), in Kingston, Ontario, and York University (Ph.D., Political Science, 1978) in Toronto, Ontario. Her doctoral thesis was entitled The Concept of Natural Law.
Drury has taught Political Science and Philosophy at two western Canadian universities: first at the University of Calgary and now at the University of Regina, where she holds the Canada Research Chair in Social Justice. Her objective in the position is to undertake an extensive publishing program, which includes books on St. Thomas Aquinas's theory of justice and its relation to the current Darwinian trends, a critique of the rise of populism in Canada, an analysis of the liberal and conservative approaches to tradition (Tradition and Taboo), and a book on the relationship between Western liberalism and the growth of radical feminism.
Criticism
Several leading political philosophers consider Drury's attacks on Strauss and his followers to be unfounded. In his 2009 book, Straussophobia: Defending Leo Strauss and Straussians against Shadia Drury and Other Accusers, Peter Minowitz argues that Drury's work is "plagued by exaggerations, misquotations, contradictions, factual errors, and defective documentation." Thomas Pangle, former professor of political philosophy at Yale, has described Drury's writings on Strauss as simplistic, incompetent, and unscholarly.
List of works
The Concept of Natural Law, Thesis (Ph.D.)--York University, 1978. Canadian Theses Division, National Library, Ottawa, Canadiana: 790230615
Law and Politics: Readings in Legal and Political Thought. Edited with introduction and essay by Shadia B. Drury ; associate editor, Rainer Knopff. Calgary: Detselig, 1980. ISBN 0-920490-12-3
The Political Ideas of Leo Strauss, Revised Edition. New York: St. Martin's Press,(originally published in 1988) 2005.
Alexandre Kojève: The Roots of Postmodern Politics. Palgrave Macmillan. 1994. ISBN 0-312-12092-3
Leo Strauss and the American Right. Palgrave Macmillan. 1999. ISBN 0-312-21783-8
Terror and Civilization: Christianity, Politics, and the Western Psyche. Palgrave Macmillan, 2004 ISBN 1-4039-6404-1
Aquinas and Modernity: The Lost Promise of Natural Law. Rowman & Littlefield Publishers, Inc. 2008. ISBN 0-7425-2258-X
References
Shadia Drury Wikipedia
(Text) CC BY-SA