Russia




108,590 (2010)




Seversk State Technological Academy




1949




Grigory Shamin



Seversk (Russian: ) is a closed city in Tomsk Oblast, Russia, located 15 kilometers (9.3 mi) northwest of Tomsk on the right bank of the Tom River. Population: 108,590?(2010 Census); 109,106?(2002 Census);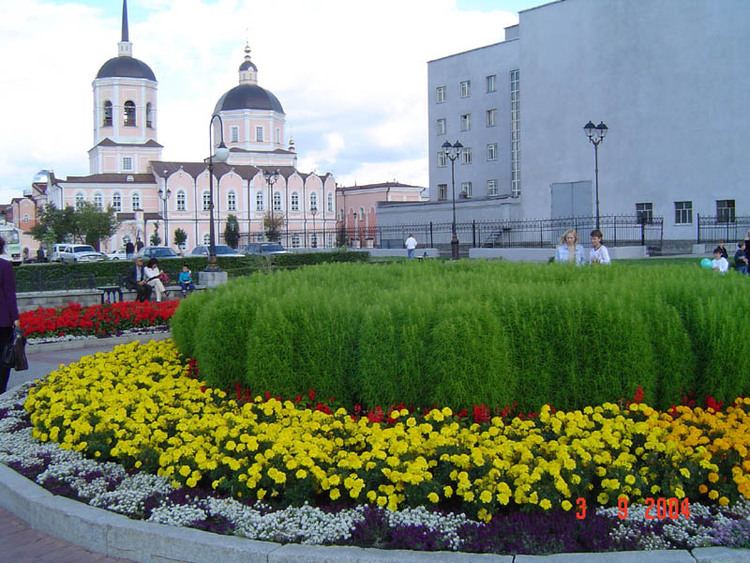 Founded in 1949, it was known as Pyaty Pochtovy (, lit. the Fifth Postal) until 1954 and as Tomsk-7 () until 1992. Town status was granted to it in 1956.
Seversk is the site of the Siberian Group of Chemical Enterprises, founded in 1954. It comprises several nuclear reactors and chemical plants for separation, enrichment, and reprocessing of uranium and plutonium. Following an agreement in March 2003 between Russia and the United States to shut down Russias three remaining plutonium-producing reactors, two of the three plutonium producing reactors (the two that are sited at Seversk) have now been shut down.
Nine municipal cultural and artistic institutions successfully work in Seversk, as well as four establishments of additional education for children of artistic and aesthetic focus and two organizations of other forms — a nonprofit organization "House of Culture in the name of N. Ostrovskiy" and a cinema called "Mir".
Seversk Wikipedia
(,)http://www.nauka70.ru/img/seversk.jpg(,)http://siberiantimes.com/PICTURES/OTHERS/Seversk-chemical-factory-eplosion/inside_seversk_chemical_plant.jpg(,)http://cs315929.userapi.com/v315929946/38c9/y_rWTTJAxtk.jpg(,)http://brainlagoon.com/wp-content/uploads/2013/01/Entry-checkpoint-at-the-closed-city-of-Seversk-Russia-2006..jpg(,)http://cdn2-www.webecoist.momtastic.com/assets/uploads/2011/03/nuclear_accidents_5b.jpg
(,)http://www.globalsecurity.org/wmd/world/russia/images/seversk-Image54.jpg(,)http://www.globalsecurity.org/wmd/world/russia/images/seversk-Image56.jpg(,)http://www.globalsecurity.org/wmd/world/russia/images/seversk-Image55.jpg(,)http://media-cdn.tripadvisor.com/media/photo-s/06/d0/6b/f5/caption.jpg(,)http://media-cdn.tripadvisor.com/media/photo-s/06/27/8f/99/caption.jpg(,)http://media-cdn.tripadvisor.com/media/photo-s/06/d0/6b/f2/caption.jpg(,)http://media-cdn.tripadvisor.com/media/photo-s/06/27/8f/af/caption.jpg(,)https://pbs.twimg.com/media/B9ZR-PhIUAA9lTM.jpg(,)http://media-cdn.tripadvisor.com/media/photo-s/03/f9/e5/12/taiga-hotel.jpg(,)https://pbs.twimg.com/media/B9ZR9_jIAAAHb_t.jpg(,)https://pbs.twimg.com/media/CC60ZcOWIAAwLmb.jpg
(,)http://cache2.asset-cache.net/gc/548205937-russia-tomsk-seversk-cinema-gettyimages.jpg%3Fv%3D1%26c%3DIWSAsset%26k%3D2%26d%3DX7WJLa88Cweo9HktRLaNXurhYaELFJsyDIgHFK7ON8F4yUwtzLuqUX9x6O1CCOtLqVE4A0Evg1mZYC3ctY4weg%253D%253D(,)http://severskinfo.url.ph/wp-content/uploads/2013/12/seversk.jpg(,)http://cache3.asset-cache.net/gc/548846731-russia-tomsk-seversk-office-of-the-chemical-gettyimages.jpg%3Fv%3D1%26c%3DIWSAsset%26k%3D2%26d%3DX7WJLa88Cweo9HktRLaNXrnrP1886K4e7dWIWVkMKqk9Mwq21jCoE2gi7opwiTAaT1Q3aJEKVX2wAF8LH0MLXg%253D%253D(,)http://upload.wikimedia.org/wikipedia/commons/thumb/e/e9/Outline_Map_of_Tomsk_Oblast.svg/488px-Outline_Map_of_Tomsk_Oblast.svg.png