Japan




132,224 (2010)


111.61 km2


ChubuTokai




Kinya Masuoka




Nagoya Gakuin University, Nagoya Seirei Junior College



Seto (, Seto-shi) is a city located in Aichi Prefecture, Japan.
As of 2012, the city has an estimated population of 131,714 and a population density of 1,180 persons per km². The total area is 111.61 km². It is located about 35 minutes from Nagoya by way of the Meitetsu Seto Line.
Seto is located in the hilly northern region of Aichi Prefecture, bordering Gifu Prefecture. In English, the name of Seto translate to "the place where the river runs quickly." However, while there is a river in Seto, it is not significantly large, nor quick-moving. Seto City is famous for its pottery and ceramics, so much so that the generic word for ceramics in Japanese is setomono (, setomono). The main street along the river is lined with dozens of pottery shops. Every 3rd Saturday and Sunday in September, there is a very large pottery festival called Setomono Matsuri [1](?????) This festival attracts about 20,000 visitors from around Japan and abroad every year.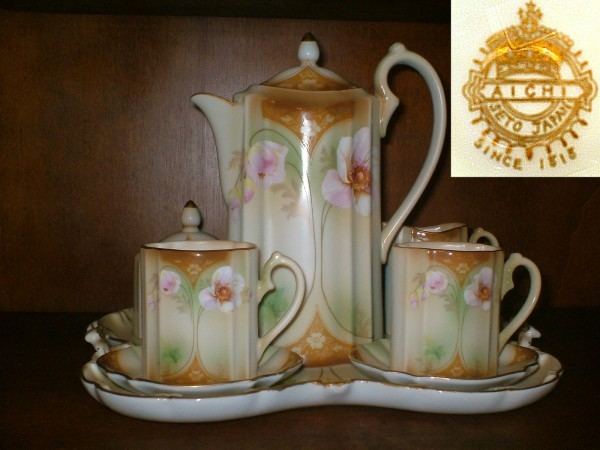 During the Edo period, the area of modern Seto was controlled by the Owari Tokugawa of Nagoya. The area had been famous for its ceramics production since at least the Kamakura period. During the Meiji period, Seto village was organized in 1888, becoming a town in 1892. After annexing the neighboring village of Akatsu in 1925, Seto was raised to city status on October 1, 1929. Much of the city was destroyed in 1945 during World War II.
In the postwar period, the city grew as a bedroom community for Nagoya and as a tourist designation. On March 25, 2005, Expo 2005 opened with its main site being in Nagakute and additional activity in Seto. The expo continued until September 25, 2005.
Aichi Prefectural Ceramic Museum
Jokoji
Seto, Aichi Wikipedia
(,)http://gotheborg.com/marks/bild/1057_fullsize.jpg(,)http://www.aichi-kanko.jp.e.io.hp.transer.com/search/photo/4347_5339.jpg(,)http://image.rakuten.co.jp/roanroan/cabinet/03166937/img61634729.jpg(,)http://image.rakuten.co.jp/roanroan/cabinet/03166937/img63939085.jpg(,)http://gotheborg.com/marks/bild/933_fullsize.jpg(,)http://photos.wikimapia.org/p/00/00/38/88/92_big.jpg(,)http://www.444thbg.org/MIYAJI.%2520SETO%2520CITY%2520AICHI%2520PREFECTURE2.jpg(,)http://www.444thbg.org/MIYAJI.%2520SETO%2520CITY%2520AICHI%2520PREFECTURE4.jpg(,)http://upload.wikimedia.org/wikipedia/commons/8/86/ORIBE_DISH.JPG
(,)http://0iee8w.bay.livefilestore.com/y1pQilXLB6v8mupVsoLBRwtdt4aXMxq8GCSZtnGDeV8qAsy6MYm1Caqv9Qghb2QBsSvakS4JfJnJnR2vk0QgJjdQA%3FPARTNER%3DWRITER(,)http://cache2.asset-cache.net/gc/97831339-iwayado-seto-aichi-japan-gettyimages.jpg%3Fv%3D1%26c%3DIWSAsset%26k%3D2%26d%3DmQdatAYiOva78bzmWJsdgFwNTKC7OXJEdM6v7LLS8N6eFBlIM1sMiXWjoZY4kuOn(,)http://cache1.asset-cache.net/gc/97831275-kamagaki-no-komichi-alley-seto-aichi-japan-gettyimages.jpg%3Fv%3D1%26c%3DIWSAsset%26k%3D2%26d%3Dq3ynZr8elKP9z1jd01KVh8t0bMmg2k51jFhKMI22z6VWcfXDSho67nHAxwMz3i3g(,)http://mw2.google.com/mw-panoramio/photos/medium/2579342.jpg(,)http://mw2.google.com/mw-panoramio/photos/medium/1430508.jpg(,)http://cache1.asset-cache.net/gc/159296453-japanese-pampas-grass-gettyimages.jpg%3Fv%3D1%26c%3DIWSAsset%26k%3D2%26d%3DLmagBf0RiGTMtJ7gcUFkibGtdCLfRpIX%252F%252FlR4aGYLlo%253D(,)http://mw2.google.com/mw-panoramio/photos/medium/21140148.jpg(,)http://farm1.static.flickr.com/102/271095254_aef704f9ac_m.jpg
(,)http://image1-2.tabelog.k-img.com/restaurant/images/Rvw/2584/2584995.jpg(,)http://image1-2.tabelog.k-img.com/restaurant/images/Rvw/2584/2584996.jpg(,)http://image1-2.tabelog.k-img.com/restaurant/images/Rvw/2585/2585004.jpg(,)http://image1-1.tabelog.k-img.com/restaurant/images/Rvw/7057/640x640_rect_7057045.jpg(,)http://media-cdn.tripadvisor.com/media/photo-s/05/3e/98/de/caption.jpg(,)http://image1-1.tabelog.k-img.com/restaurant/images/Rvw/7057/640x640_rect_7057046.jpg(,)https://img1.etsystatic.com/041/1/6867043/il_fullxfull.622939833_rhu4.jpg(,)http://gurutabi.gnavi.co.jp/upload_img/gourmet/z/4/ai/aichiwasefuki_aichi_p_1.jpg(,)http://gurutabi.gnavi.co.jp/upload_img/gourmet/z/4/na/nagoyakochin_aichi_p_1.jpg(,)http://media-cdn.tripadvisor.com/media/photo-o/02/bf/5a/89/caption.jpg