Born

15 December 1972 (age 43)Barcelona, Spain (

1972-12-15

)

Spouse

Esther Canadas (m. 2007–2008)

Parents

Manuel Gibernau, Cristina Gibernau

Similar People
Historical motogp17 race in brno sete gibernau
Manuel "Sete" Gibernau Bultó (born 15 December 1972) is a Spanish former Grand Prix motorcycle road racer. His racing career spanned two different eras of motorcycle racing, beginning with the two-stroke-dominated period prior to the 2002 season, and the four-stroke MotoGP era. Gibernau was one of the top riders in Grand Prix racing at the beginning of the MotoGP era.
Contents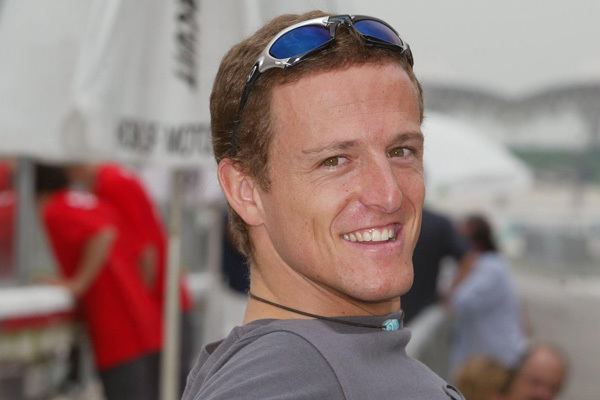 Motogp 17 race historic gp valencia 2003 sete gibernau gameplay
Biography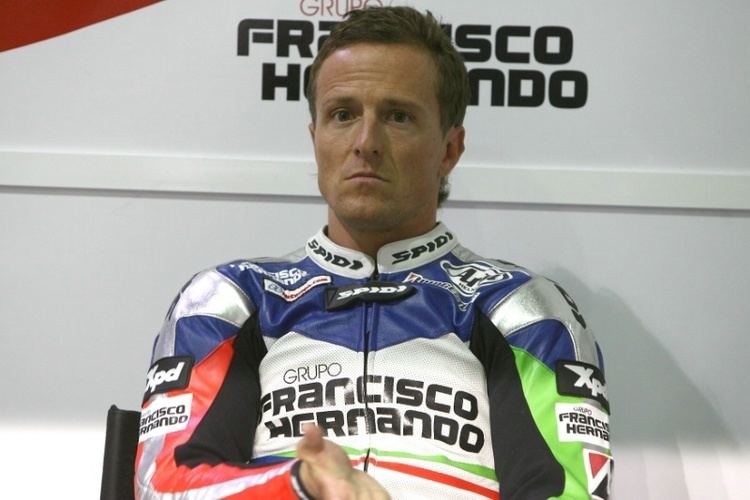 Gibernau is the grandson of Francisco Xavier "Paco" Bultó, the founder of the Spanish Bultaco motorcycle company. He began his competitive careers in observed trials competitions. After trying many different bike categories, in particular those built by his uncle, Gibernau finally turned to road racing in 1990. In 1992, he competed in the Spanish 125cc Gilera Cup championship and entered into his first Grand Prix race at the 1992 250cc Spanish Grand Prix.
250 cc career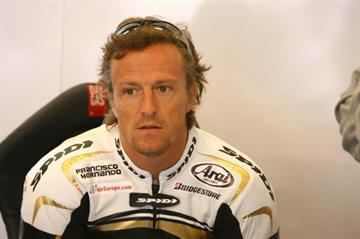 Gibernau moved up to the 250cc Spanish national championship in 1993, finishing the season in fifth place. He also competed in the 250cc FIM Grand Prix held at Jarama, this time riding for the Kenny Roberts Yamaha team. He remained in the 250cc Spanish national championship, finishing in fourth place in 1994 and, once again rode one Grand Prix race for the Roberts team at the 1994 250cc European Grand Prix at the Circuit de Catalunya. In 1995 he finished in third place in the 250cc Spanish national championship and once again competed in the 1995 250cc European Grand Prix, this time riding for the Pons Racing team run by Spanish former world champion Sito Pons.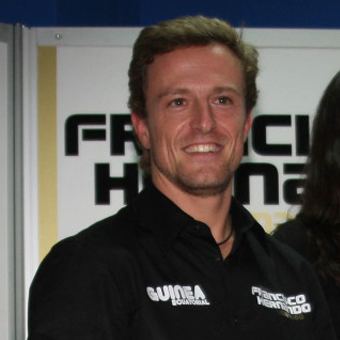 Gibernau started his full-time Grand Prix career in 1996 riding a Honda NSR250 for the Axo Honda team. He scored his first world championship points with an 11th-place finish at the Spanish Grand Prix. With three races left in the season, he was hired by former world champion Wayne Rainey's Yamaha team.
500 cc career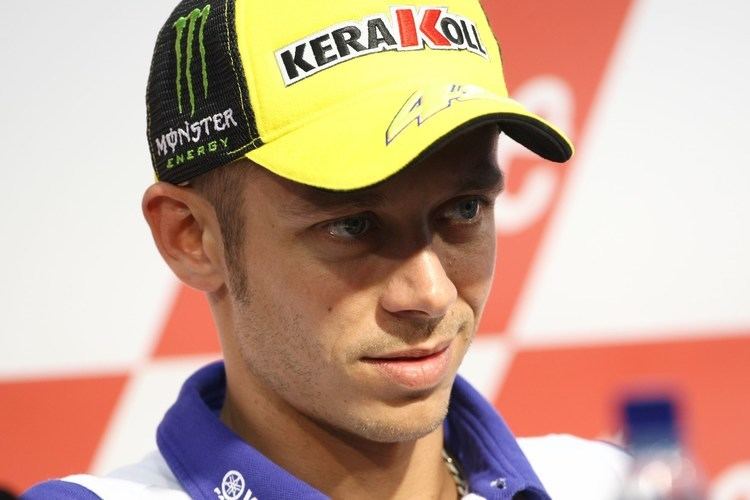 Gibernau remained with the Rainey team in 1997, moving up to the premier 500 cc class and finishing the season in a respectable thirteenth place. In 1998, Gibernau replaced an injured Takuma Aoki on the Honda NSR500V v-twin motorcycle. Despite his bike lacking the power of the four cylinder bikes used by the Honda factory team, he still managed to score his first podium result with a third place at the Madrid Grand Prix. He went on to score two fourth-place finishes and ended the season in eleventh place. Gibernau also teamed up with fellow Honda rider Alex Barros to finish second in the prestigious Suzuka 8 Hours endurance race held in Japan.
Gibernau would begin the 1999 season on the Honda NSR500V but, once again he was called upon to replace an injured rider when, reigning 500 cc world champion Mick Doohan was injured during practice for the third round of the year at the Jerez Circuit. Now competing with the top-tier Honda NSR500 four cylinder race bike, he took full advantage, scoring four podium results, including a second-place finish at the South African Grand Prix and, finished the year in fifth place in the 500 cc championship. After the successes of the 1999 season, the 2000 season was a disappointment as, Gibernau dropped to fifteenth place in the 500 cc world championship.
Gibernau joined the Suzuki team for 2001 season. The highpoint of his season came at the rain-interrupted Valencia Grand Prix when, on the right tires in drying conditions, he won his first-ever Grand Prix victory. On the whole, the Suzuki RGV500 wasn't as competitive as the Honda and Yamaha machines and Gibernau would finish the season in ninth place.
MotoGP career
The 2002 season would mark the beginning of the MotoGP era as, rule changes instituted by the F.I.M. saw the introduction of four-stroke machines of up to 990 cubic centimeters in engine capacity. Suzuki's new GSV-R would lag behind those of its competitors with only Akira Ryo taking a podium at the season opening race in Suzuka. Gibernau would suffer seven retirements in sixteen races and finished the season in 16th place. One bright spot was the rain-soaked Portuguese Grand Prix when, Gibernau took the lead from a third row start and built a comfortable gap over second place Valentino Rossi, before crashing out of the race three laps from the finish.
For 2003, Gibernau moved to the Gresini Honda team riding RC211V five cylinder motorcycles. Tragically, his Japanese teammate Daijiro Kato died in a racing accident in the season-opening Japanese Grand Prix. The tragedy seemed to inspire the notoriously temperamental and spiritual Gibernau. With Kato's #74 on the bike alongside his traditional #15, Gibernau managed not only to win the next round in South Africa but also challenge Valentino Rossi for the championship throughout the year. 2003 was Gibernau's most consistent season, winning four races along with five second-place finishes, earning a total of 277 points . Rossi has described 2003 in his career as "the year of Gibernau, it was hard until the end."
There was much anticipation surrounding the 2004 championship as Valentino Rossi had made surprising move to the Yamaha team and, Gibernau's preseason and early season speed would indicate he was in a good position to win the title. Gibernau finished on the podium in the first three races, winning two of them and, had gained the promising start to the season with Rossi at times struggling to come to terms with his new bike. However, a run of victories went Rossi's way after the French round and didn't abate until the Brazilian Grand Prix where, one of the two most surprising incidents of Gibernau and Rossi's rivalries occurred.
Gibernau and Rossi were level on points, and Gibernau had the edge on Rossi for most of the weekend. Despite Kenny Roberts, Jr. taking the pole position, Gibernau was showing formidable race speed. Despite a poor start, Gibernau was in the leading group of riders and had just passed Rossi when, his Honda's front end slid out from underneath him. Rossi, seeking to capitalise, pushed harder but he too then crashed out at the very same corner as Gibernau only a few laps later. Gibernau again crashed out in Germany, this time Rossi stayed aboard but, could only manage 4th, moving 13 points ahead of Gibernau in the championship. Rossi then put in a consistent run of podium finishes to take out the championship, despite Gibernau winning at Brno and Losail.
At the 2004 Qatar race, their previously good-natured rivalry spilled over, as Rossi accused Gibernau of pressuring officials to disqualify his qualifying result for allegedly later tampering with the track patch from which he started, to get better grip off an unusually dusty surface. However, it was Gibernau's team, not Gibernau himself, who had noticed the track alteration and asked race organisers to investigate. The security camera tapes showed Rossi's team tampering with the track, doing extended burnouts on his starting zone which embedded rubber across it and provided better grip. Race organisers moved Rossi to the back of the grid. The media reported that Rossi put a curse on his rival that weekend; Gibernau never won another Grand Prix race. The championship was decided two rounds later in the penultimate race at Phillip Island where Rossi won after exchanging the lead with Gibernau several times on the final lap. While Rossi celebrated, Gibernau was visibly disgruntled in Parc Fermé.
Tensions between Gibernau and Rossi came to a head at the first race of 2005 at the Spanish Grand Prix. Gibernau led most of the race with Rossi a close second. On the penultimate lap, Rossi attacked and passed Gibernau to take the lead and then opened a gap on Gibernau. However, Rossi made a mistake and was re-passed by Gibernau with one lap remaining. On the final corner, Rossi made an aggressive pass on Gibernau which broke Gibernau's front fender to take the lead and win the race. During the pass, Gibernau and Rossi came into contact and Gibernau was unable to complete the turn and ran wide into the gravel; he did not fall and was able to continue on and finish second. The pass was controversial amongst observers; some considered it overly aggressive or even dirty racing while others felt it was a brilliant racing move. The Spanish crowd booed and whistled at Rossi after the race. Gibernau was unimpressed with Rossi's move but neither he nor his Gresini team lodged a formal protest. Subsequently, Gibernau did not have a strong season, finishing the championship in 7th overall, while his Gresini teammate, Marco Melandri, finished second in the world championship behind Rossi.
In 2006, Gibernau replaced Carlos Checa on the Ducati factory racing team, showing impressive speed with the Ducati Desmosedici race bike in preseason testing. Gibernau retired from the opening race at Jerez after qualifying in second place, due to electronics issues on his Ducati. He took some time to come to terms with his unfamiliar Italian motorcycle. He did have a run of point scoring finishes in the early races of the season, at times proved to be faster than his experienced teammate Loris Capirossi. He managed to silence his doubters by taking pole position at the Italian Grand Prix, ahead of home-town favourites, Capirossi and Rossi. He finished fifth in the race, despite completing the race with a bleeding left foot, after his left boot protector fell off during the race.
The seventh round at the Catalan Grand Prix in Barcelona shaped the rest of Gibernau's season and the rest of his career, in an extraordinary crash described later by race commentators as "Terrifying" and "I have never been so scared in my life, commentating a race". In the crowded first corner, a fast right-hander, Gibernau's teammate Capirossi moved left around traffic across Gibernau's faster line (over 124 mph (198 km/h) at the point of the accident, according to the datalogger) and collected his front brake lever, locking Gibernau's front wheel and flipping his bike end over end. It only narrowly missed landing on the unconscious Gibernau. In the resulting group crash, six riders went into the gravel, five motorcycles were wrecked, three riders were taken to hospital, and race organisers stopped the race. Gibernau's ambulance itself then had an accident on the way to hospital, hitting a bus just 50 metres from the hospital entrance, although he did not suffer any further injury. It was later confirmed that he had concussion and had broken a bone in his hand and re-broken the collar bone broken at Assen, necessitating the removal and replacement of the metal plate. The injuries came at a bad time - Catalunya was the first of five races in six weeks. Gibernau missed the following two races at Assen and Donington Park. Despite feeling weak, he raced in the German and United States rounds and, was never far behind his fitter teammate on identical machinery: on the Sachsenring he finished only three places behind Capirossi, and at Laguna Seca he finished only two places behind. But within three days of returning to Barcelona, he was back in hospital: the titanium plate in his collar bone had weakened, causing complications. He missed the round at Brno in the Czech Republic.
His fitness improved and he managed a commendable 5th place at the Malaysian Grand Prix on Sunday 10 September, and had a podium snatched from him in a "last-gasp effort" by Rossi at the Australian Grand Prix. After another fourth place at the Japanese Grand Prix, Gibernau was fastest in the first ever 800 cc test at Motegi. In the second-last round of the season in Portugal, he was riding in fifth place when Casey Stoner crashed in front of him too close to avoid and brought Gibernau down with him. Gibernau suffered a broken fifth metacarpal in his hand and had apparently re-bent one of the titanium plates in his collar bone.
The Ducati Marlboro team replaced Gibernau with Casey Stoner for 2007. He turned down offers from Kawasaki, Sito Pons and the Ilmor team and decided to retire from motorcycle racing, saying at a press conference on 8 November 2006,"If I had accepted the offers to continue just for the sake of carrying on then it wouldn't have made me happy, especially if it was just for money."
Comeback
Gibernau returned to action on 17 June 2008, testing the Desmosedici GP9 at the Mugello Circuit, in a three-day test session alongside official test rider Vittoriano Guareschi. There was speculation that he could replace the uncompetitive Marco Melandri aboard the second Factory Ducati for the later races in the 2008 season. Despite positive results, Ducati MotoGP Project Director Livio Suppo was unwilling to confirm any definite future for Gibernau with the team. Sete again tested the Desmosedici GP8 and GP9 on a three-day test beginning on 1 July 2008 at the Mugello circuit. He recorded a best time of 1´50.5 on board the GP8 on race tyres, just a few tenths off this year's race record at Mugello set by Casey Stoner. He clocked a 1´48.9 on 30 July at Mugello on qualifying tyres which would have placed him 7th on the starting grid for the 2008 Italian Grand Prix.
After a few months of speculation, on 23 October at Valencia, it was officially confirmed that he would return to race in 2009 on Onde 2000 Ducati, a Ducati satellite team run by Angel Nieto. The squad is backed by Onde 2000, a Spanish building concern. With number 15 taken by Alex de Angelis, a new figure has been used for Gibernau's comeback campaign. Gibernau chose 59, in reference to the year in which his grandfather's Bultaco company produced their first bike.
He began testing for the new team at Valencia. Gibernau's quickest lap was a 1´34.451 riding the Onde 2000 Ducati GP9, that placed him a modest 14th on the 18-rider timesheets, almost 2sec from fastest man Casey Stoner (using the GP9 Ducati). At Jerez, in his first official test since return to MotoGP, he ranked 9th among 14 riders, notably faster than Niccolo Canepa on Alice Ducati and Vittoriano Guareschi on the factory Ducati. Gibernau admitted that, at 35, among the current crop of young MotoGP stars - "I´m going to have to work very hard and I´m ready for that." He admitted he was not back in MotoGP to win races, but rather to enjoy himself on the bike. Gibernau acknowledged the bikes had changed a lot in the two years he had been absent from the sport. He noted that the Ducati was now very competitive with lot of potential. "Cornering speed is extremely quick and compared to 2006 there's a lot more electronics. You must trust it almost with your eyes closed, and I still can't do it. I think the rider should do certain things, while instead you must let the bike do it."
Valentino Rossi said he is looking forward to renewing his rivalry with the former foe... "I am sorry I didn't see Sete on the track when we tested in Valencia because I think it's quite a big emotion for us to be together on the track again after all our great battles. I am happy to see him back. We spoke a little bit in the summer when he was thinking about coming back and I'm looking forward to racing him again."
He missed the race at Mugello after breaking his collar bone in the practice session at Le Mans. On 4 June he confirmed that he will be fit to race at his home track Circuit de Catalunya. On 12 July 2009 the Grupo Francisco Hernando team announced that they would be withdrawing from the MotoGP championship due to financial constraints, leaving Gibernau without a ride for the remainder of the 2009 season.
Valentino Rossi has mentioned Casey Stoner, followed by Gibernau as his hardest rivals ever. Gibernau was known for his wet-weather abilities and was occasionally referred to as rainmaster. However, despite his flair, he was all too often let down by an apparently temperamental nature. In-race setbacks could disproportionately affect his competitiveness, both negatively and positively. His career started slowly until he found his motivation and his intermittent flair became consistent. Then he was the principal challenger for Rossi's crown until 2005. The 2006 brought a series of emotional, technical, and injury setbacks, apparently sapping his motivation. It culminated in a major mid-season no-fault racing incident which effectively eliminated him from the championship.
Personal life
Presently residing in Switzerland, Gibernau is well educated, he speaks fluent Spanish, Catalan, Italian and English; plus some French and German. His hobbies include cycling and water skiing.
Gibernau's ex-wife is the Spanish supermodel Esther Cañadas. She was always supportive of Gibernau and could often be seen in the pit garage during races, cheering him on. He formerly rode with a number 15 good luck charm, but rode with a charm given to him by Cañadas when they became a couple. However, after one year as a married couple they announced their separation in mid 2008.
Like most riders, he has his superstitions - he always puts his right boot on first.
1990 - 2000
1990 - Debut in the "Gilera Cup" Championship.
1991 - Junior Champion in the Spanish and Catalan Regional Championship.
1992 - European Championship, 250cc class. Took part in the Spanish GP race as a wild card in the 250cc class.
1993 - Third classified in the Spanish Championship, 250cc class, Yamaha;
1994 - Fifth classified in the Spanish Championship, 250cc class.
1995 - Third classified in the Spanish Championship, 250cc class.
1996 - Twenty-first classified in the World Championship, 250cc class, Team Yamaha Rainey.
1997 - Thirteenth classified in the World Championship, 500cc class, Team Yamaha Rainey.
1998 - Eleventh classified in the World Championship, 500cc class, Honda Factory Team.
1999 - Fifth classified in the World Championship, 500cc class, Honda HRC Team.
2000 - Fifteenth classified in the World Championship, 500cc class, Honda Repsol Team.
Races by year
(key) (Races in bold indicate pole position, races in italics indicate fastest lap)
References
Sete Gibernau Wikipedia
(Text) CC BY-SA