The film takes place in and around the Danvers State Mental Hospital in Danvers, Massachusetts, which was partially demolished five years after the film was made. While the film was not a financial success, Session 9 was moderately well-received critically and is considered a cult film.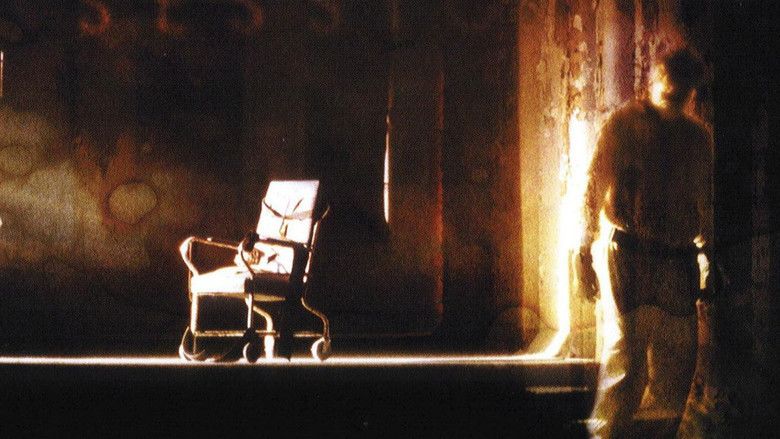 Gordon Fleming is the owner of a small asbestos removal company. The stresses of work and being a new father are causing problems between him and his wife, Wendy. He is in a desperate financial bind and makes a bid to remove asbestos from the Danvers State Hospital, closed fifteen years ago, within one week. His team consists of Mike, a law school dropout who is knowledgeable about the asylum's history; Phil, who is filled with bitterness after losing his girlfriend and finds solace in smoking marijuana; Hank, who lost his girlfriend as well; and Jeff, Gordon's nephew, who suffers from severe nyctophobia.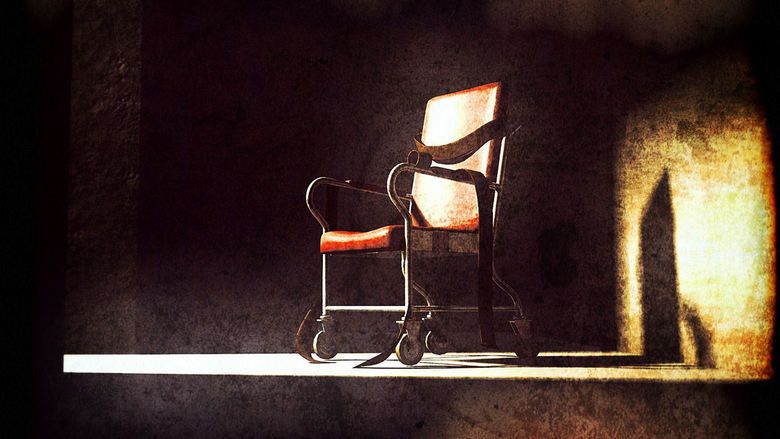 As work begins inside the asylum, Mike finds a box containing nine taped sessions with a patient named Mary Hobbes, who suffered from dissociative identity disorder. The purpose of the sessions, which Mike becomes increasingly engrossed in, is to unveil what happened on Christmas night in Lowell, her hometown, twenty-two years before. One of her personalities, "the Princess", is childlike and innocent, knowing only the Christmas presents - a china doll for Mary and a knife for her brother, Peter - and that they played hide-and-seek after their parents went to bed. Another personality, "Billy", is both childlike and protective. He lives "in the eyes" and saw what happened, but refuses to let Mary find out. The doctor repeatedly asks about the third personality, "Simon", whom "the Princess" knows nothing about and "Billy" fears.
In the tunnels beneath the property, Hank finds a cache of antique Morgan dollar coins and other silver items, scattered from the crematory nearby. He returns that night to steal the artifacts and finds an orbitoclast. He hears odd sounds in the tunnels and discovers an empty peanut butter jar. He hears someone behind him and tries to escape the tunnels, but he is attacked by an unseen assailant. The next morning, the other four learn that Hank abruptly broke up with his girlfriend and left town; the four speculate about the possibility that Hank finally won some money in a lottery. Gordon, who frequently calls his wife and saw Phil speaking to two unknown men during one telephone call, suspects that Phil had something to do with Hank's disappearance, causing tension between the group.
At one point Gordon goes outside the building into the old garden, where several tombstones from patients who died during their stay at the asylum are located. As Gordon sits on a part of a tree trunk, he tries to call his wife again, but is cut short by Jeff, who expresses gratitude for the job opportunity. Gordon later opens up to Phil and admits that he hit Wendy after she accidentally spilled a pot of boiling water on his leg; he has been trying to apologize over the phone ever since. His leg is badly blistering and hurting, but he continues the work.
Phil calls in another worker, Craig McManus, to assist with the job that is now behind schedule after Hank's disappearance. Phil tells Mike that he thinks Gordon has become a liability and reveals to Mike that Gordon admitted to slapping his wife.
Jeff finds Hank alive, but strangely unresponsive to Jeff's questions about where he has been. Jeff runs to tell the others, but Hank disappears again when the group returns. They split up to find Hank, but instead of looking, Mike quickly returns to the session tapes which he now feels compelled to finish listening to. In the taped recordings "Billy" refuses to awaken "Simon," admitting to the doctor only that "Simon" was behind whatever happened that night. During the search, Phil finds Hank in one of the tunnels, half-naked, wearing sunglasses and muttering to himself. The power goes out at that point, trapping Jeff in a pitch-black tunnel and also stopping the ninth session tape short. Mike restores the power and the ninth session continues with "Simon," the same voice Gordon has been hearing since the job began, taking over.
"Simon" reveals that Peter scared Mary while they were playing and she fell on her doll, breaking it and badly scarring herself. "Simon" then took over Mary, killing Peter and their parents with the new knife.
As the recording continues, Phil finds Gordon in Mary's former hospital room, staring at photos of his new daughters baptism stuck to the wall. A shaken Jeff flees to the van, where he also is attacked by an unseen assailant.
The next day, Craig arrives at the asylum. Gordon finds Hank, with the orbitoclast protruding from his eye, wrapped in plastic in one of the larger rooms. Phil also appears and tells Gordon to "wake up" when Gordon accuses Phil of being the one who attacked the others. As Craig finds them, it is shown that Phil's presence was in actually only Gordon's mind. Possessed by "Simon," Gordon enters a dissociative state and kills Craig with the orbitoclast after removing it from Hank's eye socket. It is revealed that Gordon, in the disassociated state, attacked Hank that night in the tunnels. Gordon is also shown killing Phil after being found in Mary's room before finding and killing Mike and Jeff. It is also revealed that Gordon did not just slap his wife, but killed her, the family dog and their baby after the pot of boiling water was spilled on him.
Gordon finally breaks down and realizes he has killed his family and all his friends. He uses his cell phone, which is broken, to apologize to an already dead Wendy.
The film ends with a doctor asking, "And where do you live, Simon?" and "Simon" answering, "I live in the weak and the wounded, Doc," implying that those who are vulnerable to evil can be taken over and compelled to do harm.
Peter Mullan as Gordon Fleming
David Caruso as Phil Cronenburg
Stephen Gevedon as Mike King
Josh Lucas as Hank Romero
Brendan Sexton III as Jeff Fleming
Jurian Hughes as Mary Hobbes (voice)
Larry Fessenden as Craig McManus
Paul Guilfoyle as Bill Griggs
Charley Broderick as Security Guard
Session 9 was director Brad Anderson's first horror film, after directing two romantic comedy films, Next Stop Wonderland (1998) and Happy Accidents (2000). The film was inspired by a murder that took place in Boston, where Anderson grew up, in the mid-1990s, in which a man supposedly killed his wife after she accidentally burnt his dinner, then cut out her heart and lungs and put them in his backyard on a stake.
Most of the film was shot in a small section of the Danvers State Asylum; according to David Caruso, the rest of the building was "unsafe" for shooting. Caruso also claims the sets didn't need to be dressed as all the props featured in the film were already there inside the building.
It was one of the first motion pictures to be shot in 24p HD digital video, which shoots at 24 frames-per-second like film, as opposed to regular digital video which shoots at 30 frames-per-second.
Session 9 premiered at the Fantasia Festival in July 2001. It was released to theaters on August 10, and ended its run on October 18, grossing a total of $378,176.
Session 9 received mixed to positive reviews from critics. The film currently holds a 63% approval rating on movie review aggregator website Rotten Tomatoes based on sixty-five reviews, with a weighted mean score of 6.2/10.
Some critics praised the film's dark, eerie atmosphere and lack of gore. Entertainment Weekly called the film "a marvel of vérité nightmare atmosphere." Rolling Stone called it "a spine-tingler", and praised Brad Anderson's direction. Los Angeles Times said of the film: "Session 9 is so effective that its sense of uncertainty lingers long after the theater lights have gone up." Bloody Disgusting ranked the film fifth in its list of the twenty best horror films of the 2000s, writing, "Session 9 isn't just a cheap, hack 'n' slash, instantly-forgettable type horror film, but a psychologically probing, deeply unsettling journey off the edge and into the abyss of the human mind." Slant Magazine favorably compared it to the 1973 film Don't Look Now, writing, "Anderson's creeper is nowhere near as profound, but the film's old-fashioned pacing and revelatory camerawork bring to mind [Nicolas] Roeg's uniquely terrifying dreamworlds."
Some reviewers criticized the film's ending. A negative review came from Variety, who wrote, "while pic works up a nervously eerie paranoia, it finally doesn't know what to do with what it sets up." San Francisco Chronicle said, "the story doesn't quite pay off, characters are underwritten and the surprise ending is contrived and unconvincing." The Village Voice wrote, "the script for Session 9 is so underwritten that even such lively character actors as David Caruso, Peter Mullan and Brendan Sexton III are left stranded."
In reviewing the film for the 2003 edition of The Year's Best Fantasy and Horror, Edward Bryant contends that Simon is not necessarily an alternate personality of the former patient Mary, but rather a malignant genius loci. He also points out that the deleted scenes included on the DVD help fill out the narrative. Critics have also pointed out the obvious similarities and references to Stanley Kubrick's The Shining (1980).
The score to Session 9 was composed by Seattle, Washington-based experimental band Climax Golden Twins. The score is in an ambient and dark ambient vein. The soundtrack was released on August 21, 2001, through Milan Records. "Choke Chain" by Sentridoh is played over the closing credits of the film, but is not featured on the album.
Track listing
All tracks written by Climax Golden Twins (Scott Colburn, Robert Millis, Jeffrey Taylor), except "Piece for Tape Recorder", written and recorded by Vladimir Ussachevsky.