Sensational Janine (German: Josefine Mutzenbacher... wie sie wirklich war - 1. Teil) is a 1976 West German hardcore costume drama-sex comedy film directed by Hans Billian. The film is an adaptation of the anonymous novel Josephine Mutzenbacher on the life of the eponymous and fictional fin-de-siècle Viennese courtesan.
Contents
Sensational Janine 1976 | Petricia Rhomberg | Short Movie Clip | VintageMovies
Background
Sensational Janine features director Billian's girlfriend Patricia Rhomberg in the title role. Billian gave her the role in part because she had the proper dialect for it. It became the first pornographic film to feature a humorous Viennese German, which contributed significantly to its popularity among the German-speaking audience.
Synopsis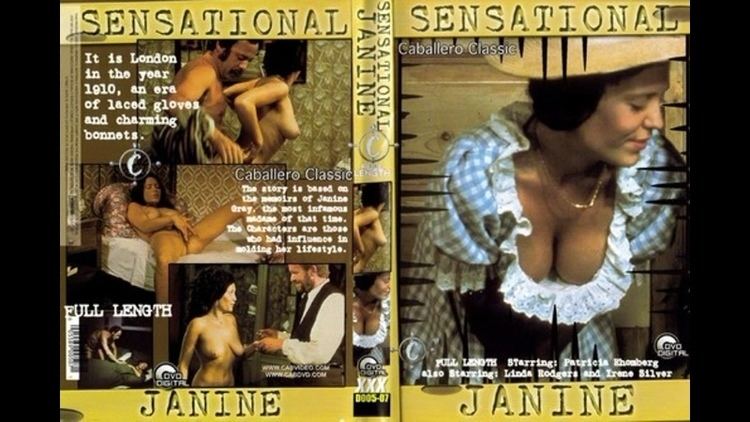 Josefine is a Viennese teen very curious of sex. After she is deflowered by the neighbour Frau Reinthaler's lover Horak, she starts a very active sexual life. Following her mother's abrupt demise, a relationship with her stepfather begins. A lodger blackmails the two with the accusation of incest and, revealed as a pimp, he makes Josefine a prostitute. Josefine then begins a career to become an upscale courtesan of Vienna.
Cast
Patricia Rhomberg: Josefine Mutzenbacher ("Janine")
Sepp Gneißl: Eckhard, the first lodger
Frithjof Klausen: Josefine's stepfather
Siggi Buchner: Horak, the delivery man
Birgit Zamulo: Maresi, the rich girl
Peter Holzmüller: Priest
Marie-France Morel: Zenzi, the older prostitute
Edgar Wenzel: Police commissioner
Legacy
American pornographic film critic Jim Holliday has described this film as "easily the best and most accurate of several films based on the life and adventures of legendary Viennese madam Josephine Mutzenbacher" and his "all time foreign favorite" adult film. Sensational Janine was "one of the most successful foreign x-rated films ever to cross the Atlantic." The movie is "today seen as one of the best porns of all time", as well as "possibly the best German pornographic film."
References
Sensational Janine Wikipedia
(Text) CC BY-SA