Scott Westcott (born 25 September 1975) is an Australian runner. Born near Parkes, New South Wales, Westcott was an avid runner as a teenager, winning the 5000 m state championships. Westcott came fourth in the 2006 Commonwealth Games marathon with a time of 2:15:32. He ran a time of 2.11.36 in the Beppu international Marathon Championships in Japan.

Westcott is a teacher by profession. In 2011 he was involved in a motorcycle crash that hindered his selection for the 2012 Olympics. His best time in parkrun Australia is 14:23 on 5 October 2013. His time is the best in Australia for parkrun. For his 40th birthday in 2015, his family allowed him to enter the Berlin Marathon where he finished in an Olympic qualifying time. He was selected for the 2016 Olympics, his first Olympics, at the age of 40. Westcott ran a time of 2:22:19 at the Rio 2016 Olympic Games.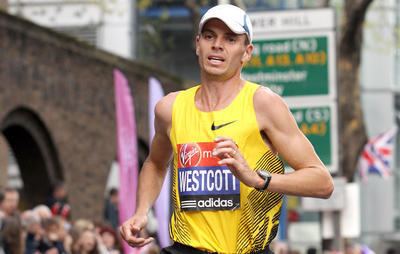 Westcott is married to Jessica and has three children, Noah, Finn and Frankie. His father, the most influential person in his sports career, died in 2014. Westcott has a degree in agriculture from the University of New England, but works as a sports administrator.