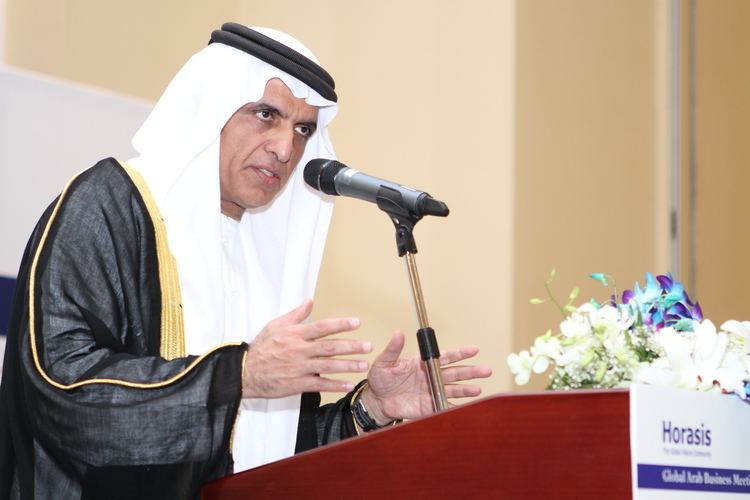 Sheikh Saud was born in Dubai on 10 February 1956. Sheikh Saud is the fourth son of Sheikh Saqr bin Muhammad Al Qasimi, his predecessor as UAE Supreme Council Member and previous Ruler of Ras Al Khaimah, who died on 27 October 2010. He completed both his primary and secondary education in Ras Al Khaimah and then attended the American University of Beirut (AUB) in July 1973 to pursue his studies in economics. When the Lebanese civil war broke out in Beirut in 1975, Sheikh Saud transferred to the University of Michigan, where he received a bachelor's degree in economics and political science. The Sheik's son Mohammed bin Saud al Qasimi is the Crown Prince. The Prince was born in 1987, attended the University of Connecticut and graduated from UCLA.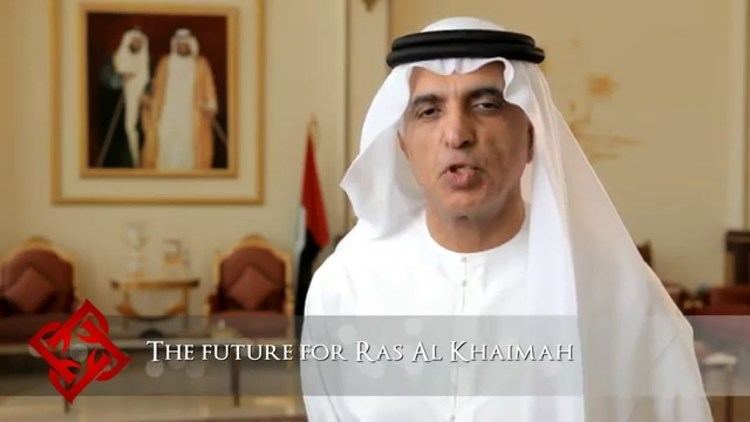 On his return to Ras Al Khaimah in 1979, Sheikh Saud was appointed as Chief of the Ruler's Court to assist his father, Sheikh Saqr, in the administration of the sheikhdom. In 1986, he became the Chairman of the Ras Al Khaimah Municipal Council. In 1989, he recruited the Swiss-Lebanese engineer Khater Massaad who developed comprehensive industrialization plans for Ras Al Khaimah, the most important being the establishment of RAK Ceramics. Previously working in Fujairah, Massaad recognized the potential of exploiting raw materials in Ras Al Khaimah that could be used for the production of ceramics. Under the technical and managerial leadership of Massaad, RAK Ceramics tile and sanitary ware production facilities were created from the scratch 15 kilometers southwest of the town or Ras Al Khaimah. Relying since its creation in 1991 on inexpensive Asian labor, the company became the largest producer in the world over a period of around 20 years. As of 31 December 2012, Sheikh Saud Bin Saqr Al Qasimi personally continues to be the largest individual shareholder (39.88 percent of total shares), while the Government of Ras Al Khaimah benefits only from a mere 4.98 percent stake in RAK Ceramics.
Sheikh Saud became Crown Prince and Deputy Ruler of Ras Al Khaimah, when his father, Sheikh Saqr bin Mohammad Al Qassimi, unexpectedly dismissed his elder half-brother, Sheikh Khalid bin Saqr Al Qasimi on 14 June 2003. The factor was Khalid's hostility towards the US-led 2003 invasion of Iraq. This brought him into open contradiction with the UAE leadership in oil-rich Abu Dhabi that had taken the strategic decision to place the federation of sheikhdoms under the military protection of the USA after more than a century of domination by Great Britain. The removal of Sheikh Khalid as Crown Prince and Deputy Ruler caused fleeting and limited unrest in Ras Al Khaimah and was met with a street protest. Abu Dhabi, the lead emirate of the UAE, sanctioned the dismissal and demonstrated support for Sheikh Saud by sending armored vehicles to Ras Al Khaimah.
Sheikh Saud has implemented vast organizational and economic reforms that have transformed RAK into an attractive destination for foreign investment – culminating in an A rating in January 2008 by Standard & Poor's and Fitch.
Drawing from the experience of his private sector successes, such as the rejuvenation of Gulf Pharmaceutical Industries (Julphar) and the creation of the world's largest ceramics manufacturer, RAK Ceramics, Sheikh Saud's economic insight and business savvy have helped bring about unprecedented development and growth across the emirate. Soon after Sheikh Saud's accession as Crown Prince, RAK Government asked the World Bank to conduct a study on the foreign investment avenues available to the emirate and has formulated a comprehensive master plan for development. In 2005, the RAK Government and World Bank organised a conference called 'Live and Invest in Ras Al Khaimah' to present before investors the vast potential that the emirate holds for investment.
His reform initiatives resulted in a dramatic jump of GDP per capita in Ras Al Khaimah from AED 35,000 to AED 52,000 in the years between 2001 and 2006.
In addition to running a sound government, Sheikh Saud has also been deeply concerned with the social development of the Emirate, focusing special attention on improving education and healthcare. Viewing education as an important part of Ras Al Khaimah's sustainable development, he created the Sheikh Saqr bin Mohammad Al Qasimi Scholarship Award to encourage and enable local men and women to pursue higher education at first class international universities. Additionally, the American University of Ras Al Khaimah was established to facilitate access to world-class higher education in the emirate. The University of Bolton has awarded an honorary doctorate to Sheikh Saud in recognition of his role in supporting education in the Emirate and for attracting leading academic institutions from around the world to Ras Al Khaimah. The Ras Al Khaimah Centre for Advanced Materials (RAK- CAM) was founded under the patronage of Sheikh Saud in late 2007. RAK- CAM is envisioned to become a flagship for advanced Materials science research in the Middle East that addresses critical issues in areas such as alternative energy sources, construction, water purification and environmental preservation.
Sheikh Saud has also sponsored the building of Ras al-Khaimah Medical and Health Sciences University(RAKMHSU) to train future generations of doctors, nurses and pharmacists for the UAE as a whole. In 2007, Sheikh Saud opened the doors of RAK Hospital, a joint Swiss-UAE venture and the first full service private hospital in the Emirate.
Accusations of Sheikh Saud's and Ras Al Khaimah's connections to Iran have raised attention among the international community. These accusations stem either directly from the former crown prince of RAK or indirectly from research he has funded with a vested interest in embarrassing or undermining the regime in hopes of returning to power.
Khalid's US communications team insists these claims are "well sourced", but they have been rejected by the UAE embassies in London and the US. The UAE also denied the Sheikh's claim that RAK has links to Iran's nuclear program and that a port in RAK has in effect become an Iranian base, allowing Tehran to avoid international sanctions. Instead the Embassy described the claims as attacks as "baseless and without foundation and should be seen in the context of his long-standing dispute with his family."
"These appear to be old, scurrilous rumors which Sheikh Khalid has made on numerous occasions," a spokesman for the UAE said in a statement. "His claims are baseless and without foundation and should be seen in the context of his long-standing dispute with his family. We are surprised that these old allegations are now being rehashed once again."
The Islah Movement (Al Islah), a reformist political current with ideological though not organizational links to the Muslim Brotherhood, has strong support in Ras Al Khaimah. One of its leaders is the human rights activist and lawyer Muhammad Al-Mansuri (Mohammed Al-Mansoori). He was a long-time legal adviser to Sheikh Saud but dismissed in December 2009 after criticizing the lack of freedom of expression in Ras Al Khaimah. He was among the so-called UAE 94, a group of reform-minded activists tried in the UAE . Al-Mansoori was among 68 other government critics sentenced on 2 July 2013 by the Federal Supreme Court in Abu Dhabi and received a jail term of ten years for "belonging to an illegal, secret organization ... that aims to counter the foundations of this state in order to seize power and of contacting foreign entities and groups to implement this plan."
In the years up to 2010, Ras Al Khaimah's economic policy was marked by expansion, notably in industry RAK Ceramics, real estate Al Hamra Fort Hotel & Beach Resort, and business services Ras Al Khaimah Free Trade Zone. The global financial crisis reached the UAE with a delay. Following Dubai's de facto default in November 2009, Ras Al Khaimah was heavily hit. In 2010, Saud's new economic adviser Jim Stewart CEO of RAK Investment and Development Office changed from debt fueled growth to austerity. The aim was to bring the 5 billion AED (or 1.37 billion USD) debts of Ras Al Khaimah under control. Sheikh Saud instructed the CEO of RAKIA and RAK Ceramics, Khater Massaad, to sell all global assets, notably in Georgia, where the emirates holds shares in three main companies RAKIA Georgia LLC, Rakeen Development LLC, and RAKIA Georgia Free Industrial Zone. Real estate there and in particular the Port of Poti were labeled "not a strategic asset" in the October 2010 cover story "The Man Who Sold The World" of the Dubai-based Gulf Business. Similar debt reduction policies started to be applied to other enterprises in which Saud personally or Ras Al Khaimah have shares, the most important being RAK Ceramics. Despite being profitable, the debts of the tile manufacturer in October 2012 still stood at 1.574 billion AED.