Satoraljaujhely ( archaic German: ; Slovak: ; Yiddish: (Ihel) or ?????? (Uhely)) is a town located in Borsod-Abauj-Zemplen county in northern Hungary near the Slovak border. It is 82 km (51 mi) east from the county capital Miskolc.
Sator-alja (meaning "under the tent", referring to the tent-shaped hill nearby) was a settlement from the Conquest of Hungary until the Tatars destroyed the town. It was rebuilt in the 13th century, although there was disagreement among the citizens concerning the name: some wanted to keep the original name, and some wanted to rename it uj hely ("new place").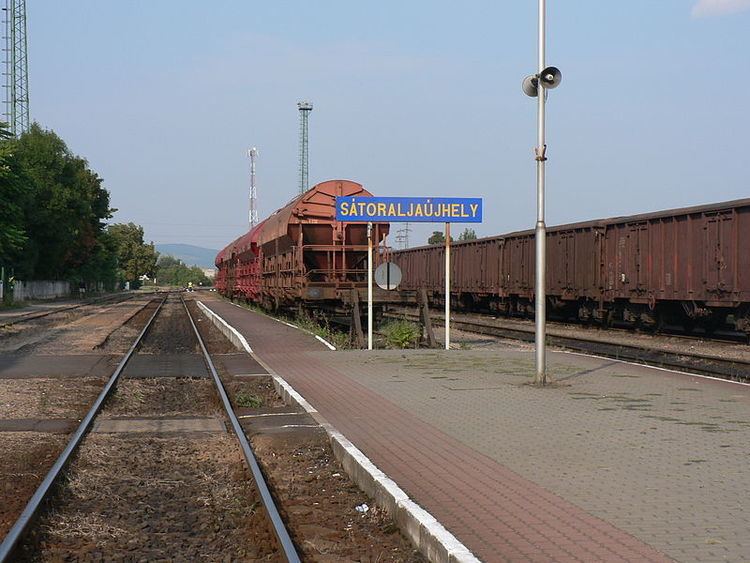 Satoraljaujhely was granted town status in 1261 by King Stephen V, and a castle was also built around that time.
Satoraljaujhely has often has played an important role in the regions history: revolts against Habsburg rule began there in the 17th and 18th centuries. After the Revolution of 1848, Satoraljaujhely developed rapidly owing to its location close to important trade routes leading to Poland, Russia, and Transylvania. The towns light industry led to it becoming the capital of the comitatus (county) of Zemplen in the 17th century.
Satoraljaujhely has always been an important town in culture. Ferenc Kazinczy, one of the reformers of the Hungarian language, lived here in the 18th century. At the turn of the 20th century the town was home to a small but important Jewish community: some 4,500 of the towns 13,000 residents were Jewish. The community counted among its members Moses Teitelbaum and Michael Heilprin.
Under the Treaty of Trianon, Hungary lost its northern territories. The border was set at the Ronyva stream, splitting the city into two parts. One-fifth of the population and one-fourth of the territory of the town became part of Czechoslovakia. The newly created village got the name of Slovenske Nove Mesto ("Slovak new town") in Slovak; Szlovakujhely ("Slovak new town") or Kisujhely ("Little new town") in Hungarian. Two railway lines and the industrial zone were lost to Hungary. The towns industry was being rebuilt during the interwar period, but the outbreak of World War II disrupted this development. Nazi repression, continuous bombing after 1943, the killing of most of its Jewish population (most were forcibly sent to Auschwitz) and finally the Soviet occupation left the town in a very poor condition.
During the reorganisation of administration in 1950, the former comitatus of Zemplen became part of the united Borsod-Abauj-Zemplen county, and Satoraljaujhely lost its county capital status.
Satoraljaujhely was rebuilt again and is today a national ski centre and tourism destination.
(,)https://fbexternal-a.akamaihd.net/safe_image.php%3Fd%3DAQDHL9UbAY60auXV%26w%3D720%26h%3D764%26url%3Dhttp%253A%252F%252Fupload.wikimedia.org%252Fwikipedia%252Fcommons%252Fthumb%252Fa%252Fac%252FIstvan_Csom_1974.jpg%252F720px-Istvan_Csom_1974.jpg(,)https://europebetweeneastandwest.files.wordpress.com/2015/04/satoraljaujhely-with-a-name-like-this-credit-krzysztof-dudzik.jpg(,)https://europebetweeneastandwest.files.wordpress.com/2015/04/sc3a1toraljac3bajhely-slovenskc3a9-novc3a9-mesto-the-border-between-hungary-and-slovakia-credit-marcin-szala.jpg(,)http://i.ytimg.com/vi/3s-fwYYPnl4/0.jpg
(,)http://gotohungary.com/site/upload/2011/03/csillgfeny_3.jpg(,)http://gotohungary.com/site/upload/2011/03/kivul.jpg(,)http://www.bizzylizzysgoodthings.com/uploads/8/5/5/0/8550580/1675523_orig.jpg