6.6

/

10

Alchetron

6.6

Rate This




First episode date

25 February 2013




Number of episodes

444






Final episode date

20 September 2014




Networks

Star Plus, DD National





Genre

Indian soap operaDramaRomance




Based on

Saraswatichandra by Govardhanram Tripathi


Written by

Ved RajAbhijit SinhaShilpa D'MelloShruti Vaidya




Directed by

Arvind BabbalSharad PandeyMayank GuptaHimanshu SinghArshad Khan




Starring

Gautam RodeJennifer Winget




Theme music composer

ComposerSanjay Leela BhansaliLyricsSiddharth-GarimaSung byShreya Ghoshal & Javed Ali


Awards

STAR Parivaar Award for Favourite Jodi




Cast

Gautam Rode, Jennifer Winget, Shiny Doshi, Monica Bedi, Ragini Shah


Similar

Balika Vadhu, Qubool Hai, Nach Baliye, Iss Pyaar Ko Kya Naam Do, Kasautii Zindagii Kay
Saraswatichandra is an Indian soap opera, initially produced by Sanjay Leela Bhansali and written by Ved Raj and Abhijit Sinha. The show was initially based on Govardhanram Tripathi's novel of the same name. It aired on Star Plus from 25 February 2013 to 20 September 2014. It is dubbed into Malayalam as Swayamvaram.
Contents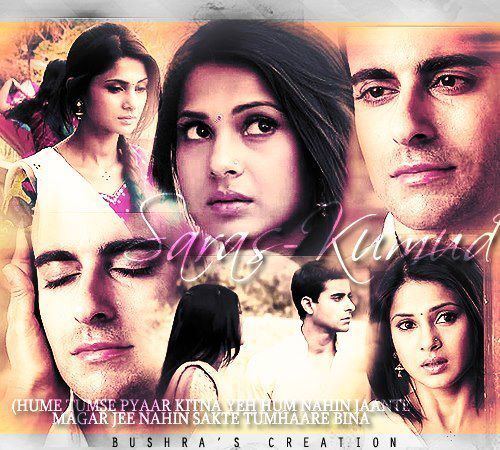 Plot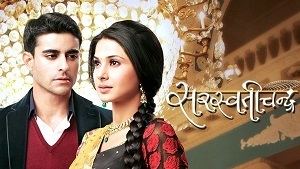 Saraswatichandra tells the story of a young, cultured aristocrat, Saraswatichandra Vyas, aka Saras, whose mother, Saraswati, committed suicide when he was a child. His father, Laxminandan Vyas, then married Gumaan, an evil and selfish woman who bore him a son, Danny, a kind and selfless boy.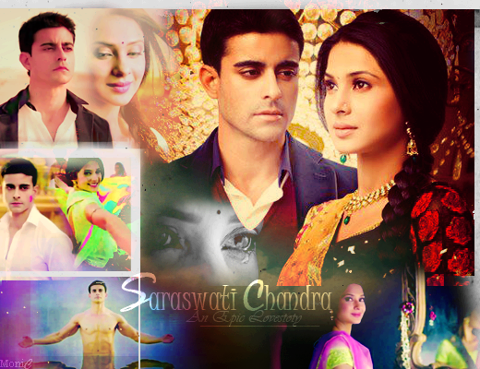 Laxminandan arranges Saras' wedding with Kumud Desai, the well-educated daughter of his best friend, Vidyachatur Desai. However, Saras, who is distraught at the death of his mother, refuses to marry and writes a letter to Kumud to inform her. She had wholeheartedly accepted the marriage proposal, responds that Saras tell her father about his rejection as she is unable to do so. Saras leaves Dubai and comes to Ratnagari, Kumud's village, and visits her house. However, as time goes on, Saras begins to get along with Kumud's family and starts adjusting to their ways. He eventually falls in love with Kumud and a short-lived romance follows.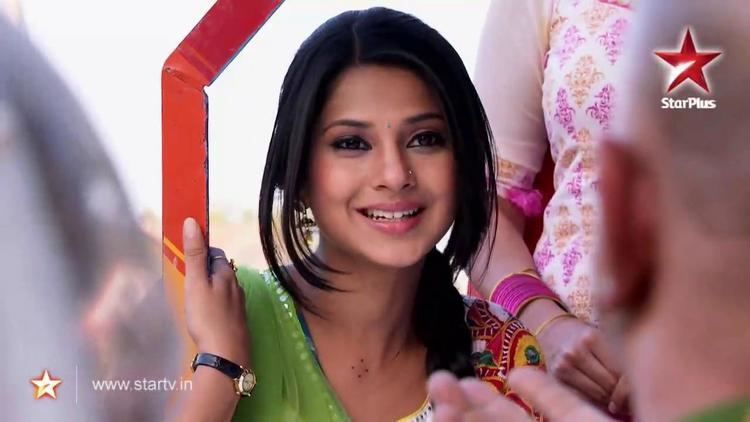 However, on his return to Dubai, Saras finds a letter written by his mother, which a jealous Gumaan had secretly slipped into his things, revealing to Saras that the reason his mother committed suicide was that she found out that Laxminandan and Gumaan were having an affair. This shatters Saras who disowns his father and leaves his house. He then decides not to marry Kumud because he believes that, since he is no longer the son of a rich man, he will not be able to support her and is therefore unworthy to be her husband.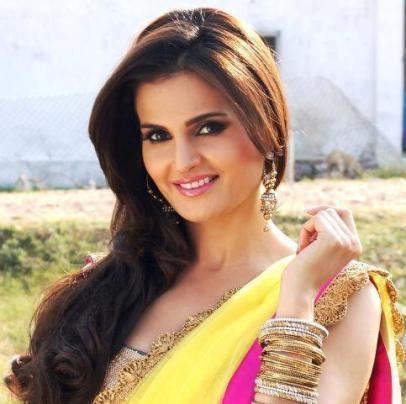 To save her family's reputation, a heartbroken Kumud agrees to marry Pramad Dharmadhikari, the son of a political family. However, after the wedding, Kumud finds out that Pramad is an alcoholic who was forced to marry her. Although Kumud is mistreated by Pramad, she decides to stay with him and change him into a better person.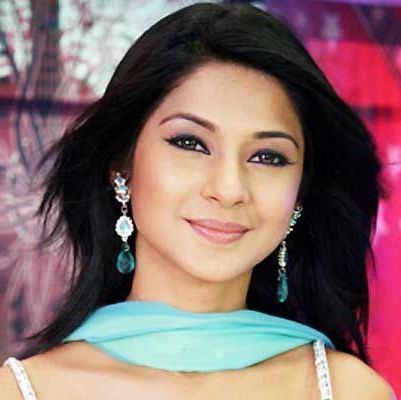 Kumud is unaware that Saras had realised his mistake and wanted to stop her wedding with Pramad but before he could do so, thugs beat him and left him for dead. Alak, Pramad's sister finds Saras and brings him to her house, which is also Kumud's house. He regains his health and on finding Kumud there and learning about the pain Pramad has been inflicting on Kumud, he changes his name to Navinchandra and promises himself that he will change Pramad's ways and unite him with Kumud.
Buddhi Dhan Dharmadhikari, who despises the deplorable lifestyle of his son, Pramad, appoints Navin/Saras as his secretary. This causes Pramad to be jealous of Saras because he thinks his father loves Saras more than him.
Upon learning why Saras had refused to marry her, Kumud forgives him and asks him to leave her house as she cannot see his constant humiliations from Pramad. Saras tells Kumud he won't go out of her life until he unites her with Pramad.
Kumud eventually separates from a now-insane Pramad, after he attempts to kill her, and marries Saras. Pramad is sent to jail for his actions. Further on, it is revealed that Saras' younger brother, Kabir, is still alive and is working for Gumaan, and they are working together to destroy the Desai/Vyas family. Danny, Gumaan's son and stepbrother of Saras and Kabir, finds out the truth and rejects her as his mother. She is arrested and Kabir happily starts adjusting to the Vyas/Desai family and reconciles with his father.
Anushka, a bubbly girl from Mumbai joins the story. She and Kabir fight on a daily basis, but eventually fall in love. Through many twists and turns Anushka and Kabir finally marry at the very end, and Saras and Kabir meet their mother whom they assumed was dead many years before. The story ends with the birth of Saras and Kumud's first child whom they name together as Sanskriti Saraswatichandra Vyas.
Main characters
Gautam Rode as Saraswatichandra Laxminandan Vyas
Jennifer Winget as Kumud Sundari Saraswatichandra Vyas (née Desai)
Varun Kapoor as Danny Laxminandan Vyas
Shiny Doshi as Kusum Danny Vyas (née Desai)
Ashish Kapoor as Kabir Laxminandan Vyas
Srishty Rode as Anushka Kabir Vyas
Supporting characters
Anshul Trivedi as Pramod Dhan Dharmadhikari
Chetan Pandit as Laxminandan Vyas
Monica Bedi as Guman Laxminandan Vyas
Yatin Karyekar / Ali Raza Naamdaar as Vidyachatur Desai
Alpana Buch as Guniyal Desai
Ragini Shah as Dugba
Vinita Joshi Thakkar as Kumari
Mehul Kajaria as Gyanchatur Desai
Mansi Jain as Chandrika Desai
Surya Kanth / Winy Tripathi as Yash Desai
Soni Singh as Kalika Desai
Sonia Shah as Menaka
Sai Ballal as Buddhi Dhan Dharmadhikari
Pratichee Mishra as Saubhagyavati Devi Dharmadhikari
Vahbbiz Dorabjee as Alak Kishori
Vijay Dadlani as Indresh
Maleeka R Ghai as Saraswati Laxminandan Vyas
Rahul Ram as Prashant
Mithil Jain as Sub-Inspector Umesh Solanki
Shahrukh Sadri as Murakh Das
Smita Shetty as Sunder Baa
International broadcast
Albania: TV Klan (2016).
Argentina: El Trece (2016).
Bulgaria: bTV, bTV Lady (2015).
Chile: TVN (2017).
Ethiopia: Kana TV (2016).
Panama: TVN (Panama) (2016).
Peru: Latina Televisión (2017).
Slovakia: TV Doma (2016).
Sri Lanka: TV 1 (2016).
Indonesia: TransTV (2015).
Vietnam: TodayTV (2016).
Turkey: Kanal 7 (9 February 2017) [Turkish title: İki Yabancı]
References
Saraswatichandra (TV series) Wikipedia
(Text) CC BY-SA