Nationality

American




Spouse

Siddhartha Mukherjee




Known for

Sculpture




Period

Contemporary art





Name

Sarah Sze




Books

Sarah Sze




Role

Artist




Awards

MacArthur Fellowship






Born

1969 (age 45–46)

Boston, Massachusetts




Children

Leela Mukherjee, Aria Mukherjee




Education

School of Visual Arts, Yale University
Sarah Sze (; born 1969) is a contemporary artist known for sculpture and installation works that employ everyday objects to create multimedia landscapes. Sze lives and works in New York City and is a professor of visual arts at Columbia University.
Contents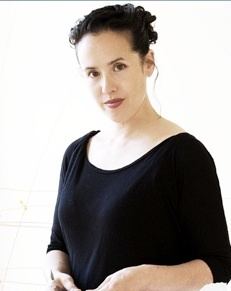 Sarah sze improvisation exclusive art21
Early life and education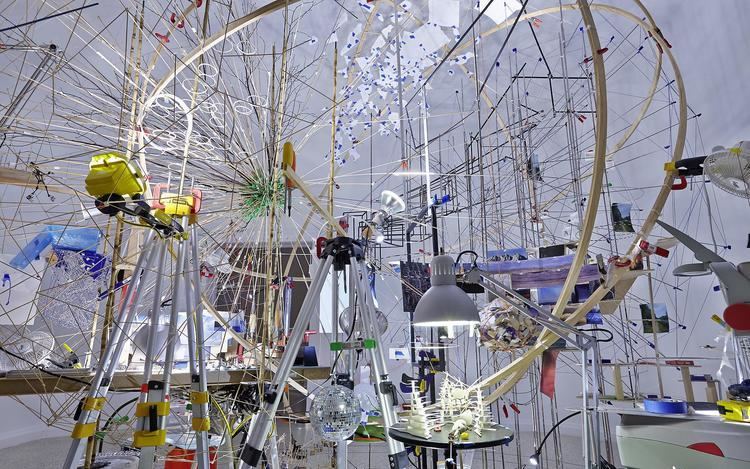 Sze was born in Boston in 1969. She received a BA from Yale University in Connecticut in 1991 and an MFA from New York's School of Visual Arts in 1997.
Career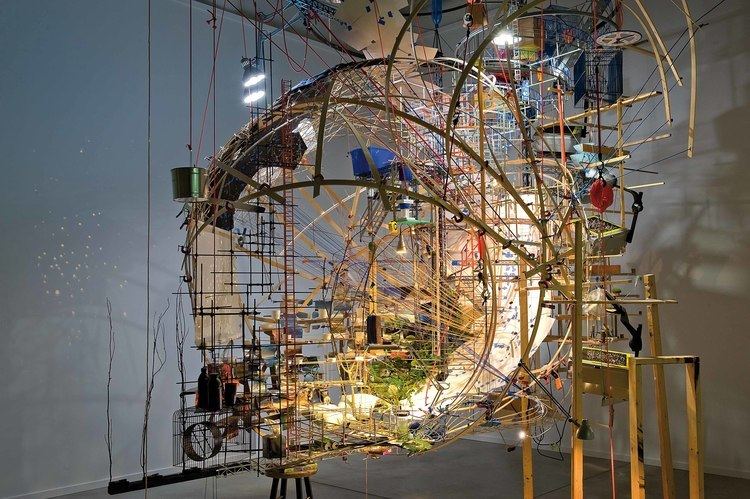 Sze draws from Modernist traditions of the found object, to build large scale installations. She uses everyday items like string, Q-tips, photographs, and wire to create complex constellations whose forms change with the viewer's interaction. The effect of this is to "challenge the very material of sculpture, the very constitution of sculpture, as a solid form that has to do with finite geometric constitutions, shapes, and content."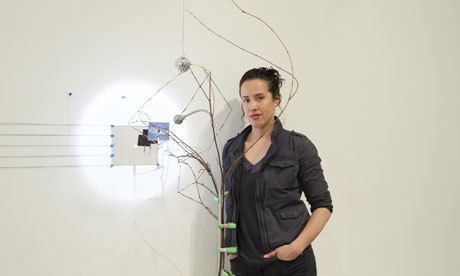 Sze represented the United States at the Venice Biennale in 2013, and was awarded a MacArthur Fellowship in 2003. She has exhibited in museums worldwide, and her works are held in the permanent collections of prominent institutions, including The Museum of Modern Art, the Guggenheim Museum, and the Whitney Museum of American Art, New York; The Fondation Cartier, Paris; The Museum of Contemporary Art, Chicago; The San Francisco Museum of Modern Art; and the Museum of Modern Art, Los Angeles. Sze's work has been featured in The Whitney Biennial (2000), the Carnegie International (1999) and several international biennials, including Berlin (1998), Guangzhou (2015), Liverpool (2008), Lyon (2009), São Paulo (2002), and Venice (1999, 2013, and 2015). Sze has also created public works for the Massachusetts Institute of Technology, the Walker Art Center in Minneapolis, and the High Line in New York. Sze was born in Boston, Massachusetts and lives and works in New York.
On January 1, 2017, a permanent installation commissioned by MTA Arts & Design of drawings by Sze on ceramic tiles opened in the 96th Street subway station on the new Second Avenue Subway line in New York City.
Art market
Sze is represented by Tanya Bonakdar Gallery in New York and Victoria Miro Gallery in London.
Personal life
Sze lives in New York City with her husband, Siddhartha Mukherjee, the Pulitzer Prize-winning author of The Emperor of All Maladies who teaches medicine at Columbia, and their two daughters.
Notable exhibitions
2016 – "Sarah Sze," The Rose Art Museum, Brandeis University, Waltham, MA
2015 – "Sarah Sze," Tanya Bonakdar Gallery, New York, NY
2015 – "All The Worlds Futures", 56th Venice Biennale, Venice, Italy, curated by Okwui Enwezor
2015 – "Sarah Sze", Victoria Miro Gallery, London, UK
2014 – "Sarah Sze: Triple Point (Planetarium)," Bronx Museum of the Arts, Bronx, NY
2013 – "Sarah Sze," The Fabric Workshop and Museum, Philadelphia, PA
2002 – Grow or Die, Walker Art Center, Minneapolis, MN (permanent installation)
2013 – Triple Point, American Pavilion, 55th Venice Biennale, Venice, Italy
2012 – "Sarah Sze", MUDAM Museum, Luxembourg, Luxembourg
2011 – Sarah Sze: Infinite Line, Asia Society, New York, NY
2009 – Tilting Planet, Baltic Centre for Contemporary Art, Newcastle, UK
2008 – "Sarah Sze", Maison Hermès 8F Le Forum, Tokyo, Japan
2007 – "Sarah Sze", Victoria Miro Gallery, London, UK
2006 – "Sarah Sze", Malmo Konsthall, Malmo, Sweden
2006 – Corner Plot, Doris C. Freedman Plaza, New York, NY
2006 – Model for Corner Plot, Agassiz House, Radcliffe Yard, Cambridge, MA
2005 – "Sarah Sze", Marianne Boesky Gallery, New York, NY
2005 – An Equal and Opposite Reaction, the Seattle Opera, Seattle, WA, (permanent installation)
2004 – Blue Poles, Sidney-Pacific Graduate Dormitory, Massachusetts Institute of Technology, Cambridge, MA (permanent installation)
2004 – "Sarah Sze: The Triple Point of Water", Fondazione Davide Halevim, Milan, Italy
2003 – "Sarah Sze: The Triple Point of Water", The Whitney Museum, New York, NY
2002 – "Sarah Sze", Boston Museum of Fine Arts, Boston, MA
2001 – "Sarah Sze", Center for Curatorial Studies Museum, Bard College, NY
2001 – Drawn, Museum of Contemporary Art, San Diego, CA
2000 – "Sarah Sze", Marianne Boesky Gallery, New York, NY
1999 – "Sarah Sze", Museum of Contemporary Art, Chicago, Chicago, IL
1999 – "Sarah Sze: Still Life with Flowers", Galerie fur Zeitgenossische Kunst, Leipzig, Germany
1999 – "Sarah Sze", Foundation Cartier pour l'art contemporain, Paris, France
1998 – "Sarah Sze", Institute of Contemporary Arts, London, UK
1997 – Migrateurs, Musee d'Art Modern de la Ville de Paris, Paris, France
1997 – White Room, White Columns, New York, NY
Museum collections
Museum of Modern Art, New York, NY
Whitney Museum of American Art, New York, NY
Guggenheim Museum, New York, NY
The New Museum, New York, NY
San Francisco Museum of Modern Art, San Francisco, CA
Los Angeles Museum of Contemporary Art, Los Angeles, CA
Museum of Contemporary Art, San Diego, CA
Detroit Institute of Art, Detroit, MI
Albright-Knox Art Gallery, Buffalo, NY
Walker Art Center, Minneapolis, MN
National Gallery of Victoria, Australia
Cartier Foundation, Paris, France
21st Century Museum of Art, Kanazawa, Japan
Boston Museum of Fine Arts, Boston, MA
Fogg Museum of Art, Boston, MA
Museum of Contemporary Art, Chicago, IL
National Gallery of Canada, Ottawa, Canada
Yale University Art Gallery, New Haven, CT
Cleveland Museum of Art, Cleveland, OH
Awards and Grants
2017 – Honoree, National Academy Museum and School, New York
2016 – Louise Blouin Foundation Award
2014 – Amherst Honorary Degree, Doctor of the Arts, Honoris Causa
2014 – School of the Museum of Fine Arts, Boston, Medal Award
2013 – US Representative for the Venice Biennale
2013 – Inducted into the National Academy
2012 – American Federation of the Arts Cultural Leadership Award
2012 – Laurie M. Tisch Award for civic responsibility and action and significant leadership in education, arts, culture, civic affairs and/or health
2012 – AICA Award for Best Project in a Public Space, Sarah Sze, Still Life with Landscape (Model for a Habitat), The High Line, New York, NY
2005 – Radcliffe Institute Fellow
2003 – MacArthur Fellow
2003 – Lotos Club Foundation Prize in the Arts
2002 – Atelier Calder Residency, Sache`, France
1999 – Louis Comfort Tiffany Award
1997 – The Marie Walsh Sharpe Foundation Studio Residency, New York
1997 – Rema Hort Mann Foundation Award
1997 – Paula Rhodes Memorial Award
1996 – School of Visual Arts Graduate Fellowship
Teaching
1998 – Visiting Lecturer, Yale University, Intersections of Art and Architecture
1999–2002 – Lecturer, School of Visual Art, Master of Fine Arts Program
2002–2004 – Lecturer, Columbia University, School of the Arts
2005–2008 – Adjunct Professor, Columbia University, School of the Arts
2009–Present – Professor, Columbia University, School of the Arts
References
Sarah Sze Wikipedia
(Text) CC BY-SA