Sarah cain the artist s studio mocatv
Sarah Cain (born February 3, 1979) is an American contemporary artist who lives and works in Los Angeles, California.
Contents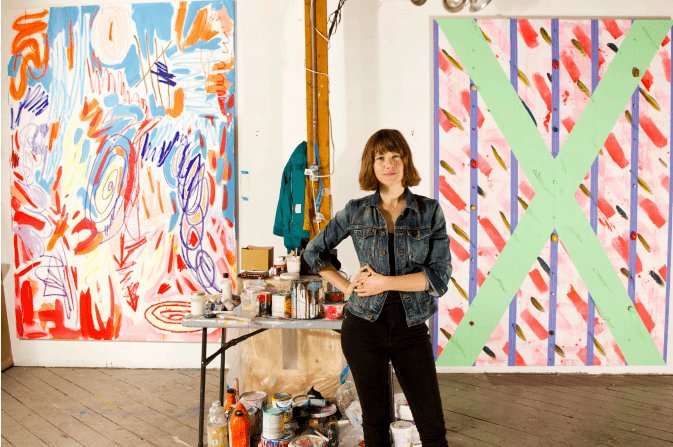 Life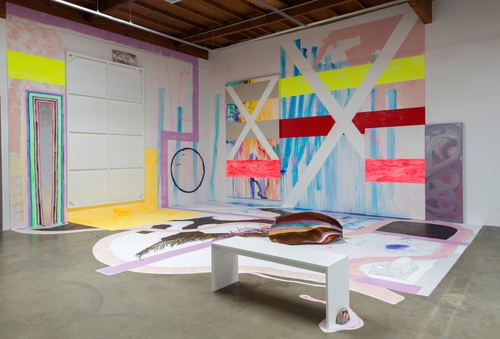 Cain was born in Albany, New York, and moved to California in 1997 to study art at the San Francisco Art Institute, where she received her BFA in 2001. She went on to study at the University of California, Berkeley receiving her MFA in studio art and attended the Skowhegan School of Painting and Sculpture in 2006. In Tara McDowell's 2006 essay accompanying Cain's SECA Award, the SFMOMA curator wrote, "For Cain, abstraction has the singular capability to convey meaning outside of words: a feeling, a state of mind, a relationship to something or someone."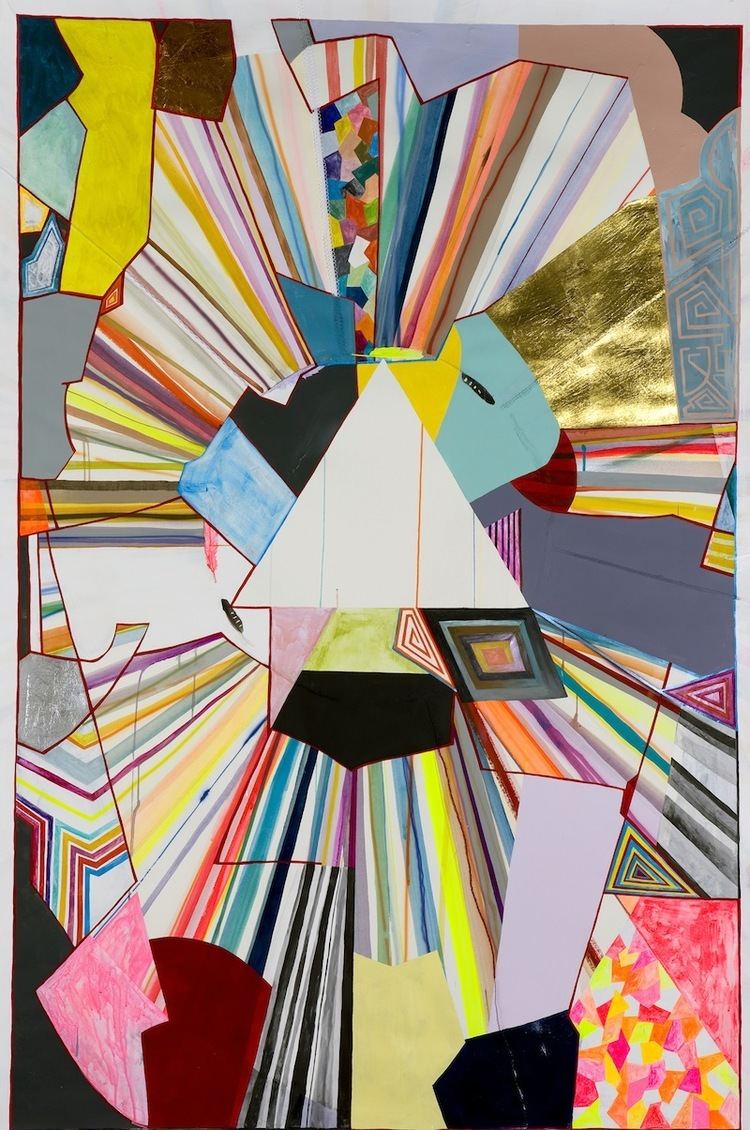 In March 2015, comedian and podcast host Marc Maron announced that he and Cain were in a relationship. Cain's second solo show at the Honor Fraser Gallery, "Bow Down," featured a large, abstract painting that Cain titled, "For Marc."
Work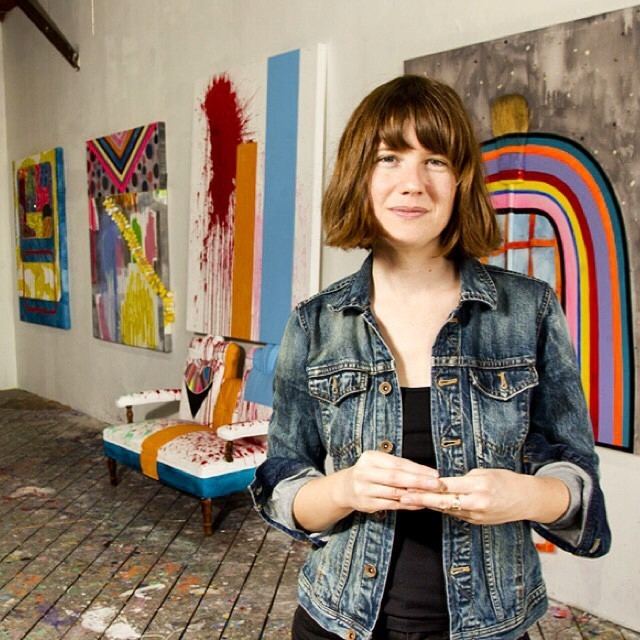 The paintings and installations of Sarah Cain employ a variety of materials including traditional canvas, stretcher bars, and paint, but also introducing unusual and poetic artifacts: from musical notations to leaves and branches, expanding outside of the two-dimensional plane of the canvas and into the surrounding environment, creating many site-specific installations. Critic Quinn Latimer in describing Cain's work writes "They court seemingly bad ideas — drawings sport feathers and doilies; installations feature eggs and hippy art teacher-like fabric swatches — and then transform them so deftly into serious painting that it can take a minute to understand what you're looking at." In 2011, Cain collaborated with noted Beat-era artist George Herms at the Orange County Museum of Art, where the curator Sarah Bancroft wrote for the accompanying catalog that the two artists share "an interest in language and a frustration over its limits in describing abstract work"
Exhibitions (selection)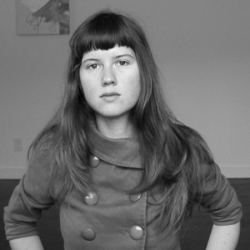 2016 Dark Matter at Galerie Lelong, New York, NY
2015 Sarah Cain: The Imaginary Architecture of Love at Contemporary Art Museum Raleigh, Raleigh, NC
2015 Sarah Cain: blue in your body, red when it hits the air at Museum of Contemporary Art San Diego, La Jolla, CA
2015 Sarah Cain Bow Down at Honor Fraser Gallery, Los Angeles, CA5
2014 Sarah Cain: Burning Bush at Galerie Lelong, New York, New York
2012 Freedom is A Prime Number, Honor Fraser, Los Angeles, CA
2012 Gold, group exhibition curated by Thomas Zaunschirm, Imperial Belvedere Palace Museum, Vienna
2011 Forget Me Not LAND: Los Angeles Nomadic Division, Marfa, TX
2011 Sarah Cain: Santa Barbara, Santa Barbara Contemporary Arts Forum Bloom Projects, Santa Barbara, CA
2010 California does psychic, Sara Meltzer Gallery/Projects, New York, NY
2010 little by little, CTRL Gallery, Houston, TX
2009 Midnight Mission, off site installation for the California Biennial, Five Thirty Three Gallery, Los Angeles, CA
2009 Double Future, Seiler + Mosseri-Marlio Gallery, Zurich, Switzerland
2009 As if only as Atmosphere, Anthony Meier Fine Arts, San Francisco, CA
2006 Busan Biennale, curated by Doryun Chong, Busan, Korea
2006 I Believe We Are Believers, Anthony Meier Fine Arts, San Francisco, CA
2005 A River of If's, Queens Nails Annex, San Francisco, CA
Press List
2013 MOCAtv "Sarah Cain- Artists's Studio'
2013 art ltd sarah cain: "Loud Object"
2013 Flash Art "ten Questions... about painting"
2013 Art Forum "Sarah Cain: Honor Fraser"
2012 Art Slant "Freedom is a Prime Number"
2012 Juxtapoz In L.A.: Sarah Cain "Freedom is a Prime Number"
2012 Flash Art "Interview with Sarah Cain"
2012 Modern Painters "Coloring Outside the Lines"
2012 CA Home + Design "The Top 10 CA Artists You Should Know"
Public Collections
Los Angeles County Museum of Art
San Francisco Museum of Modern Art
Blanton Museum of Art: The University of Texas at Austin
Zabludowicz Collection, London
The FLAG Art Foundation, New York City
The Margulies Collection, Miami
Pizzuti Collection, Columbus, Ohio
U.S.Art Collection
Tang Teaching Museum and Art Gallery, Skidmore College, Saratoga, NY
Museum of Contemporary Art, San Diego
References
Sarah Cain Wikipedia
(Text) CC BY-SA