Sankagiri or Sankari is a panchayat town in Salem district in the Indian state of Tamil Nadu. It is situated on the National Highway 47, on the Coimbatore - Salem section.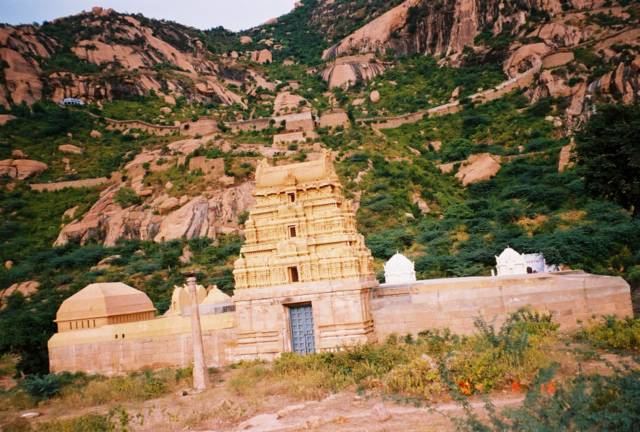 Sankagiri Fort was built in the 15th century by the Vijayanagar empire. It was later under the control of Dheeran Chinnamalai and Tippu Sultan before the British annexed it to their territory. Dheeran Chinnamalai was hanged by the British at Sankagiri Fort on 31 July 1805. The fort later served as a British tax storage facility for Kongu Nadu and the town developed around it. Sankagiri, pronounced as San-ka-giri in Tamil meaning "oyster shaped hill".
The economy of the town was predominantly dependent on agriculture. Over the past decade, truck, cement and steel industries have developed around the town contributing to the economy.
Sankagiri Fort
Orukkamalai Temple
Morur West Sri Nallapulliyannan Temple
Sankagiri Wikipedia
(,)http://photos1.blogger.com/img/265/1151/640/000036.jpg(,)http://upload.wikimedia.org/wikipedia/commons/9/95/Plan_of_the_Fort_of_Bangalore_from_sights,_without_measurement.jpg(,)http://upload.wikimedia.org/wikipedia/commons/3/38/Regional_Transport_Office_-_Sankagiri.jpg(,)http://www.isvarmurti.com/blog/wp-content/uploads/2010/10/sangagiri.jpg(,)http://upload.wikimedia.org/wikipedia/commons/4/41/A_view_of_Sankagiri_hill.jpg(,)http://static.panoramio.com/photos/medium/109987556.jpg(,)https://i.ytimg.com/vi/122LMX9d8OM/maxresdefault.jpg(,)http://im.hunt.in/cg/City-Guide/sankagiri2.jpg
(,)https://fbexternal-a.akamaihd.net/safe_image.php%3Fd%3DAQDQ_xsW0cvXYXxz%26w%3D720%26h%3D540%26url%3Dhttp%253A%252F%252Fupload.wikimedia.org%252Fwikipedia%252Fcommons%252Fthumb%252F5%252F52%252FSankagiri_hill_3.jpg%252F720px-Sankagiri_hill_3.jpg(,)http://www1.sulekha.com/mstore/chanakyageo/albums/default/Image033.jpg(,)https://mw2.google.com/mw-panoramio/photos/medium/47757198.jpg(,)https://mw2.google.com/mw-panoramio/photos/medium/81127849.jpg(,)http://im.hunt.in/cg/City-Guide/sankari3.jpg(,)http://im.hunt.in/cg/City-Guide/sankagiri5.jpg(,)http://im.hunt.in/cg/City-Guide/sankagiri3.jpg(,)http://im.hunt.in/cg/City-Guide/sankagiri.jpg(,)http://im.hunt.in/cg/City-Guide/sankari4.jpg(,)https://mw2.google.com/mw-panoramio/photos/medium/81128179.jpg(,)http://upload.wikimedia.org/wikipedia/commons/0/0a/Turmeric-powder.jpg