San Jose ([sɐn hose]) is a first-class municipality in the province of Occidental Mindoro, Philippines. According to the 2015 census, it has a population of 143,430 people. San Jose is the economic, financial, cultural, religious and educational center of the province of Occidental Mindoro. It has the largest commercial port and airport in the province. It is named after its patron saint, St. Joseph, the husband of Mary. Most of the people are Visayans, Batangueños, Bicolanos and Ilocanos.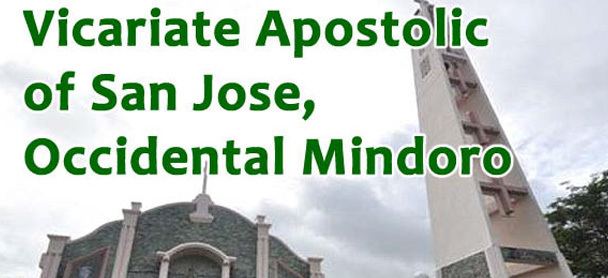 Mamburao to the north is the official capital of the province, but most provincial government offices have satellite offices in San Jose. The town also has the most number of business and commercial establishments in the province, and is either the major market or transit point for agricultural and commercial products. Major banks include Philippine National Bank (PNB), Rizal Commercial Banking Corporation (RCBC), CitySavings Bank (UnionBank), United Coconut Planters Bank (UCPB), Development Bank of the Philippines (DBP), Chinabank, Allied Bank, Metrobank, Landbank, and Philippine Veterans Bank.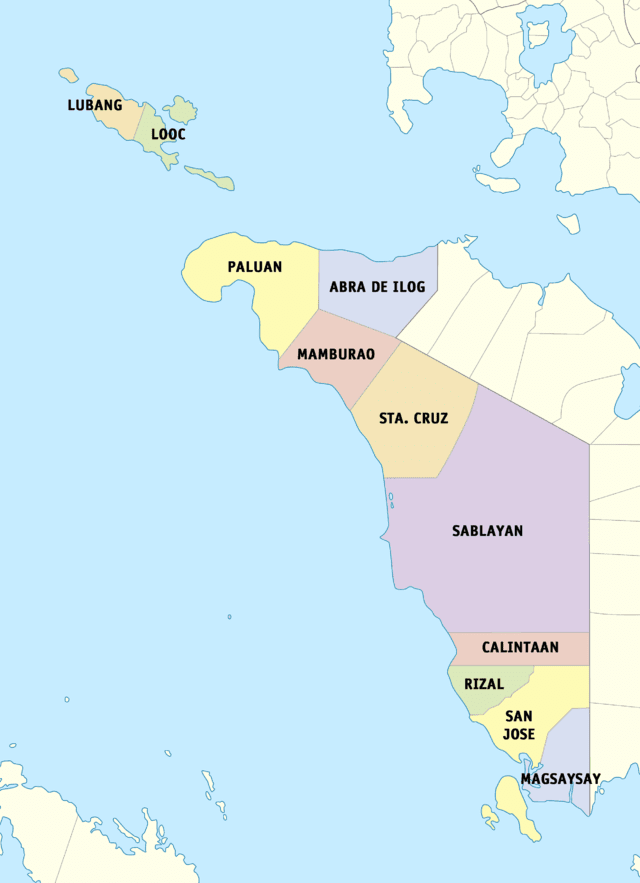 Telecommunication services are provided by Digital Telecommunications (Digitel), Smart Communications, and Globe. Cable and satellite television operators provide access to local and international broadcasts. Broadband Internet services are likewise available through the numerous internet cafes located in the poblacion area.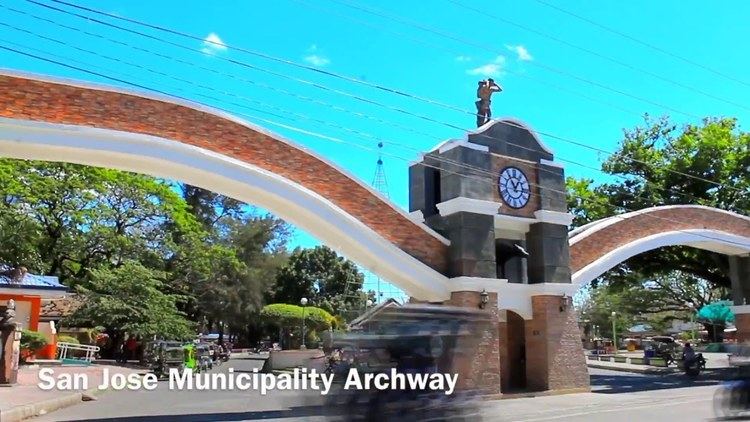 Large public and private elementary and high schools provide basic education in the town proper and smaller barangays. Major educational institutions in the province include Occidental Mindoro State College (OMSC), Divine Word College (DWC), San Jose Adventist Academy Inc. (SJAA), Montessori de San Jose, Philippine Central Islands College (PCIC), I-NET Asia Technological School, Inc., Southwest Philippines Ecumenical School Inc., and Abeleda Technical School.
The population growth currently experienced by San Jose is attributed to a growing number of migrants from Palawan, Southern Luzon, and Visayan provinces.
It is located at the southern part of the province with a total land area of 44,670 hectares (110,400 acres). Climatic condition is classified under Type A category and slope is generally flat. Soil composition developed from recent alluvial deposits which are silty-loam to clay loam and landforms consist of limestone and sedimentary rocks. All types of erosion are present: slight, moderate and severe erosion. Eleven (11) rivers and creeks serve as natural drainage. Mineral deposits includes copper and limestone.
San Jose is politically subdivided into 38 barangays.
Historical records show that in the 14th century, Chinese traders anchored to trade at the shores of Mangarin, the oldest settlement in the southern portion of Occidental Mindoro. Its name was derived from the word "Mandarin", an official Chinese Palace, the remains of which can still be found in the old barrio of Mangarin. When the Spanish took possession of the Island in the 18th century, the first site of the Presidencia was built in sitio of Sinaoga, on the western side of Barrio Sta. Teresa, now part of the municipality of Magsaysay. A year later, it was again transferred to Caminawit. On May 1, 1910, Pandurucan, which was renamed San Jose, became the seat of the Civil Government with Don German Ramirez as its first appointed leader up to 1915. When the Japanese Imperial Forces occupied the town, Bonifacio Gomez was appointed as Mayor from 1941-1942 followed by Pedro Cuden, 1942–1943 and finally Isabelo Abeleda in 1944 until 1946. During the American reoccupation Bibiano Gaudiel replaced Isabelo Abeleda who regained his position in 1955.
San Jose figures prominently in Philippine history for its role during World War II. American forces led by General Douglas MacArthur with the Filipino soldiers staged a so-called "Second Landing" in the beaches of San Jose (the "First" being the famous Leyte Landing) on December 15, 1944, to retake the Philippine islands from the Japanese (the Battle of Mindoro). Securing San Jose and the whole Mindoro island proved decisive in the goal to recapture Manila and Luzon, and the eventual defeat of the Japanese Imperial forces by Filipino and American troops.
The Philippine government split Mindoro into two provinces, Occidental Mindoro and Oriental Mindoro in 1950. San Jose became the temporary capitol but was transferred to Mamburao on January 1950. Migration to Mindoro in the years after the war boosted population growth and spurred development. The Philippine Sugar Mill plantation in the northern Barangay Central helped San Jose become the center of commerce in those years. The economic base has since widened to include rice, corn, tobacco, salt, and aquaculture production.
The Municipality of San Jose passed Resolution No. 0023 in 2001, seeking conversion to city status. To date, this resolution has not been acted upon or pursued by Congress of the Philippines.

It is the most densely populated area in the province which continuously grows at 2.38% annually. Out of the total population of 131,188, about 42% resides in urban area while 58% are situated in rural barangays. Some 2% of its population to belong to the indigenous Mangyan peoples. Mangyans are further divided into tribes like Hanunuo, Ratagnon, Gubatnon and others.
Average household size is recorded at 5 with an urban density of 6500 persons per km². About 69% are dependents, resulting to a dependency ratio of 1:2. On the other hand, male-female ratio is computed at 108:100.
Tagalog is the most outspoken dialect and 83.97% are practicing Roman Catholicism, pastorally served since 1983 by its own Apostolic Vicariate of San Jose in Mindoro, which has its St. Joseph the Worker Cathedral see in the city.
The municipality has diverse economic activities. However, the majority of the working force which is estimated at 76%, are still engaged in agriculture. Like the rest of the province, other industries in San Jose are tied to the town's agricultural base. A substantial majority of palay and rice of Occidental Mindoro, a major supplier of rice for Manila and elsewhere, are delivered, milled, traded and sold in San Jose.
Other major agricultural products include corn, garlic, onions, and root crops. Aquaculture is well-developed in San Jose which is known for its export quality lapu-lapu, bangus (milkfish), and sugpo (prawn). The town has abundant coastal and marine resources which provide an ample supply of fish and marine products for local consumption and exports.
Commercial livestock and poultry farms producing layers, broilers and meat products also exist. San Jose has a large number of agricultural support facilities such as rice mills, warehouses, solar dryers, and the like.
Registered commercial establishments number around 1,030 and the public market, the center of commercial activities, is the largest in the province. Other industries include hollow blocks making, handicrafts, furniture, sweet goods, and other small-scale processing and manufacturing plants.
Challenges and Difficulties
Of the many reasons that hinder San Jose's growth, the unending political turmoil serves as the greatest factor why this town fails to achieve the eventual realization of its progress. Corrupt political clans have monopolized the town's government and it so happen that these clans are rivals since time immemorial. The effects of such governance branch out to many forms of other challenges that burden the town such as a very unstable power supply, retreat of many could-have-been business investors, problem regarding peace and order and numbers of unfinished government projects.
The town is served by the San Jose Airport, with regular scheduled flights to Manila. There is also a commercial port operated by Montenegro Lines with regular routes to Palawan.