Samuel ben Meir Ha-Levi Abulafia (Úbeda, approx. 1320 - Seville, 1360), was the treasurer of king Pedro I "the Cruel" of Castile and founder of the Synagogue of El Transito in Toledo, Spain.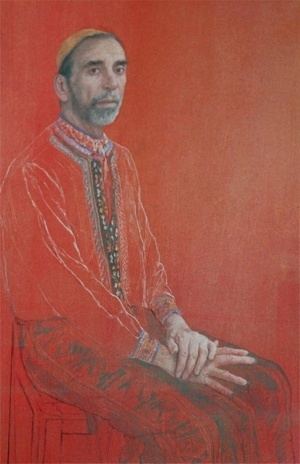 Ha-Levi was born to the Abulafia family, a prominent Spanish Jewish (Sephardic) family who included many distinguished rabbis, poets and community leaders. His parents died of plague shortly after arriving in Toledo. He first worked as administrator to the Portuguese knight Juan Alfonso de Alburquerque. He was then employed at the court of Pedro I of Castile, first as camarero mayor (chamberlain) and later as almojarife (treasurer) and as oídor (judge). His employment ended when the enemies of Pedro I led by Henry of Trastámara organized a pogrom against the Toledan Jewry, which enabled them to assume possession of the royal treasures. The king marched to Toro to demand the return of his belongings, and Samuel Ha-Levi accompanied him, and later supported the King in reclaiming Toledo for the crown, and in the establishment of a peace treaty with the Portuguese at Évora in 1358.
In Toledo, his home (in Spanish, a mansion or palacio) stood on the current site of the Museo de El Greco. With the considerable riches bestowed upon him by his employer, he founded the nearby Synagogue of El Transito circa 1357. The building was one of ten small synagogues serving Toledo's large Jewish population, and it is still architecturally exquisite. Its construction was opposed vociferously by the Catholic church, but King Pedro permitted it. Constantly criticized by his rivals for his permissive stance towards Jews, eventually the King turned against ha-Levi and had him encarcerated and tortured on suspicion of embezzlement in 1360. He died under duress of torture.
The prominence of Samuel Ha-Levi at Pedro's court has often been cited as evidence of his supposed pro-Jewish sentiment, but Ha-Levi's success did not necessarily reflect the general experience of the Spanish Jewry in this period, which was often marked by discrimination and pogroms. And even Samuel's career shows that the opportunities for Jews were restricted to certain offices and positions whereas other forms of advancement were denied to them.
The Abulafia family remained prominent in Spain up to the expulsion of the Jews in 1491. Abulafias also played an important role in the Jewish exodus to the Ottoman Empire, notably Safed and Tiberias in Galilee. Ongoing research indicates that some of his descendants may have taken on the epithet (de) Palacio: descendants may include Samuel Pallache (ca. 1550 Fez – 1660 Hague) and grand rabbi Haim Palachi (1788-1869 Izmir)–see Pallache family.
In 1900, Jewish scholar Meyer Kayserling (1829–1905), a member of the Royal Academy in Madrid, recorded:
D. Samuel führte ein fürstliches Haus. Er hatte Diener in grosser Zahl; maurische Sklaven warteeten bei ihm auf. Während meiner Anwesenheit in Toledo konnte ich es mir nicht versagen, den noch erhaltenen Palast D. Samuels, noch heute "Palacio del Judio," das "Judenschloss" gennant, aufzusuchen und zu betreten.
D. Samuel led a princely house. He had servants in great numbers; Moorish slaves were waiting for him. During my presence in Toledo, I could not refuse to visit and enter the still-preserved palace of D. Samuels, still today called "Palacio del Judio," the "Jewish castle.".