Name

Salvatore Sciarrino




Role

Composer








Education

Accademia Nazionale di Santa Cecilia




Compositions

Luci mie traditrici, Luci mie traditrici, Lohengrin, Lohengrin, Da gelo a gelo, Da gelo a gelo, Pianosonate nr 4, Pianosonate nr 4, De dood van Borromini, De dood van Borromini, Het vuur(wapen) dat het verstand te boven gaat, Het vuur(wapen) dat het verstand te boven gaat, Pianosonate nr 3, Pianosonate nr 3, Zes Capriccio's, Zes Capriccio's, Het geluid en de stilte, Het geluid en de stilte, Introduzione all'oscuro, Introduzione all'oscuro, Fragment en adagio, Fragment en adagio, Schaduw van geluid, Schaduw van geluid, Pianosonate nr 1, Pianosonate nr 1, Allegorie van de nacht, Allegorie van de nacht, Pianosonate nr 2, Pianosonate nr 2, Vaag recitatief, Vaag recitatief, Variaties, Variaties




Similar People

Franco Donatoni, Mario Caroli, Helmut Lachenmann, Luciano Berio, Giacinto Scelsi




Libretti

Lohengrin, Da gelo a gelo



Salvatore sciarrino anamorfosi
Salvatore Sciarrino (born Palermo, Italy, on April 4, 1947) is an Italian composer of contemporary classical music.
Contents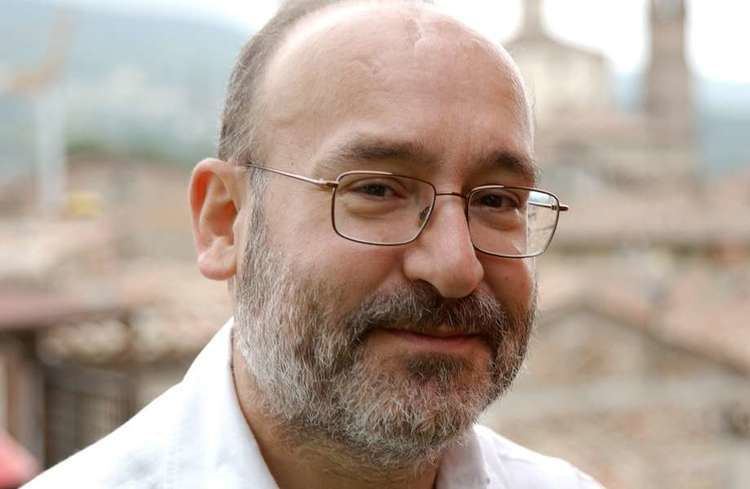 Composer Salvatore Sciarrino interviewed on The Pat Kenny Show Newstalk 106
Biography
In his youth, Salvatore Sciarrino was attracted to the visual arts, but began experimenting with music when he was twelve. Though he had some lessons from Antonino Titone and Turi Belfiore, he is primarily self-taught as a composer. After his classical studies and a few years of university in his home city, in 1969 he moved to Rome, where he attended Franco Evangelisti's course in electronic music at the Accademia di Santa Cecilia (Osmond-Smith 2001).
In 1977, Sciarrino moved from Rome to Milan, where he taught at the conservatory until 1982. By this time his compositional career had expanded to the point where he could withdraw from teaching, and he moved to Città di Castello, in Umbria, where he has lived ever since. He nevertheless has continued to teach occasionally in Florence and Bologna, as well as in Città di Castello. Some of his notable students include Francesco Filidei, Lucia Ronchetti, David Monacchi, and Maurizio Pisati. See: List of music students by teacher: R to S#Salvatore Sciarrino.
He has composed for: Teatro alla Scala, RAI, Teatro del Maggio Musicale Fiorentino, Biennale di Venezia, Teatro La Fenice di Venezia, Teatro Carlo Felice di Genova, Fondazione Arena di Verona, Stuttgart State Opera, Brussels La Monnaie, Frankfurt Opera Theatre, Amsterdam Concertgebouw, London Symphony Orchestra, Tokyo Suntory Hall. He has also composed for the following festivals: Schwetzinger Festspiele, Donaueschinger Musiktage, Witten, Salzburg, New York, Wien Modern, Wiener Festwochen, Berliner Festspiele Musik, Holland Festival, Alborough, Festival d'Automne (Paris), Ultima (Oslo).
His music was published by Ricordi from 1969 to 2004. Since 2005, Rai Trade has had exclusive rights for Sciarrino's works.
Sciarrino's discography is extensive: there are over 70 CDs, many of which have won awards.
Apart from being author of most of the librettos of his operas, Sciarrino has written many articles, essays and texts, some of which have been chosen and collected in Carte da suono, CIDIM – Novecento, 2001. His book about musical form: Le figure della musica da Beethoven a oggi (Ricordi 1998) is particularly important.
From 1978 to 1980, he was Artistic Director of Teatro Comunale di Bologna, Academic of Santa Cecilia (Roma), Academic of Fine Arts of Bavaria and Academic of the Arts (Berlin).
He has been teaching at the Accademia Musicale Chigiana since 2013; beforehand he held the composition class in 1983 and in 2002.
Sciarrino has won many awards, among the most recent are: Prince Pierre de Monaco (2003) and the prestigious Feltrinelli Prize (2003). He is also the first prizewinner of the newly created Salzburg Music Prize (2006), an International composition prize established by Salzburg. He received the 2011 BBVA Foundation Frontiers of Knowledge Award of Contemporary Music for renewing the possibilities of vocal and instrumental music and for the singularity of his sound materials. Sciarrino has developed a new and unique syntax and a manner of combining extreme synthesis with richness of detail.
Works
Sciarrino's works include a large body of chamber music, including many pieces for wind instruments, five piano sonatas, and several operas or theatrical works: Da gelo a gelo, Infinito nero, Macbeth (2002), Perseo ed Andromeda, Lohengrin, and Luci mie traditrici.
References
Salvatore Sciarrino Wikipedia
(Text) CC BY-SA