Sakalakala Vallavan (English: Master of all Arts) is a 1982 Indian Tamil-language masala film directed by S. P. Muthuraman. The film stars Kamal Haasan and Ambika in lead roles with Raveendran, Thulasi, Silk Smitha and Y. G. Mahendran portraying supporting roles. The film was produced by M. Saravanan, M. Balasubramanian and M. S. Guhan under the production company AVM Productions.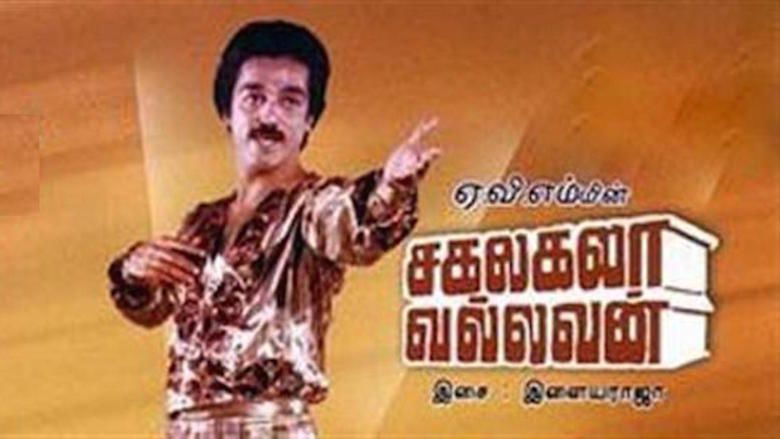 The film revolves around Velu, a villager who takes revenge against Geetha and Palani for molesting his sister. The film's script was written by Panchu Arunachalam. The film's score and soundtrack was composed by Ilaiyaraaja with songs like "Ilamai Idho" and "Nethu Raatri" remaining popular in Tamil Nadu.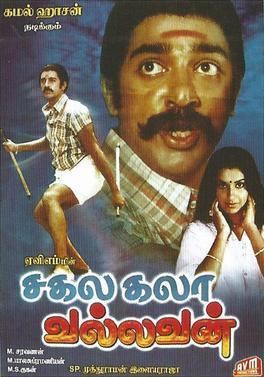 Babu and R. Vittal handled cinematography and editing respectively. The film was a blockbuster and completed 176-day run at the box office. The film remains one of the successful films in the career of Kamal Haasan and made him popular among the masses. The film was dubbed in Telugu as Palleturi Simham. The film was remade in Hindi as Abhimanyu (1989) starring Anil Kapoor.
Agriculturist Velu (Kamal Haasan) goes to extremes to attain revenge against his devious landlord and her family. He is an upright young man, but when his family gets cheated out of money and his sister gets raped by the landlord's son, he decides it's time to take a stand. Donning various disguises, he—with help from his sister Valli (Thulasi) and friend Poonae (Y. G. Mahendran) - sets out seeking justice against the landlord and her confrontational daughter Geetha (Ambika) and son Pazhani (Raveendran).
Kamal Haasan as Velu/Sam
Ambika as Geetha
Raveendran as Pazhani
Thulasi as Valli/Bobby
V. K. Ramasamy as Ramiah Pillai
Y. G. Mahendran
Thengai Srinivasan as Sundaram
Silk Smitha as Lalitha
S. N. Parvathi
Pushpalatha
Srilekha
The music was composed by Ilaiyaraaja. The song "Ilamai Idho" remains one of the famous songs for New Year.
Sakalakala Vallavan was released on 14 August 1982. Despite facing competition from another Muthuraman-directed film Enkeyo Ketta Kural, released on the same day, both films succeeded commercially.
Sakalakala Vallavan widened Kamal Haasan's audience base from the "classes" to a hero of the "masses". Film historian G. Dhananjayan noted that while Haasan was then considered an "A-centre star", the film took him "to the B and C centres". Sakalakala Vallavan inspired a 2015 film of same name starring Jayam Ravi which had no similarity to this film. Sudhir Srinivasan of The Hindu noted that both films were "about a gold-hearted villager and his taming of an urban woman". Title also inspired a show aired on Kalaignar TV. In June 2013, A. Muthusamy of Honey Bee Music enhanced the songs from their original version on the film's soundtrack album to 5.1 surround sound.