Name

Saira Wasim




Role

Artist









Books

Saira Wasim: Epic Miniatures : 28 February-5 April 2008




Education

National College of Arts

UNICORN GALLERY: SAIRA WASIM miniatures at Unicorn Gallery
Saira Wasim is a noted contemporary artist from Lahore, Pakistan. She currently lives in United States. Wasim uses the miniature style of painting, pioneered by the Persians but extensively used in South Asia, to make primarily political and cultural art. Wasim's art has been showcased in a number of premiere museums including the Whitney Museum of American Art, Brooklyn Museum of Art, and Asian Art Museum.
Contents

UNICORN GALLERY: Saira Wasim exhibition at Unicorn Gallery
Biography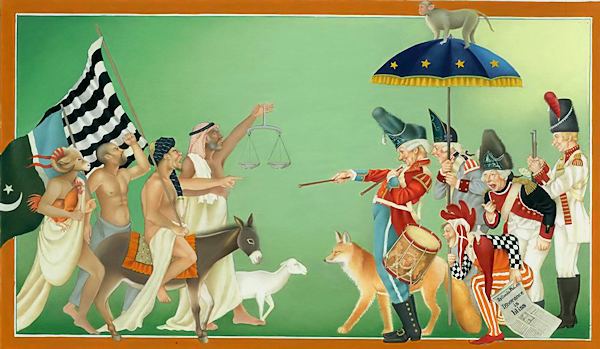 Ms. Wasim was born in Lahore, Pakistan. She belongs to the Ahmadiyya Community. Ms. Wasim has recently noted that persecution as an Ahmadiyya was key in shaping her artistic perspectives. She has so far hesitated to address the topic in her art.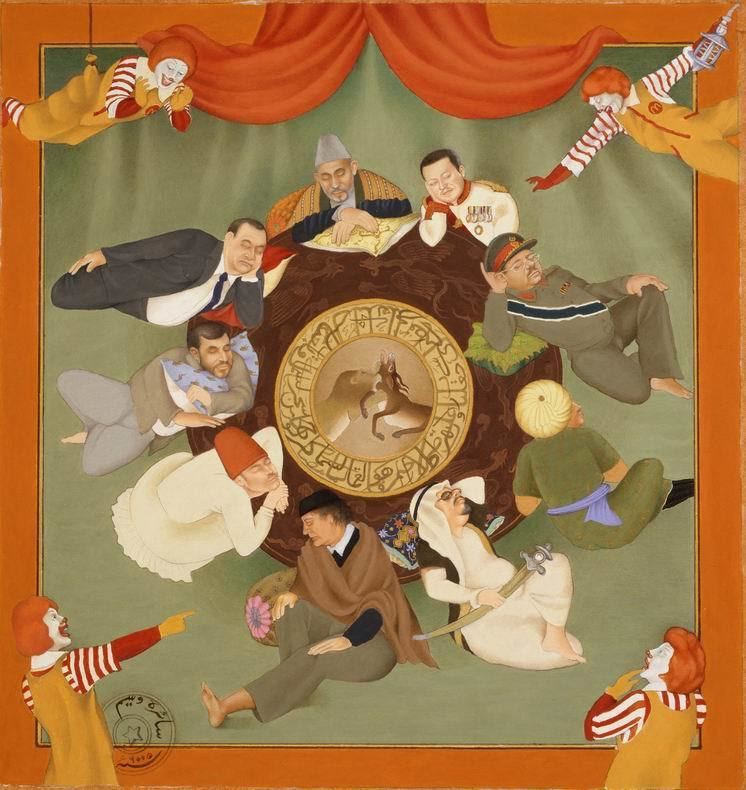 Ms. Wasim went to National College of Arts (in Lahore), from where she graduated with a Bachelors in Fine Arts with focus in miniature painting in 1999.Dawn art critic Ali Adil Khan describes her as part of "magnificent seven" along with Muhammed Imran Qureshi, Tazeen Qayyum, Aisha Khalid, Talha Rathore, Nusra Latif Qureshi, and Reeta Saeed- who brought back miniatures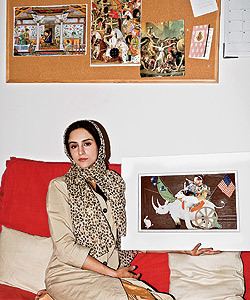 Ms. Wasim has held positions as a Visiting Artist at numerous important places including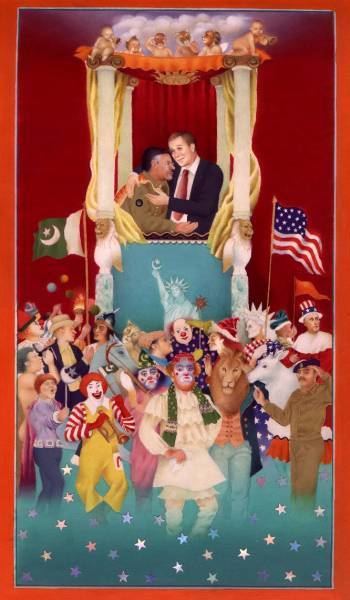 2003 Whitney Museum of American Art, New York
2003 University of Maryland, College Park
2004 Smith College, Massachusetts
2005 Oklahoma State University
Artistic approach
Saira Wasim draws Persian Miniatures to make devastating political commentary. Using traditional art to make modern commentary has proliferated within the Asian contemporary art world with artists like Chottu Lal, and Rageshwar Singh using the folk and religious traditions to make art.
Saira's pet political topics are commenting on the vast chasm that exists between the West and the Islamic world, repression within Islamic world, and the new Western cultural imperialism.
"My work uses the contemporary miniature form to explore social and political issues that divide the modern world. This series, Battle for Hearts and Minds, illustrates the clash between imperialism in the west and fundamentalism in the east, and questions the underlying motivations and uneasy alliances that keep this conflict going.
My work offers a voice against this ignorance and prejudice. It pleas for social justice, respect, and tolerance through the use of caricature and satire."
New York Times describes her work as "exquisite political cartoons that conjure William Hogarth and sometimes borrow directly from Norman Rockwell."
Shows
Solo Shows:
2005. 'Political Carousel' South Western University, Texas.
Two-Person Shows
2004 Transcendent contemplations, green cardamom @ Hosain, London with Hasnat Mahmood (Catalogue)
2003 Rohtas 2 Gallery, Lahore with Waseem Ahmad
Selected Group Exhibitions:
'Double Conscience' at Mattress Factory Museum Pitsburg – 2007
'One way or another Asian American art now' at Asia Society New York -2006 (catalogue)
'Karkhana': a Contemporary Collaboration at Asian Art Museum San Francisco, USA-2006
American Effect, Whitney Museum of American Art, New York (catalogue) - 2003
125th Celebrations of National College of Arts and Millennium exhibition in National College of Arts Gallery, Pakistan- 2000
References
Saira Wasim Wikipedia
(Text) CC BY-SA