Saint Martin (Jerriais: St Martin) is one of the twelve parishes of Jersey in the Channel Islands. Historically it was called "Saint Martin le Vieux" to distinguish it from the present day parish of Grouville (historically "Saint Martin de Grouville").
St. Martin is the only parish in Jersey not to conduct its municipal business from a Parish Hall. St. Martin has a Public Hall instead, having accepted money from the States of Jersey to provide an assembly room.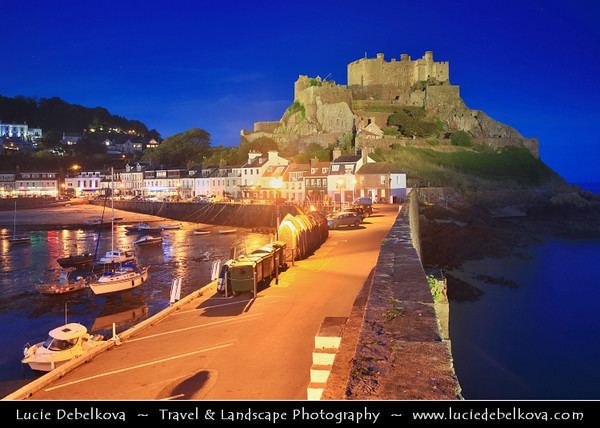 The ancient castle of Mont Orgueil dominates the small harbour and village of Gorey. The castle served as the islands prison until a prison was constructed in St. Helier in the 17th century. Among agitators imprisoned there by the British government were William Prynne and John Lilburne. Until the construction of Elizabeth Castle off St. Helier at the beginning of the 17th century, Mont Orgueil was generally the residence of the Governor of Jersey.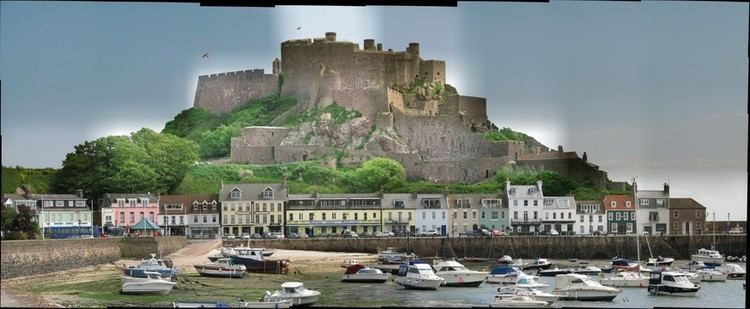 The 600m breakwater at St. Catherine is all that remains of a grandiose harbour project started, but then abandoned, by the British government in the 19th century. It is now a popular site for sea anglers.
St. Martin is one of the remaining strongholds of Jerriais with a distinctive accent. The area around Faldouet formerly possessed a dialect of its own, known as Faldouais, of which the distinctive feature was the realisation of intervocalic /r/ as /z/. Although the Faldouais dialect is extinct, it has left notable amounts of writings in Jerriais literature.
The artist Edmund Blampied was born at Ville Bree on 30 March 1886.
This is one of the most agricultural parishes, and one of the most sought after places to live in the island. It has the best herd of Jersey cattle, some of the largest potato growers and a number of small farmers now cultivating the new "Genuine Jersey", mainly organic, brand.
Saint Martin, Jersey Wikipedia
(,)http://upload.wikimedia.org/wikipedia/commons/f/f6/Old_St._Mary%27s_Church,_West_Broad_%2526_Wood_Streets,_Burlington_(Burlington_County,_New_Jersey).jpg(,)http://upload.wikimedia.org/wikipedia/commons/5/5c/Saints_uniforms12.png(,)http://upload.wikimedia.org/wikipedia/commons/c/c6/States_Building_in_St_Helier_Jersey.jpg
(,)http://www.luciedebelkova.com/Travel/Europe/UK-Channel-Islands-Jersey/i-PMwcZsh/0/M/Jersey%2520-%25202013%2520%2709%2520September%2520-%2520122-aa-M.jpg(,)http://static.gigapan.org/gigapans0/23427/images/23427-874x360.jpg(,)http://st.houzz.com/simgs/d161880500783a35_4-6957/contemporary-landscape.jpg(,)http://www.sothebysrealty.com/extraordinary-living-blog/wp-content/uploads/2012/08/sarasota_fl_4352931.jpg%3Fw%3D630(,)http://www.colmog.co.uk/img/home/5martin.jpg(,)http://www.tccweb.org/Site/images/threestsrochurch.jpg(,)http://media-cdn.tripadvisor.com/media/photo-o/01/f4/fa/59/view-from-gorey-village.jpg(,)http://njh.images.worldnow.com/images/6661869_G.jpg
(,)http://www.independent.co.uk/incoming/article8207676.ece/alternates/w620/5471210.jpg(,)http://www.independent.co.uk/incoming/article8135623.ece/alternates/w620/5456845.jpg(,)http://media-cdn.tripadvisor.com/media/photo-s/01/2f/22/3e/la-marine-august-2008.jpg(,)http://media-cdn.tripadvisor.com/media/photo-s/02/42/82/29/la-villa-restaurant.jpg(,)http://i.dailymail.co.uk/i/pix/2013/09/25/article-2432268-1840A0A900000578-991_634x408.jpg(,)http://www.independent.co.uk/incoming/article9848321.ece/alternates/w620/5755879.jpg(,)http://media-cdn.tripadvisor.com/media/photo-s/01/fa/89/d8/filename-lauberge-jpg.jpg(,)http://media-cdn.tripadvisor.com/media/photo-s/03/81/75/d6/ocean-82.jpg(,)http://www.paulsbartholomew.com/media/original/dole_france_alley_photo.jpg(,)http://media-cdn.tripadvisor.com/media/photo-s/07/00/0e/8b/belmond-la-samanna.jpg(,)http://media-cdn.tripadvisor.com/media/photo-s/05/9a/5e/08/sonesta-great-bay-beach.jpg(,)http://i.dailymail.co.uk/i/pix/2013/09/25/article-2432268-1840A0CE00000578-499_634x405.jpg
(,)http://upload.wikimedia.org/wikipedia/commons/e/e8/Jersey_folk_costume_parade.jpg(,)http://upload.wikimedia.org/wikipedia/commons/b/bf/Freedom_Tree_sculpture_St_Helier_Jersey.jpg(,)http://i.dailymail.co.uk/i/pix/2012/10/29/article-2224900-15BF61C8000005DC-118_634x423.jpg(,)http://upload.wikimedia.org/wikipedia/commons/d/d2/Lalique_glass_altarpiece_in_the_Glass_Church_Jersey.jpg(,)http://upload.wikimedia.org/wikipedia/commons/c/c7/Jersey_Airport_signage_in_J%25C3%25A8rriais.jpg(,)http://upload.wikimedia.org/wikipedia/commons/6/6e/Jersey-islands.png(,)http://www.parish.gov.je/PublishingImages/Public%2520Hall.jpg%3FRenditionID%3D6(,)http://upload.wikimedia.org/wikipedia/commons/d/dc/Jersey.arp.750pix.jpg(,)http://upload.wikimedia.org/wikipedia/commons/4/47/Anne_Hathaway_at_the_2007_Deauville_American_Film_Festival-01A.jpg(,)http://www.jersey.com/PublishingImages/eatingout/slideshow/al_fresco_st_brelades.jpg
(,)http://i00.i.aliimg.com/wsphoto/v0/32313234870_1/2014-New-St-Louis-Blues-Jerseys-30-font-b-Martin-b-font-font-b-Brodeur-b.jpg(,)http://cdn.theatlantic.com/static/mt/assets/culture_test/roth11.jpg(,)http://assets.nydailynews.com/polopoly_fs/1.2029366.1417472647!/img/httpImage/image.jpg_gen/derivatives/article_970/nba2f-31-web.jpg(,)http://www.sacbee.com/incoming/om9odr/picture6607191/ALTERNATES/FREE_960/Lc2Mz.St.4.jpg(,)http://1.bp.blogspot.com/-h1jpl7aiNBw/TeGPhcsMBiI/AAAAAAAAEx8/CeRGIFN8pLs/s1600/twins.jpg(,)https://expertissim-medias-synalabs.turbobytes.net/media/cache/object_giant/uploads/object/2014/06/04/12160971/_44A1305_ok.jpg(,)https://expertissim-medias-synalabs.turbobytes.net/media/cache/object_giant/uploads/object/2014/06/04/12160974/_37A0065-2.jpg(,)http://twt-thumbs.washtimes.com/media/image/2014/12/02/brodeur-waits-hockey_lanc_c0-374-3600-2472_s561x327.jpg%3F1a69696938945cd8a9c2e297d285180da2bcb7d6(,)http://twt-thumbs.washtimes.com/media/image/2014/10/03/2fbc4d9ee1c27b26610f6a7067003952_c0-155-2737-1750_s561x327.jpg%3F012d4e0a8c02657cb2cafc2c52d723569c47e994(,)http://1.bp.blogspot.com/-JA0z9cFX-jU/UOdjqxHQK-I/AAAAAAAAFZg/hknuue1X8n4/s1600/DSCF7658.JPG
(,)http://media-cdn.tripadvisor.com/media/photo-s/01/f4/fa/59/view-from-gorey-village.jpg(,)http://media-cdn.tripadvisor.com/media/photo-s/03/9b/30/36/st-martin-st-maarten.jpg(,)http://media-cdn.tripadvisor.com/media/photo-s/06/7e/56/c3/john-fox-s-jersey-adventures.jpg(,)http://media-cdn.tripadvisor.com/media/photo-s/03/9b/1d/5e/soualiga-destinations.jpg(,)http://jerseyislandblog.com/wp-content/uploads/2011/07/LArchithonde_et_la_Mathe_Ste_Catlinne_Saint_Martin_Jerri-600x300.jpg(,)http://jerseyislandblog.com/wp-content/uploads/2014/10/Anne_Port_Jersey-600x300.jpg(,)http://media-cdn.tripadvisor.com/media/photo-s/06/6b/15/bf/kayakers-in-the-bay.jpg(,)http://jerseyeveningpost.com/wpmvc/wp/wp-content/uploads/2015/02/54e719d5bd2f18.31901982-_DSC6351.jpg(,)http://media-cdn.tripadvisor.com/media/photo-s/01/77/e5/58/jersey.jpg(,)http://media-cdn.tripadvisor.com/media/photo-s/01/2d/70/96/st-martin-sunset-from.jpg(,)http://jerseyeveningpost.com/wpmvc/wp/wp-content/uploads/2015/02/54e713d5dd8ed4.56160282-_DSC6044.jpg(,)http://i.dailymail.co.uk/i/pix/tm/2007/10/stmartins1MOS_428x269_to_468x312.jpg