Country

India




Languages spoken

Maithili, Hindi




District

Saharsa




Population

125,167 (2001)




State

Bihar






Map of Saharsa
Saharsa is a city and a municipality in the Saharsa district in the East Indian state of Bihar, situated near the eastern banks of the magnificent Kosi River. It is the administrative headquarters of the Saharsa District, and is the capital of Kosi Division of State of Bihar. Saharsa is also the name of the assembly constituency, which contains the city and neighbouring parts of the district. The name Saharsa has originated from Sanskrit word Saharsha translating into 'Laden with Joy'. The city has a mixed linguistic population with significant speakers of Maithili speakers. Hindi Urdu and Surjapuri is widely understood and spoken along side Maithili. English can also be used to communicate in the town regards to the increasing influences of globalisation in the region.
Contents
History
Earlier, the Saharsa district was part of the Munger and Bhagalpur districts. On 1 April 1954 it was made a district of its own. It was also made headquarters of Kosi division on 2 October 1972, comprising Saharsa, Purnia and Katihar district, with its headquarters at Saharsa. Similarly a new Civil Sub-Division Birpur was created on 1 December 1972, consisting of 24 development blocks, including Raghopur, Chhatapur, Basantpur and Nirmali, which were previously under Supaul subdivision of this district. Two new districts, Madhepura and Supaul, were formed from Saharsa district on 30 April 1981 and 1991. Saharsa district now consists of two subdivisions, Saharsa Sadar and Simri Bakhtiarpur. The district consists of 10 development blocks and anchals each.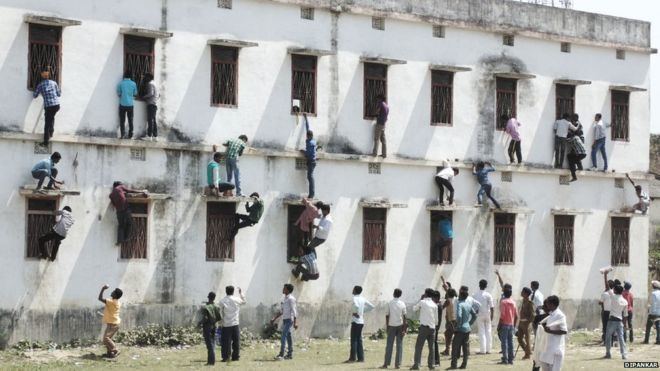 A large part of the district in the past was subjected to annual floods and inundation by a host of rivers originating from the Himalayas. The sub terai was noted for rice cultivation before it was subjected to the vagaries of the unpredictable Koshi river.
Pre-historic period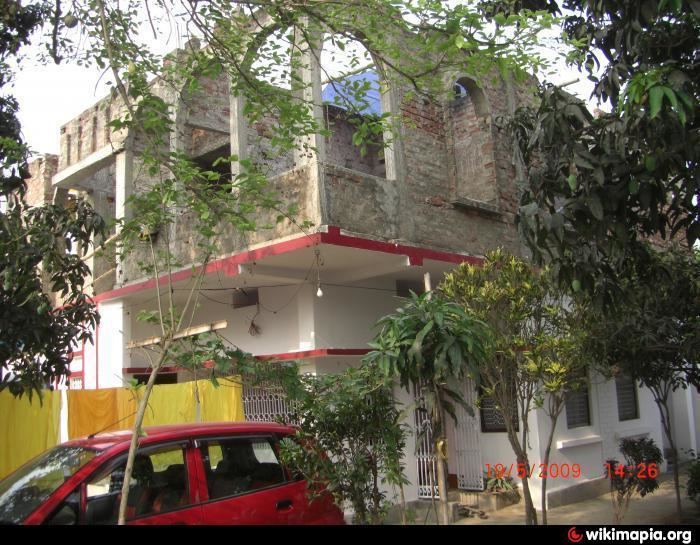 Saharsa was part of Mithila and the history can be traced back to Raja Janak (in mythical accounts, the father of Sita, who later became wife of Lord Rama). Tantric scholars and devotees attach significance to this Chandi temple, which is said to form an equilateral triangle with the Katyayani temple near Dhamara Ghat and the Tara temple at Mahishi. During the Navaratri people from distant places visit the village to offer prayers to the goddess of power. The famous conversation between Mandan Mishra and Shankracharya took place in Mahishi in Saharsa.
Geography
Saharsa is located at 25.88°N 86.6°E / 25.88; 86.6. It has an average elevation of 41 metres (134 feet). Saharsa and its surrounding areas are a flat alluvial plain forming part of the Kosi river basin. The town actually lies in the Kosi Alluvial Megafan one of the largest alluvial megafans of the world. Resultingly, the land is very fertile. However, frequent changes in the course of the Kosi, one of the largest tributaries of the Ganges, have led to the problems associated with soil erosion. Flooding is a major reason for the poor connectivity of the area as bridges tend to get washed away. Major flooding occurs almost annually, causing a significant loss of life and property.
Rivers
Kosi and its tributaries
This is the most devastating river of Bihar, earning the epithet "Sorrow of Bihar".
Bagmati
The river is notorious for its breach of embankments & frequently changing its meandering courses. Therefore, here the river is in its youth stage where annual rate of deposition of alluvium is very high. gandak is also a main river following through some southern part of Saharsa.
About the Town
Saharsa is a sprawling township and is the administrative and cultural capital of Koshi Region of Bihar. The Town, with its narrow lanes and a unique blend of urban and rural architecture presents itself as a very interesting architectural delight. Partially derelicted buildings rule the skyline alongside pretty palm and coconut trees. The town is criss-crossed by railway lines and Saharsa being a railwway junction, railway lines pass through various localities of the town, best examples can be the vibrant localities of Hatiyagachhi, Rajwanshi Nagar, Vidyapati Nagar, Krishnanagar and Professor's Colony. Additionally the town is the commercial centre of the region and boasts the presence of various branded showrooms and shopping complexes. The prominent one to mention could be Lewis Showroom at DB Road, Delhi Haat on Madhepura Road, et cetera. There are various restaurants and fast food centres dotting the community life here. Sangam Vihar, Banzara Fast Food, Pardesi Cardo Restaurant, etc. can be mentioned as famous eatouts in Saharsa Town.
Apart from so many interesting things this town offers, there are certain things existing here which might be termed peculiar. First one to be mentioned is the garbage dumps at random places across the township. This has led to a large number of pigs roaming around. Additionally, stray cows, buffaloes and dogs can be easily spotted on the streets too. One other problem that town possesses is the lack of parking space in the major commercial centres, sometimes leading to traffic jams. Also, lack of sidewalks for pedestrians also contributes to the chaos on the road. One peculiarity the town experiences is the seasonal immigration of people. During the period of annual flooding or during holiday deasons (thanks to the fact the Bihar has been a major supplier of human labour), there is a seasonal population rise in the township whose infrastructure is not feasible to handle this influx so well. This creates a necessity for improvements in the town planning aspects thus requiring effective measures to be taken by the municipal council of the town.
Important villages
Sonvarsha
Simri Bakhtiyarpur
Patuaha
Parari
Bangaon
Mahishi
Sisai
Agawanpur
Tiri
Demographics
An official Census 2011 detail of Saharsa, a district of Bihar has been released by Directorate of Census Operations in Bihar. Enumeration of key persons was also done by census officials in Saharsa District of Bihar.
In 2011, Saharsa had population of 1,897,102, of which male and female were 995,502 and 901,600 respectively. There was change of 25.79 percent in the population compared to population as per 2001. In the previous census of India 2001, Saharsa District recorded increase of 33.03 percent to its population compared to 1991.
The initial provisional data suggest a density of 1,125 in 2011 compared to 895 of 2001. Total area under Saharsa district is of about 1,686 km2.
Average literacy rate of Saharsa in 2011 were 54.57 compared to 39.08 of 2001. If things are looked out at gender wise, male and female literacy were 65.22 and 42.73 respectively. For 2001 census, same figures stood at 51.66 and 25.27 in Saharsa District. Total literate in Saharsa District were 829,206 of which male and female were 521,560 and 307,646 respectively. In 2001, Saharsa District had 465,577 in its total region.
With regards to Sex Ratio in Saharsa, it stood at 906 per 1000 male compared to 2001 census figure of 910. The average national sex ratio in India is 940 as per latest reports of Census 2011 Directorate. kahra and Bangaon has a very important contribution in entire sectoral development of Saharsa. Students from Saharsa go to every part of country as well as other parts of the world. The market of Saharsa is developing very quickly.
Agriculture
region]]
Food crop: Paddy
Cash crop: Makhana (Euryale ferox Salisb)
Mango
Litchi
Bamboo
Mustard
Corn
Wheat
Sugarcane
Sagwan or teak (Tectona grandis) trees are now grown on a large scale for its industrial benefits.Teak plantation started proliferating when a local farmer, Md Abul Kalam, first started its farming by planting 1000 teak trees in about 2008. Since then a number of other farmers and local traders have started its plantation.
Communication links
Saharsa is connected by railway and roadways to other major towns in Bihar. National Highway 327 (Saharsa – Bagdogra) and NH 107 connects it to Maheshkhunt and Purnia List of National Highways in India. The rural road network is in need of improvement. Saharsa - Darbhanga is being joined through baluwaha bridge over koshi river.This will boost the connectivity of entire mithilanchal region .
Saharsa does not have air transport service(there is an air strip reserved for government use but no commercial flights exist) or waterways, but railways play an important role. In early 2006, a much awaited broad gauge line connected it to Khagaria on the New Delhi-Guwahati main line.Earlier there was only a metre gauge line on the Khagaria – Mansi – Saharsa – Forbesganj section of East Central Railway.
The city is also served by India Post. Its Postal Code is: 852201.
Education
Saharsa has a good number of schools and colleges. Although quality education is still a problem for students in saharsa yet ,but things are improving now.There is a proposal to build AIIMS[1] in saharsa.This will boost education facilities for the district.As of now there are a few medical colleges and one engineering college is being constructed in the city.The growth has been slow despite the fact that students from saharsa have gone to various prestigious IITs like IIT Kharagpur,IIT(BHU)Varanasi,IIT Delhi,IIT Guwahati,IIT Kanpur,etc. A village named bangaon which is situated 10 kms south of Saharsa Junction has been producing IAS,IPS and Other Civil Servants since time immemorial. Students from different parts of district have been into the best medical schools and colleges in the country and abroad. Considering these facts into mind the pace of academic growth in the district has been slow. AIIMS is a good move in this way. But things really need to be accelerated considering the potential of this region. The city has many private schools which are the basic building blocks for society. One can visit government websites for detailed information. Many students choose to study outside because of lack of resources for high education.
Saharsa junction in bihar
References
Saharsa Wikipedia
(Text) CC BY-SA