A group of thieves rob a safe of $100,000 and plan to use the money to purchase some land near a proposed railway line. The crooks think theyve gotten away with their crime, but they havent figured on Sabata (Lee Van Cleef), a violent bounty hunter with no scruples and a strong desire for cash. He teams up with both his partner, Banjo (William Berger), and a local bandit named Carrincha (Pedro Sanchez). Sabatas fast draw and quick wits make life hell for the thieves.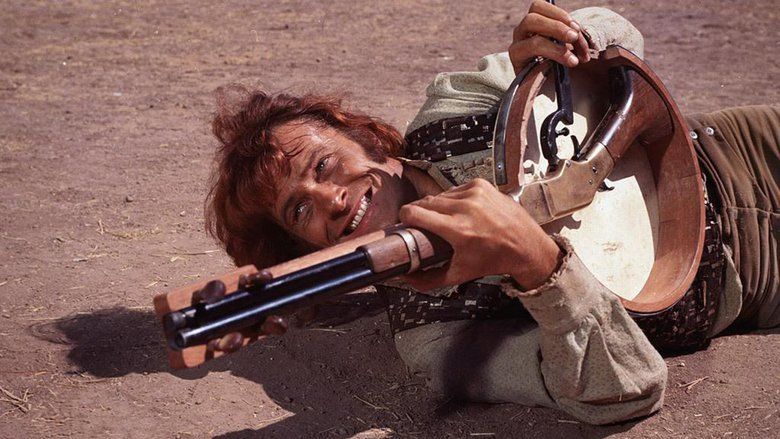 Sabata (Italian: , roughly translated as Hey buddy ... thats Sabata, youre finished!), is a 1969 Italian Spaghetti Western directed by Gianfranco Parolini. It is the first film in The Sabata Trilogy by Parolini, and stars Lee Van Cleef as the title character. Parolini had previously had a major success with the first Sartana spaghetti western If You Meet Sartana Pray for Your Death (1968), but the sequels were given to other directors, such as Giuliano Carnimeo. Producer Alberto Grimaldi contacted Parolini for a similar series of Sabata.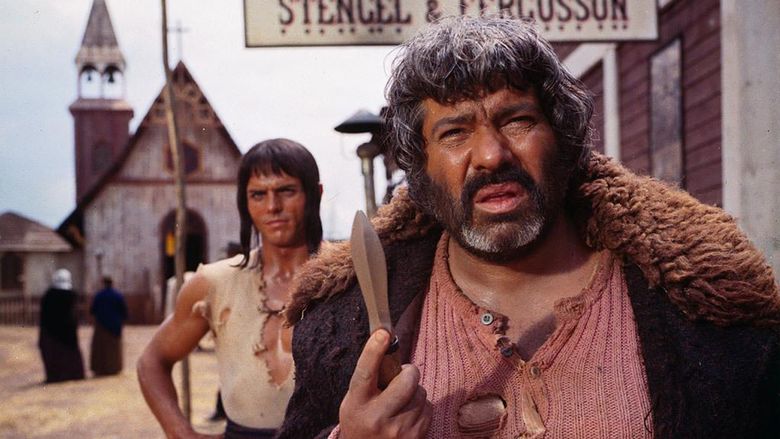 Several pillars of society have robbed an Army safe containing $100,000 so they can buy the land upon which the coming railroad will be built. But they haven't reckoned on the presence of the master gunslinger, Sabata.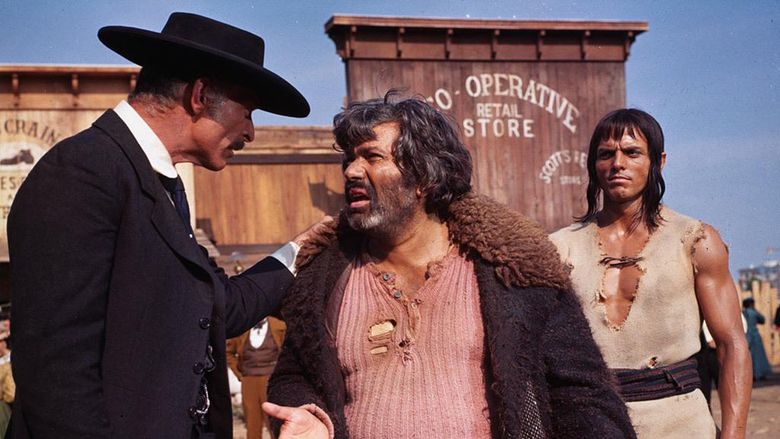 The Virginia Brothers, a team of acrobats, along with a dozen of Stengels henchmen, rob the town bank. The acrobats are able to jump into the banks uppermost window and kill all the guards. The robbers then load the town safe into a wagon and escape with 100,000 dollars.
Just as they leave the town, Sabata (Lee Van Cleef) rides in. Outside the town saloon, Carrincha has been tossed into the street for not having any money. Seeing his friend Alley Cat, Carrincha yells at him, and starts to rant about how dull civilian life is, then seeing Sabata (whom he does not know), continues about how his Civil War medal couldnt even be traded for a bottle of whiskey.

Sabata, sympathetic, takes out a silver dollar and tosses it into Carrinchas hand. Carrincha happily re-enters the saloon and buys a drink. Sabata enters the saloon, and notices that an old man is being cheated out of his money in a dice game. Drawing his pistol, he blows apart the dice, saying that they are loaded. A man, eating dinner across the saloon starts to stand up, but Sabata aims at him and orders him to sit down.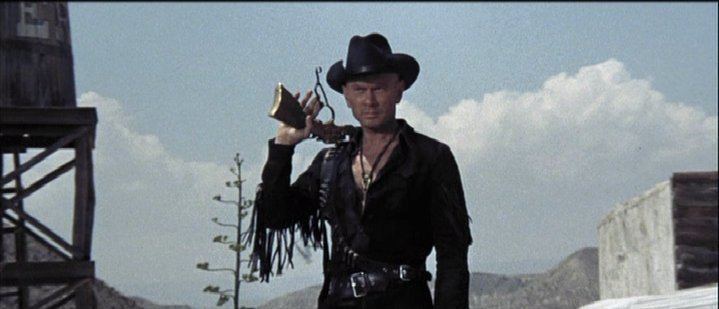 While this occurs, Stengel discusses the robbery with Ferguson and OHara. OHara is scared that the dead robbers will be linked to them. He accuses Stengel of foolishness, revealing that the reason Stengel engineered the robbery was to get money to buy land, which will vastly increase in value when the railroad has to pay him for permission to lay tracks over it. OHara continues by saying that he is leaving the town for good. Stengel points his dart gun (concealed in a cane) at OHara and threatens to kill him if he leaves town. After OHara leaves, Stengel tells Ferguson that he sent his top henchman, Oswald, and some men to take care of the Virginia Brothers, who can be witnesses against him.

Sabata, who had been watching the whole thing, fires a couple of rounds near him and then rides off into the night. Stengel, with a bunch of men, runs off onto his porch. Sabata, hidden in the night, calls out that he has the Virginia Brothers wagon, which is evidence against him, and that if Stengel wants it back, it will cost 10,000 dollars.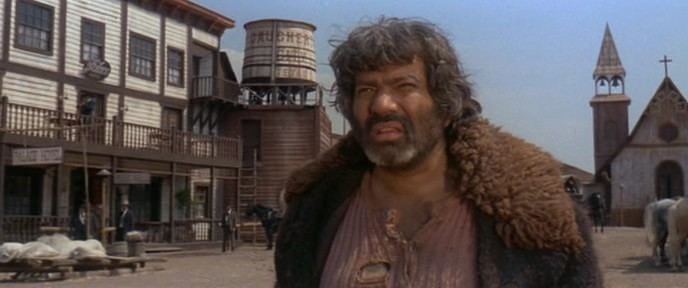 Stengel tells Sabata that if he comes over, hell get the money. Sabata has a separate wagon with a record player on it ride into the Stengel ranch unmanned. The record player gives off Sabatas voice prerecorded. Thinking that Sabata is in the wagon, Stengel and his men fire into it. However, the only thing inside is dynamite. When the wagon explodes, Sabata, still hidden in the night, calls out to Stengel and says that now the price is 20,000 dollars.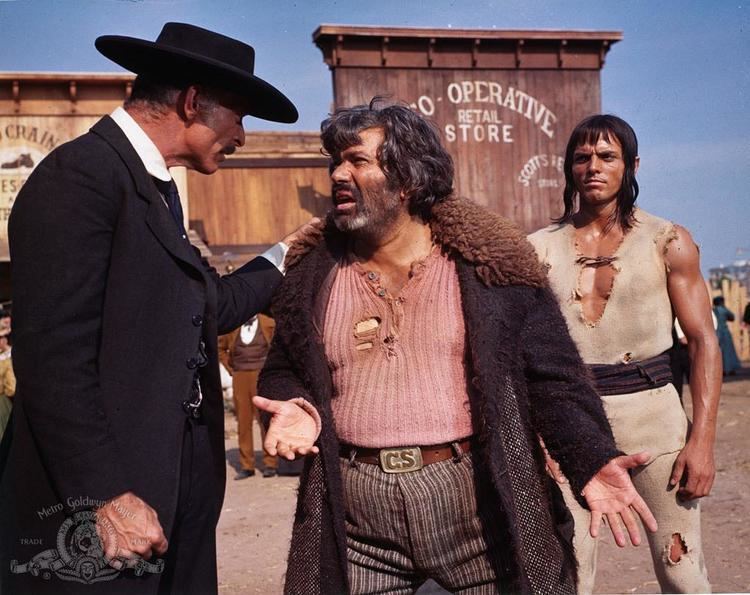 The towns Catholic priest, Father Brown, has Sabata meet him to discuss his recent killing spree. When Sabata arrives, he meets an assassin disguised as Brown who has been hired by Stengel. During their conversation, he attempts to surreptitiously draw a gun hidden in a handkerchief. He stops, however, when Sabata offers him a bag of money as a donation. When the paid killer pulls the bag away, a string connecting Sabatas hand to the trigger of Sabatas gun (which is hidden in the bag) pulls tight. The gun goes off, killing the would-be assassin. Sabata promptly get Stengel and tells him that now the price is 60,000 dollars. Stengel tells him that hell have it tomorrow.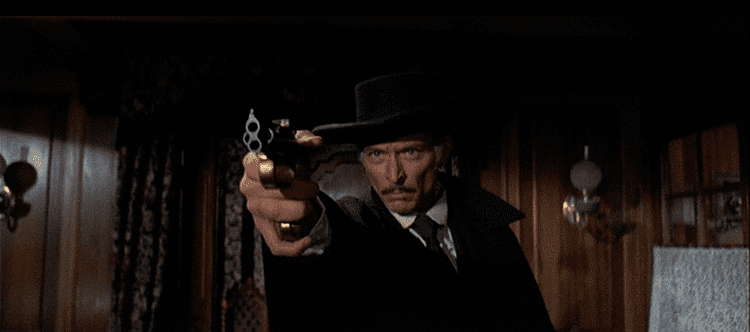 Suddenly Banjo appears and shoots Sabata, grazing his neck. While Sabata rubs his wound, Banjo asks for the 100,000 dollars. Sabata explains that it is in the bank, to be paid by Judge OHara to save his reputation.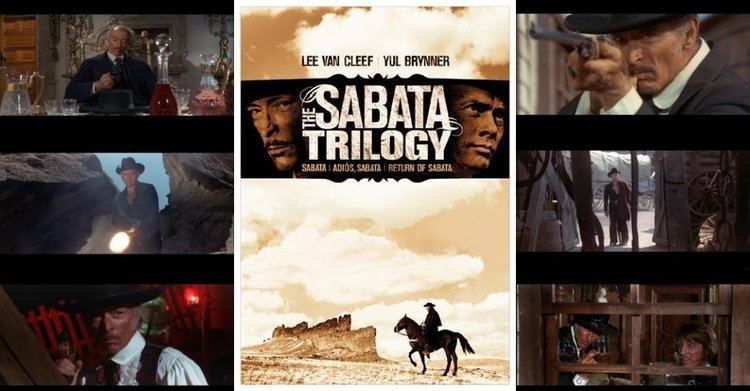 Sabata - A gunman of almost superhuman accuracy and questionable morals, he solves the majority of his problems with a combination of superior firepower and accuracy. His weapon of choice is a peculiar four-barreled derringer, alongside a rifle with an extended barrel.
Banjo - The only man in the film who is almost on par with Sabata gunfighting-wise. Hiding out in the town after some unnamed trouble in Denver, he seems to know everything that is going on in the town, and tries to make money off both Sabata and Stengel. He carries a banjo everywhere.
Carrincha - A fat alcoholic Civil War veteran who hurls knives at people between rants about the dullness of civilian life and the worthlessness of medals. The majority of his sentences end in insane laughter.
Alley Cat - Carrinchas only "friend", Alley Cat is a silent Indian who performs amazing acrobatics and can escape any pursuer.
Stengel - The effeminate villain of the story, he engineered the robbery that set the whole plot in motion. Very smug in the belief that he is superior to the rest of humanity, he kills people with a dart gun concealed in a cane.
Ferguson and Judge OHara- Stengels increasingly reluctant partners in crime.
Lee Van Cleef as Sabata
William Berger as Banjo
Ignazio Spalla as Carrincha
Aldo Canti as Indio/Alley Cat
Franco Ressel as Stengel
Antonio Gradoli as Ferguson
Linda Veras as Jane
Claudio Undari as Oswald
Gianni Rizzo as Judge OHara