Ruth Stout (June 14, 1884 - August 22, 1980) was an American author best known for her "No-Work" gardening books and techniques.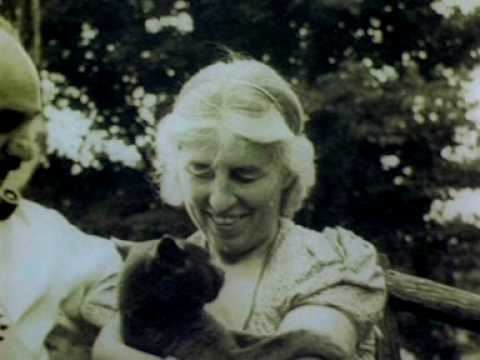 Ruth Stout was born June 14, 1884, in Girard, Kansas, to Quaker parents John Wallace Stout and Lucetta Elizabeth Todhunter Stout. Her brother Rex Stout, also an author, was famous for the Nero Wolfe detective stories.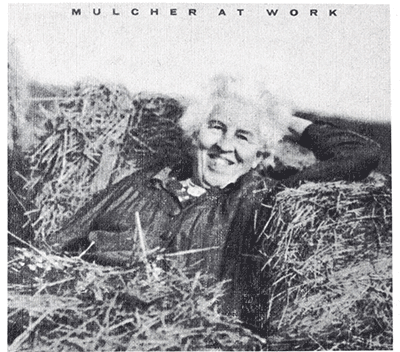 Stout moved to New York when she was 18 and was employed at various times as baby nurse, bookkeeper, secretary, business manager, and factory worker. She was a lecturer and coordinated lectures and debates, and she owned a small tea shop in Greenwich Village and worked for a fake mind-reading act.
In 1923, she accompanied fellow Quakers to Russia to assist in famine relief. She met and married Alfred Rossiter in June,1929. Rossiter, the son of an American businessman, was born in Germany in 1882. His family relocated to New York City in 1894. In March 1930, the couple moved to Poverty Hollow, Redding Ridge, on the outskirts of Redding, Connecticut.
Ruth continued to use her maiden name as her pen name and Rossiter as her official name.
The Rossiters retired to country living when they moved to the 55-acre (220,000 m2) farm in Poverty Hollow. Fred, a Columbia-trained psychologist, followed his passion for wood turning and subsequently became known for his wooden bowls. Ruth decided to try her luck at gardening, and in the spring of 1930, she planted her first garden.
During her first year of gardening and for many after, Ruth employed conventional techniques and practices in her garden with mixed results. She had to wait for someone else to come and plow the fields before she could start. This gentleman was frequently late or delays would occur due to mechanical failures. Wasted time lessened the already short growing season and tried her patience. Furthermore, the manual labor involved in planting a traditional garden became more than she could handle by herself. In the Spring of 1944, Stout decided that she wasn't going to wait for the plowman, nor was she going to plow on her own. Instead she planted the seeds and covered them, waiting to see what would happen, and discovered surprising success.
As the years progressed, Stout refined her techniques, eventually adopting a year-round mulch which virtually eliminated the labor associated with traditional gardening. Her minimalist approach spawned a long-running series of articles in Organic Gardening and Farming magazine as well as several books.
Her husband, Fred, died on November 24, 1960, after an extended illness. Her sister, Mary, who also lived at Poverty Hollow for over 40 years, died on August 20, 1977, at 88.
Stout, R. (1955). How to have a Green Thumb without an Aching Back: A New Method of Mulch Gardening. NewYork: Exposition Press.
Stout, R. (1958). Company Coming: Six Decades of Hospitality, Do-It-Yourself and Otherwise. NewYork: Exposition Press, Reprinted by Norton Creek Press, 2012, ISBN 978-0-9819284-8-7
Stout, R. (1960). It's a Woman's World. Garden City, NJ: Doubleday & Co.,Inc.
Stout, R. (1962). If You Would Be Happy. Garden City, NJ: Doubleday & Co.,Inc.
Stout, R. (1963). Gardening Without Work. New York: The Devin-Adair Company, Reprinted by Norton Creek Press, 2011, ISBN 978-0-9819284-6-3
Stout, R. & Clemence, R. (1973). The Ruth Stout No-Work Garden Book: Secrets of the year-round mulch method. Emmaus, PA: Rodale Press.
Stout, R. (1975). As We Remember Mother. New York: Exposition Press.
Stout, R. (1975). I've Always Done It My Way. New York: Exposition Press.
Stout, R. Don't Forget to Smile: How to Stay Sane and Fit Over Ninety.