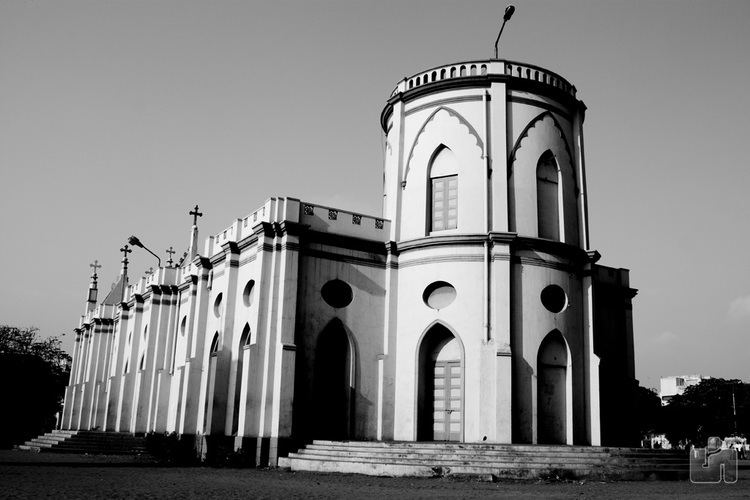 The region existed as a well known settlement during the Chola times, but the name Royapuram is derived from a Tamil appellation for St. Peter, Royappa, in connection with St. Peter's Church in the area. From the 14th century, the erstwhile Vijayanagara Rulers controlled this region till the Madras land grant to Francis Day.
Royapuram Railway Station was the first railway station constructed in South India and second railway line in South Asia. First service commenced on 1856 from here to Arcot, the then capital of the Carnatic region. has now been refurbished. It is believed to be one of oldest surviving railway station structures of the Indian Railways.
Royapuram has a deep history inculcated within itself and has been part of the Chennai (Madras) city for centuries. It is just in the face of the recent developments that Royapuram got edged out to the periphery of the Chennai.
Royapuram is located in north Chennai. From Tambaram (South Chennai), trains to Vellore (fast EMU service) run via Royapuram Railway Station.
Distance to other places from Royapuram :
Chennai South
Tambaram 34 km
Mudichur 37.5 km
Vandalur 39.5 km
Guindy 20 km
Tirusulam Airport 24 km
Chennai Central
Adayar 12 km
Tiruvanmiyur 20 km
Sholinganallur 29 km
Chennai North
Egmore 4 km
Kolathur 13 km
Perambur 5 km
Vyasarpadi 6.5 km
Ennore 11 km
It is primarily a fisherman community area migrated from Chepauk village in 1799 during British East India Company's colonial rule. It has a fine blend of people from various ethnic groups as well. Royapuram retains its specialty as the principal suburb of the Parsi community of Madras. Previously Royapuram was a home to many Anglo Indians. But today their numbers are very low since people migrated to other parts of city or to other countries.
It has a beautiful church known as St. Peter's Church built in 1829 by the boat people of Christian Community who migrated from Chepauk in 1799. The Customs House and Master Attendant's Office were shifted to Black Town from Fort St. George in 1799.Consequent to the removal of Customs House and Master Attendant's Office to Black Town, the then Marine Board which was under the control of British East India Company, allotted lands to Christian boat people who were staying at Chepauk village, 300 yards away from the North Black Town Wall to settle in the new village. They built a small chapel in the year 1780. The boat people were regularly paying toll to the Marine Board. The Boat people withdrew money from the Marine Board and built the present church in the year 1829. This church is popularly called as 'Madha Kovil' by non-Christians.
The Chennai's Port Trust located on the shores of Royapuram. The legendary Robinson Park renamed as Arignar Anna Poonga after late chief minister of Tamil Nadu Arignar Anna is located here. This park has witnessed various historic activities such as the birth of DMK and lot of public rallies during the early part of the 1950s and 1960s. Now it has been transformed into a green park with lot of facilities for walkers.
There is a Government Home for Destitute Boys in Mannarsami Koil Street. The home is one of eight in Tamil Nadu, which detains, protects, and cares for "runaway and missing children, begging children, victims of child labour, children surrendered by parents, and NGO handover children", and at any moment in time this home houses 125–150 children. Children with no other option of family care normally stay at the home until they are 18.
There are places of religious interests such as Kalmandapam Angalamman Temple, St. Mary's Church and Shafia Mosque.
Some of the educational institutions here are V.E.N Hr.sec. school, K.C. Sankaralinga Nadar Hr. Sec. School, PAK Palanisamy Hr.Sec School, St. Peter's Higher secondary school, Kalaimagal Vidyalaya Hr.Sec School, St. Kevin's School, Northwick Girls' School situated at Shaik Maistry Street, Muruga Danushkodi Girls Hr. Sec. School, CSI Rajagopal School, Maria Matriculation School, St. Anne's Girls' School, St. Mary's Matriculation School, Vallal S.I Alagarsami Chettiyar Hr.Sec. School and Dhanalakshmi Hr. Sec. School.
Royapuram constituency was won by Dravida Munnetra Kazhagam in the 1977 and 1980 elections. ADMK's vote share has considerably increased in the region since 1984 when MGR and ADMK swept Tamil Nadu. Ever since then, other than 1989 and 1996, this constituent has consistently voted for the formation of the ADMK government at the state level. In 1989, ADMK was split between Janaki faction and Jayalalithaa faction, and only the Janaki faction contested in this constituency. More recently, when DMK and allies were able to win the election in 2006, ADMK still did extremely well in this constituency, with D. Jayakumar, winning for 3rd time, out of the last four times he contested, losing only in 1996.
Royapuram assembly constituency is part of Chennai North (Lok Sabha constituency).