Trombone




Roswell Rudd




Yale University (1958)




1957–present




Trombonist




Wavelength, WVLNT






Roswell Hopkins Rudd, Jr.


17 November 1935 (age 80) Sharon, Connecticut United States (

1935-11-17

)


Jazz, Dixieland, free jazz, avant-garde jazz.




Musician, composer, educator




Columbia, Sunnyside, Universal, DIW, Verve




Trombone for Lovers, Trickles, Live in New York, Numatik Swing Band, Mixed
Roswell Hopkins Rudd, Jr. (born November 17, 1935) is an American jazz trombonist and composer.
Although skilled in a variety of genres of jazz (including Dixieland, which he performed while in college) and other genres of music, he is known primarily for his work in free and avant-garde jazz. Since 1962 Rudd has worked extensively with saxophonist Archie Shepp.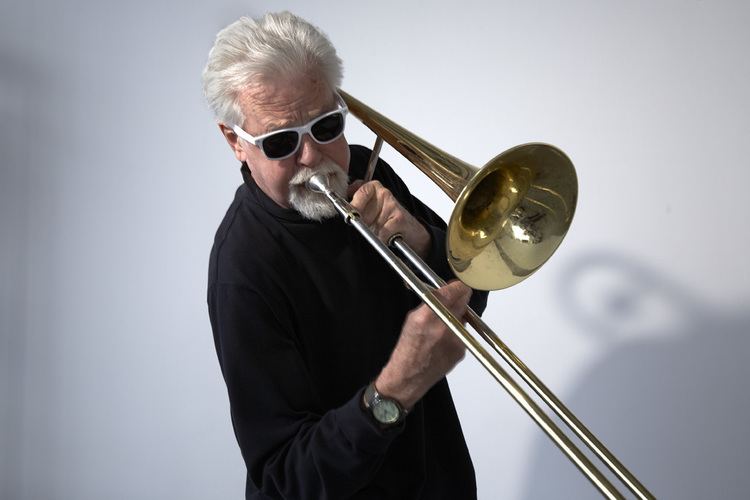 Rudd was born in Sharon, Connecticut. He attended The Hotchkiss School and graduated from Yale University, where he had played with Eli's Chosen Six, a dixieland band of Yale students that Rudd joined in the mid-'50s. The sextet played the boisterous trad jazz style of the day and recorded two albums, including one for Columbia. His landmark collaborations with Cecil Taylor, Archie Shepp, John Tchicai and Steve Lacy grew out of the lessons learned while playing rags and stomps for drunken college kids in Connecticut.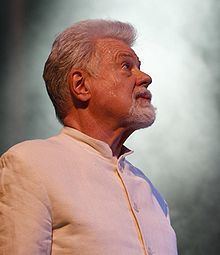 Rudd later taught ethnomusicology at Bard College and the University of Maine. On and off for a period of three decades, Roswell Rudd assisted Alan Lomax with his world music song style (Cantometrics) and Global Jukebox projects, and the wealth of information on the music of this planet that he absorbed inspired him to collaborate beyond the periphery of jazz or even of western music.
In the 1960s, Rudd participated in key free jazz recordings. Highlights include work with the New York Art Quartet; on the soundtrack recording for Michael Snow's 1964 film New York Eye and Ear Control; the Michael Mantler & Carla Bley 1968 Jazz Composer's Orchestra's Communications album featuring Cecil Taylor; and collaborations with Don Cherry, Pharoah Sanders, Larry Coryell and Gato Barbieri. A major factor in Rudd's career has been his lifelong friendships with saxophonists Archie Shepp and Steve Lacy—and his numerous recordings and performances of the music of Thelonious Monk with Lacy.
Rudd has been a frequent visitor to the African nation of Mali, performing and recording with Malian musicians. His 2001 CD MALIcool, a cross-cultural collaboration with kora player Toumani Diabate and other Malian musicians, represented the first time the trombone had been featured in a recording of Malian traditional music.
In 2004 he brought his Trombone Shout Band to perform at the 4th Festival au Desert in Essakane, Tombouctou Region, Mali.
In 2005 he extended his reach even further, recording a CD with the Mongolian Buryat Band, a traditional music group of musicians from Mongolia and Buryatia, entitled Blue Mongol.
More recently he has recorded with Latino musicians from New York City.
Rudd conducts master classes and workshops both in the United States and around the world.
He co-leads an ensemble with Archie Shepp, as well as touring with MALIcool, the Mongolian Buryat Band, as well as being a featured guest with a myriad of musicians, not always "jazz" musicians.
In 2000 Rudd was awarded a Guggenheim Fellowship in composition.
In 2003, 2004, 2005, 2009 and 2010. he was voted Trombonist of the Year by the Jazz Journalists Association.
His 1999 album Monk's Dream was nominated for a Grammy Award for Best Vocal Performance Male, as well as a Grammy Award for Best Jazz Instrumental Album.
2010 Down Beat Magazine Critic's Poll – No. 1 Trombonist (46 years after the same forum voted him most likely to succeed, in 1964)
One of the 10 best of 2003 – Chris Porter, Washington City Paper
THE CODA TOP TEN OF 2002 - Selected by Duck Baker
1965: Roswell Rudd (America)
1966: Everywhere (also released as part of Mixed)
1973: Numatik Swing Band
1974: Flexible Flyer (Freedom Records)
1976: Blown Bone (Emanem Records)
1976: Inside Job with Enrico Rava, Dave Burrell, Stafford James, Harold White (Arista/ Freedom)
1978: The Definitive Roswell Rudd (Horo Records)
1982: Regeneration with Steve Lacy, Misha Mengelberg, Kent Carter, Han Bennink (Soul Note)
1996: The Unheard Herbie Nichols-VOL 1 & 2 with John Bacon, Jr and Greg Miller (CIMP)
1999: New York Art Quartet: 35 Reunion (DIW)
1999: Monk's Dream Steve Lacy/Roswell Rudd (Universal/Verve Records)
2000: Broad Strokes (Knitting Media)
2001: The Charlie Kohlhase Quintet plays the Music of Roswell Rudd: Eventuality (NADA)
2001: Roswell Rudd and Archie Shepp Live in New York (Universal)
2002: MALIcool (UNIVERSAL/Sunnyside)
2005: Blue Mongol (Sunnyside)
2006: El Espiritu Jibaro (Sunnyside)
2007: Keep Your Heart Right (Sunnyside)
2008: El Encuentro (Mojito Records)
2013: Trombone For Lovers (Sunnyside)
2008 - Concertos – Michael Mantler (ECM Records)
2006 - "Dry Bones" - with Sonic Youth, The Harry Smith Project CD 1 (Shout! Factory)
2003 - Sex Mob - Dime Grind Palace (Ropeadope Records)
2002 - Seize the Time – Nexus Orchestra (Splasch Records)
1997 - Newsense with Elton Dean (Slam Records)
1996 - Bladik Keith Tippett et al. (Cuneiform)
1996 - Terrible NRBQ & Terry Adams (New World)
1996 - Rumors of an Incident with Elton Dean (Slam Records)
1995 - Wozzek's Death with Allen Lowe (Enja)
1995 - Wild Weekend NRBQ & Terry Adams (Virgin)
1994 - Dark Was the Night with Allen Lowe
1992 - Darn it with Paul Haines (AMERICAN CLAVE)
1984 - That's the Way I Feel Now Produced by Hal Wilner - Monk Compositions
1981 - Interpretations of Monk Barry Harris, Steve Lacy, Don Cherry, Charlie Rouse, Mal Waldron, Muhal Richard Abrams, Ed Blackwell, Ben Riley, Richard Davis, Anthony Davis
1979 - Divine Song - with Sangeeta Michael Berardi, Rashied Ali, Eddie Gomez, Archie Shepp
1979 - Sharing - Giorgio Gaslini (Discgidella Quercia)
1979 - Musique Mecanique with Carla Bley (Watt)
1978 - Enrico Rava Quartet Enrico Rava, J.F. Jenny-Clarke & Aldo Romano (ECM)
1977 - The New Vilage on the Left with Marcello Melis and Enrico Rava, Don Moye, Gruppo Rubanu (Black Saint Records BSR0012)
1977 - European Tour 1977 with Carla Bley (Watt)
1976 - Dinner Music with Carla Bley (Watt)
1976 - Maine (BVHAAST)
1975 - Trickles Steve Lacy, Beaver Harris, Kent Carter (Soul Note)
1974 - Village on the Left Marcello Melis & Don Moye (Soul Note)
1972 - The Third World with Gato Barbieri (IMPULSE)
1972 - Roswell Rudd (New York Art Quartet) (AMERICA)
1971 - Escalator over the Hill by Carla Bley (JCOA)
1971 - Liberation Music Orchestra Charlie Haden (Impulse)
1968 - The Jazz Composer's Orchestra
1967 - Live At Donaueschingen (SABA)
1966 - Mama Too Tight with Archie Shepp (Impulse)
1966 - Until with Robin Kenyatta (Atlantic)
1966 - New York Eye and Ear Control Don Cherry, Albert Ayler, John Tchicai and Gary Peacock (ESP)
1966 - Archie Shepp Live in San Francisco with Archie Shepp (Impulse)
1964 - New York Art Quartet John Tchicai, Milford Graves (ESP)
1964 - Four for Trane with Archie Shepp (Impulse)
1963 - School Days Steve Lacy, Dennis Charles, Henry Grimes (HAT HUT)
1962 - Into the Hot Gil Evans / Cecil Taylor (Impulse)
1961 - New York City R&B Buell Neidlinger, Cecil Taylor (Mosaic)
1957 - Eli's Chosen 6 Yale University Dixieland Band (Columbia)
Blue Chopsticks
Malicool
Rosmani
Blue Mongol
Here - There & Everywhere
Trouble In Mind
Suh Blah Blah Buh Sibi
Funky Little Sweet Thing / Slow Dance for Fast Times
Elton Dean
We Are the Blues
Keep Your Heart Right
Tennessee Waltz
Waltzing in the Sagebrush
Maiden Voyage
Twelve Bars
Epistrophy
Moselle Variations
Yankee No-How
What Are You Doing the Rest of Your Life
The Goosebumps
Old Stuff
Joe Hill
Respects
BONE AGAIN
Hulla Gulla
Fan Fare
To the Day
Sand in My Slide Shuffle
Slide & the Family Bone
Steppes Song
September Song
Ghost Riders In the Sky

Roswell Rudd Wikipedia