5.4

/

10

4

Votes

Alchetron

7.8

Rate This





Studio

Nippon Animation




First episode date

January 1995




Genre

Drama






Directed by

Kôzô Kuzuha




Original network

TV Tokyo




Network

TV Tokyo






Final episode date

17 December 1995




Original run

January 15, 1995 – December 17, 1995




Characters

Angeletta, Chielvio, Alfred, Baregi, Lanbert, Caneiro




Cast

Ai Orikasa, Toshiko Fujita, Maria Kawamura, Akemi Okamura, Aya Ishizu




Similar

Remi - Nobody's Girl, World Masterpiece Theater, Tico of the Seven Seas, Trapp Family Story, Princess Sarah
Romeo's Blue Skies (ロミオの青い空, Romio no aoi sora, "Romeo's Blue Skies") is a Japanese anime series by Nippon Animation. Although "Romeo's Blue Skies" is the literal translation of the Japanese title, the official English name given by Nippon Animation is "Romeo and the Black Brothers". It is known in the Philippines as "Mga Munting Pangarap ni Romeo" (literally "Romeo's Simple Dreams").
Contents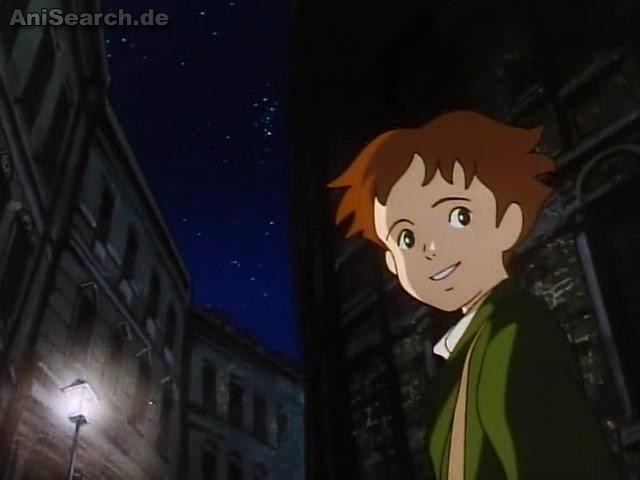 It is based on the novel Die schwarzen Brüder ("The Black Brothers") written in 1941 in Switzerland by author Lisa Tetzner.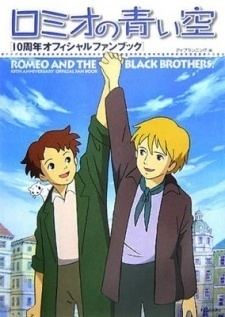 romeo s blue skies angeletta s song
Characters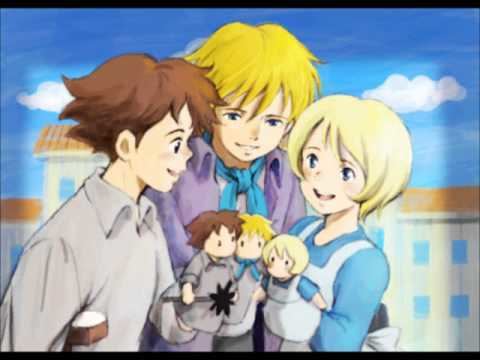 Romeo
Voiced by Ai Orikasa
(Japanese) Louie Paraboles (Tagalog)Young optimistic boy, who often courageously helps those around him without self-regard. He offers himself to Luini for sale as a chimney sweep when his sick father cannot pay for a doctor. He is sent to Milan where he quickly learns the trade while always maintaining a positive attitude. After ten years he will marry Bianca, name their son Alfredo after his best friend, and brother-in-law.
Count Alfredo
Voiced by Fujita Toshiko
Romeo's best friend, and in the anime series the heir to a large fortune. He and his sister Bianca were orphaned by their evil uncle Mauritio and aunt Graziella, who coveted the family wealth for themselves and therefore murdered Alfredo's parents by fire. In order to support Bianca, Alfredo sold his services as a chimney sweep to Luini. Drawing upon an old favor the King owed Alfredo's father, Alfredo and Bianca, with the help of Romeo and their friends, manage to thwart the villains.
The Black Brothers
A group of young chimney sweeps formed by Alfredo and Romeo, they consider each other as family and work together to solve conflict.
Luini, the God of Death
Voiced by Tetsuo Komura
A cruel man who visits towns to buy children, he goes as far as destroying the livelihood of Romeo's family in order to bind him under a contract. He later sells them as chimney sweeps making large sums of profit.
Countess Bianca
Voiced by Akemi Okamura
Alfredo's sister. For her Alfredo sold his services as a chimney sweep to Luini. She was captured by her evil uncle and aunt, rescued by the efforts of Romeo, Alfredo and the Black Brothers. After ten years she will marry Romeo, and bore a son whom they will name Alfredo after his uncle and father's best friend.
Piccolo
Romeo's pet ermine, who strangely retains its winter coat throughout the series.
Rossi
Voiced by Masahiro Anzai
Romeo's boss, who bought him.
Countess Angeletta
Voiced by Maria Kawamura
Daughter of countess Isabel, Beautiful girl who lives with Rossi. Struck down with a lingering illness, she is unable to leave her bed, left alone in her room.
Giovanni
Voiced by Nobuyuki Hiyama
The leader of a juvenile street gang named the
Wolves
who consider themselves rivals of the Black Brothers. Despite his tough nature, he believes in Honor and does not tolerate cheating which was proven when he did not approve of his co-member Tashoni who used a switchblade in an attempt to defeat Romeo, when both his and Alfred/Romeo's groups agreed not to use weapons. He also does not fight the sick when he stopped himself from attacking Alfred when he found out that the latter was ill.
Nikita
Voiced by Aya Ishizu
A tough, red-haired girl who is a member of Giovanni's gang. Although starting off as an enemy of the Black Brothers, she gradually adopts a more friendly attitude towards them, largely because she develops a crush on Alfredo.
Anzelmo
Episodes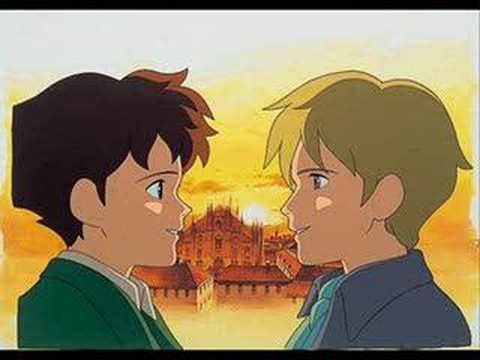 A Happening In A Village Of The Alps
The Beginning Of The Destiny
Farewell To My Village
The Boy In The Portrait
A Night In A Bar
The Boat Is Sinking
The House Of Angel
The Present From The Angel
A Love Letter In The Moonlight
The Sketchbook
Let's Become Friends
Gone With The Fog
The Meet In The Sewer
Let's Get Away!
Oath Of Eleven
Alfredo is My Rival!
The Duel At Saint Bavila Church
The Song Of Unity
The Grandmother Is A Witch
The Puppet Of Teo
The Secret Of Angeletta
I Sae My Grandmother!
Goodbye, My Angel
Bianca
The Brother And The Sister Meet Again
The Proud Soul
A Long Day
The Young Noble Alfred
Alfred Forever
The Last Salute
The Real Treasure
A Lovely Christmas Eve
To The Sky, On The Wing Of Freedom!
Popularity in the Arab world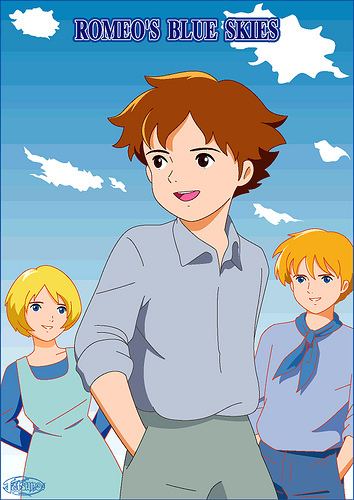 The show was very popular in the Arab world and still is today as "عهد الأصدقاء" "Friends' Promise". Unlike most Arabic dubs of anime, Romeo's Blue Skies has retained most of its plot details without any altering.
Artbook
Romeo no Aoi Sora Megu Extra ISBN 4-88271-410-8
CDs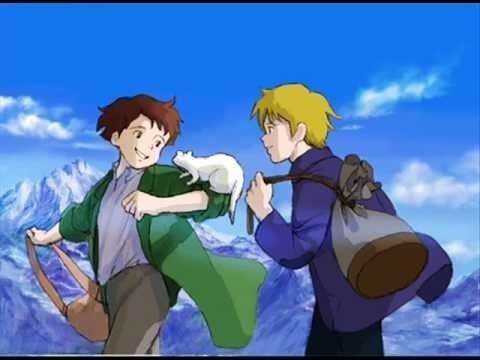 Romeo no Aoi Sora Drama and Soundtrack Vol 1 WPC6-8128
Romeo no Aoi Sora Original Soundtrack Vol 2 WPC6-8138
Sora E... (Opening song) Hiroko Kasahara WPD6-9037
References
Romeo's Blue Skies Wikipedia
(Text) CC BY-SA