Crow began his music career as a performer by dropping out of high school to tour with the band "Great Expectations". By the time he was 21, he had already performed at over 600 high schools in the Pacific Northwest and Southwestern United States. He then moved to Hollywood, CA to pursue a recording career. After recording his first album, Legend of a Fool, he began touring college campuses performing as many as 100 concerts a year. Over the next fifteen years, Crow released six nationally distributed albums; three for Sherwood Records and three under the label Fortress Records. In the early nineties, he caught the attention of RCA Records, who signed him and released the album "Electric Cinema" in 1992.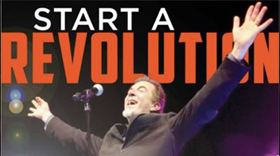 Upon the release of that album, he moved to a farm in Franklin, Tennessee just outside Nashville and continued touring and promoting that record for almost two years. In 1993, Crow founded Dark Horse Recording Studio and over the next five years expanded it to a four-studio complex. It is primarily known as a destination studio hosting artists such as Taylor Swift, Matchbox Twenty, Megadeth, Tim McGraw, Neil Diamond, Amy Grant, Faith Hill, and Alison Krauss.
In 2002, he released his first book, Jump and the Net will Appear published by New World Library. The book is an autobiography of Crow's journey from struggling musician to recording artist to business owner. The book's release coincided with his first speaking appearance in front of 6,000 people in Orlando, FL. Since that time, Crow has become a presence on the lecture circuit speaking for over 200,000 people a year. His speaking topics center on leadership, change management, customer service, and business growth.
Between 1999 and 2002, he released three more albums; "2nd Nature", "Irresistible Flame", and "Quiet Before the Storm".
In 2006, "Rock Solid Leadership" was published through Simple Truths.
In March 2010, "Evolve or Die" was published by Wiley & Sons. "Evolve or Die" reached #5 on the USA Today Best Sellers list. Crow also released his 11th album entitled "Let it Glow" which features Jon Anderson (Yes (Band)) along with Tracy Silverman and Phil Keaggy. 100% of all proceeds are being donated to Feed America First, a non-profit organization focused on combating hunger in rural America, on which Robin serves on the board of directors.
Also in 2010, Crow founded Dark Horse Institute (DHI), an accredited, for-profit academy to teach Audio Engineering and Music Business to young entrepreneurs. In 2013, DHI relocated to The Factory at Franklin (a historic stove factory which has been repurposed as a retail, educational and entertainment complex). Their business model is to offer short, affordable courses taught by music industry professionals, with an emphasis on leadership development.
The programs have experienced explosive growth while offering dramatic solutions to the challenges faced by students at traditional 4-year colleges. DHI accelerates the learning process in an affordable, experiential learning environment, and in the process is changing the way education is conducted. Their goal is to create the most compelling educational model of the 21st century. In late 2016, they will introduce two more programs, Film and Video Production, and Songwriting.
1977 - Don't Give Up the Ship - Sherwood Records
1982 - Legend of a Fool - Sherwood Records
1983 - Finish Line - Sherwood Records
1985 - Seven Seventy - Seven - Fortress Records
1987 - Creator - Fortress Records
1988 - Windows to the World - Fortress Records
1992 - Electric Cinema - RCA Records
1999 - 2nd Nature - High Concepts
2001 - Irresistible Flame - High Concepts
2002 - Quiet Before the Storm - High Concepts
2010 - Let it Glow - High Concepts
2002 - Jump and the Net will Appear - New World Library
2003 - The Power of an Idea - Crow Notes
2006 - Rock Solid Leadership - Simple Truths
2010 - Evolve or Die - Wiley & Sons