Covid-19
Idaho, United States




Brazilian





Circadian Physiology




Roberto Refinetti





19 November 1957 Sao Paulo, Brazil (

1957-11-19

)


University of Sao Paulo University of California, Santa Barbara University of Illinois University of Virginia College of William and Mary University of South Carolina Boise State University




University of California, Santa Barbara




Gaston Bachelard B. F. Skinner Jean Piaget Michel Foucault Jurgen Aschoff




Circadian Physiology, Circadian Physiology, Third Edition




University of California, Santa Barbara, University of Sao Paulo




B. F. Skinner, Jean Piaget, Michel Foucault, Gaston Bachelard




Physiology, Philosophy, Psychology




B F Skinner, Michel Foucault, Jean Piaget, Gaston Bachelard, Ernst Mach
Roberto Refinetti (; born November 19, 1957) is a behavioral physiologist and higher-education administrator. He is best known for his book Circadian Physiology.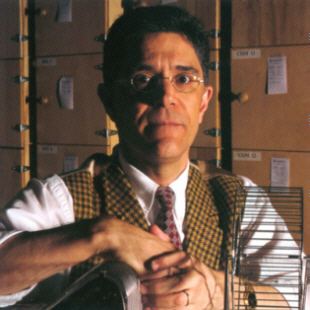 Refinetti earned his doctoral degree in psychology from the University of California, Santa Barbara in 1987 and has been a researcher or university professor at the University of Illinois at Urbana-Champaign, the University of Virginia, the College of William and Mary, the University of South Carolina, and Boise State University. He is the editor-in-chief of the Journal of Circadian Rhythms and of the journal Sexuality & Culture, as well as section editor of BMC Physiology and editorial board member of the Journal of Thermal Biology, and of Acta Scientiae Veterinariae. He has served as consultant for numerous journalists and media producers on a variety of topics related to biological rhythms, as recorded in newspaper articles on seasonal affective disorder, on daylight-saving time, on the pervasiveness of circadian rhythms, and on myths about lunar cycles in human behavior.
Refinetti is best known as the author of Circadian Physiology, a comprehensive book on circadian rhythms (first edition: 1999; second edition: 2006), that has received positive reviews. His research program has been funded by grants from the National Science Foundation and the National Institutes of Health. According to Google Scholar, his four most cited articles as of March 2015 are:
Refinetti, R; Menaker, M (1992). "The circadian rhythm of body temperature". Physiology & Behavior. 51 (3): 613–637. PMID 1523238.
Refinetti, R; Lissen, G. C.; Halberg, F (2007). "Procedures for numerical analysis of circadian rhythms". Biological Rhythm Research. 38 (4): 275–325. PMC

3663600 

. PMID 23710111. doi:10.1080/09291010600903692.
Refinetti, R (2004). "Non-stationary time series and the robustness of circadian rhythms". Journal of Theoretical Biology. 227 (4): 571–581. PMID 15038991. doi:10.1016/j.jtbi.2003.11.032.
Refinetti, R (1999). "Relationship between the daily rhythms of locomotor activity and body temperature in eight mammalian species". The American Journal of Physiology. 277 (5 Pt 2): R1493–R1500. PMID 10564224.
After 20 years in academia administering his own research program as a faculty member and the research programs of others as a journal editor, ad hoc peer reviewer, and review panel member for funding agencies, Refinetti took on the position of academic dean at a satellite campus of the University of South Carolina in 2006. In 2014, he moved to Idaho and became the chair of the department of psychology at Boise State University.
Refinetti was named a Distinguished Professor by the South Carolina Commission on Higher Education in 2004, when he was a finalist in the annual process to identify and honor the South Carolina Governor's Professor of the Year. He was awarded a Carolina Trustee Professorship by the Board of Trustees of the University of South Carolina in 2006 because of his record of teaching excellence and of outstanding performance in research and in public service activities.
Roberto Refinetti Wikipedia