Occupation

Lawyer




Children

1





Name

Roberta Kaplan







Born

1966

Cleveland, Ohio, U.S




Spouse(s)

Rachel Lavine (m. 2005)




Known for

United States v. Windsor



Roberta A. Kaplan at Pride Agenda's Fall Dinner 2013
Roberta A. "Robbie" Kaplan (born 1966) is an American lawyer. She is the founding partner of Kaplan & Company, LLP, a new, innovative law firm dedicated to high-stakes commercial litigation and serving the public interest, and an adjunct professor of law at Columbia University Law School. Until July 2017, she was a partner in the Litigation Department of Paul, Weiss, Rifkind, Wharton & Garrison.
Contents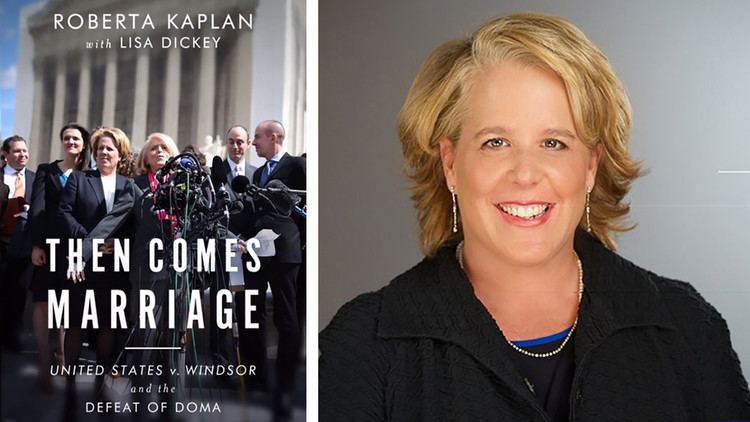 Kaplan successfully argued before the Supreme Court of the United States on behalf of her client, Edith Windsor, in United States v. Windsor (2013). This resulted in a landmark decision that invalidated a crucial section of the 1996 Defense of Marriage Act (DOMA), thus requiring the federal government to recognize same-sex marriages. Windsor led directly to the Supreme Court ruling in Obergefell v. Hodges two years later, which struck down all remaining state and federal laws against same-sex marriage across the United States.
Kaplan wrote about her battle for gay marriage in Then Comes Marriage, published in October 2015.
Early life and education
A native of Cleveland, Ohio, Roberta (Robbie) Kaplan graduated from Hawken School in Gates Mills, Ohio, in 1984. Noted LGBT scholar and activist Aaron Belkin was Kaplan's high school friend and prom date. In 1988 she earned an A.B. from Harvard University magna cum laude, Phi Beta Kappa. She received her J.D. from Columbia Law School in 1991.
Career
After obtaining her law degree, Kaplan served as a law clerk for Judge Mark Wolf of the U.S. District Court in Massachusetts. While clerking for Judge Judith Kaye, of the New York Court of Appeals, she assisted Judge Kaye with a number of academic articles. Her scholarly articles include "Proof versus Prejudice" (2013)
Kaplan joined Paul Weiss in 1996 and was made partner in 1999. Deemed a "pressure junkie" by her peers, she has extensive experience representing corporate clients such as Citibank, AIG, Fitch Ratings, Airbnb, and JP Morgan Chase in complex matters ranging from mortgage-backed securities, structured finance transactions and credit rating opinions.
In July 2017, Kaplan founded Kaplan & Company, LLP, a new, innovative law firm dedicated to high-stakes commercial litigation and serving the public interest.
Windsor
In 2009, Kaplan agreed to represent Edie Windsor pro bono. Windsor's wife, Thea Spyer, had died two years after they wed in Canada, leaving Windsor her sole heir. But because their marriage was not recognized under existing U. S. federal law, Windsor received an estate tax bill of $363,053. Windsor went to gay rights advocates seeking redress, but could find no one to take her case. Finally, she was referred to Kaplan, who later recalled, "When I heard her story, it took me about five seconds, maybe less, to agree to represent her." Kaplan had been co-counsel on the unsuccessful bid for marriage equality in New York state in 2006.
In a spirited exchange between Kaplan and Chief Justice John Roberts, Roberts alleged that politicians were "falling all over themselves" to support her case. Kaplan responded, "The fact of the matter is, Mr. Chief Justice, is that no other group in recent history has been subjected to popular referenda to take away rights that have already been given or exclude those rights, the way gay people have."
On June 26, 2013, the U.S. Supreme Court issued a 5-4 decision declaring Section 3 of DOMA to be unconstitutional. Edith Windsor herself declared, "Robbie Kaplan said, as Martin Luther King said before her, there is no wrong time to seek justice." As Harvard law professor Noah Feldman pointed out, Windsor was the first successful gay marriage case that had been ruled on by the US Supreme Court, and he credited Robbie Kaplan with this decision, among others. A year after the decision was announced, the Los Angeles Times reported that "nineteen states and the District of Columbia have legalized same-sex marriage" and that pending cases are likely working their way up to the Supreme Court.
Kaplan wrote about United States v. Windsor in the book Then Comes Marriage (2015).
Publications
Then Comes Marriage: United States v. Windsor and the Defeat of DOMA (W. W. Norton & Company, 2015)
The People's Brief (Human Rights Campaign, 2015)
Awards and recognition
In 2005 she was named one of 'forty most influential lawyers under forty' by the National Law Journal. She was named one of "100 Most Influential Lawyers" as well as a 2013 Lawyer of the Year and 2013 Litigator of the Year. President Bill Clinton described her as "a true American hero."
She won a National Public Service Award from Stanford University.
Johns Hopkins University bestowed upon her an honorary doctorate.
In 2015, The New York Law Journal awarded her their "Lifetime Achievement" award.
Personal life
In September 2005, Kaplan married her partner, lawyer and Democratic Party activist Rachel Lavine, in Toronto, Canada. The couple live in New York city with their son, Jacob.
She is active in her synagogue and is co-chair of the board of the Gay Men's Health Crisis.
References
Roberta A. Kaplan Wikipedia
(Text) CC BY-SA