Robert Patrick was born to migrant workers in Texas. Because his parents moved around the Southwestern United States constantly, looking for work, he never went to one school for an entire year until his senior year of high school in Roswell, New Mexico. The only cultural constants in his life were books, film and radio. His mother made sure he learned to read, and arranged that he start school a year early. Lacking social contacts due to constant displacement, he always made poor grades, and dropped out of college after two years. Having experienced no live theatre except a few school shows, he fell in love with stage work while washing dishes at the Kennebunkport Playhouse in Kennebunkport, Maine one summer.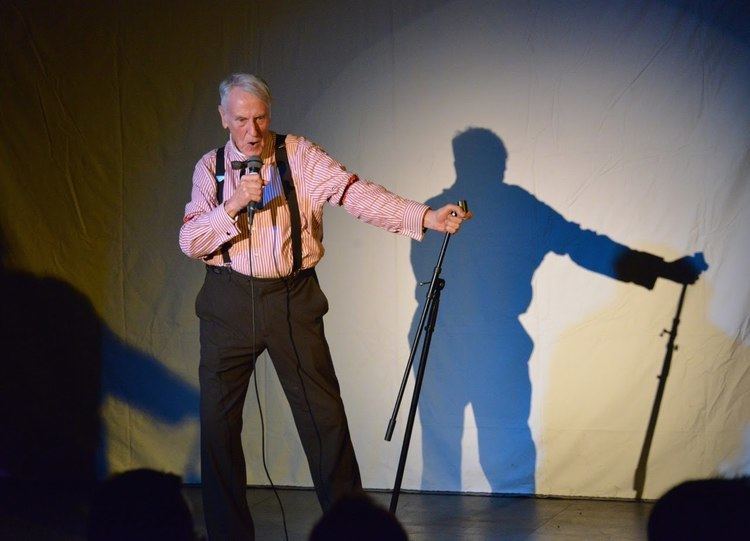 Stopping off in New York on his way back to Roswell, he stumbled into the Caffe Cino, the first underground or Off-Off Broadway theatre, on September 14, 1961. He remained there working for free in any required capacity, supporting himself with temporary typing jobs while observing and participating in the production of dozens of plays, including So Long at the Fair by Lanford Wilson. Having long been a poet, in 1964 he got an idea for a play he called The Haunted Host, and because of the casualness of the Caffe Cino, was allowed to mount it almost at once. It was something of a success, and playwriting became his main focus.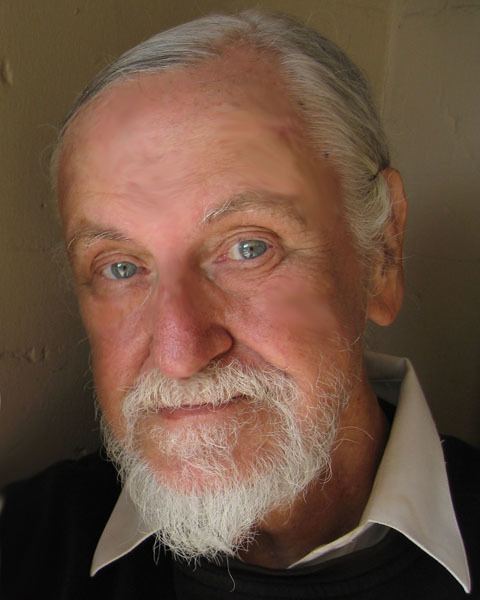 Patrick is the author of over 60 published plays.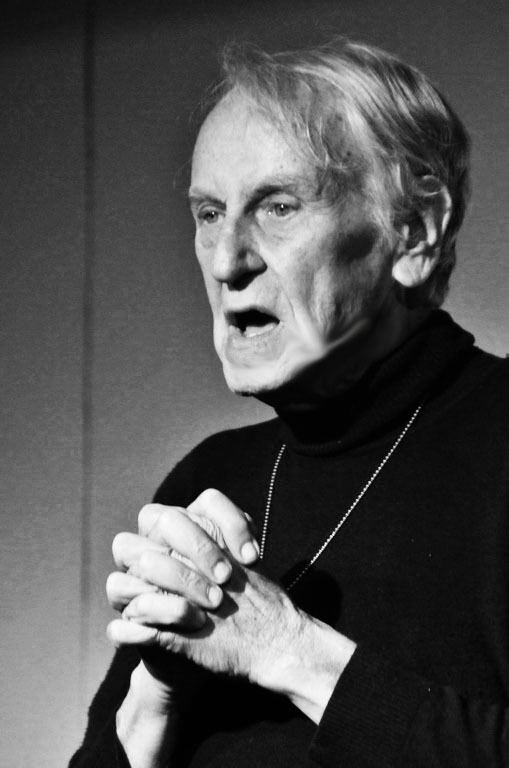 His first play, The Haunted Host, was produced in 1964 and premiered at the Caffe Cino in the Greenwich Village neighborhood of New York City, New York. Because Patrick refused the offer of Neil Flanagan, the Caffe Cino's star performer, to play the title role (because Flanagan had recently played Lanford Wilson's gay character, Lady Bright) Patrick himself wound up appearing in the play with fellow playwright William M. Hoffman.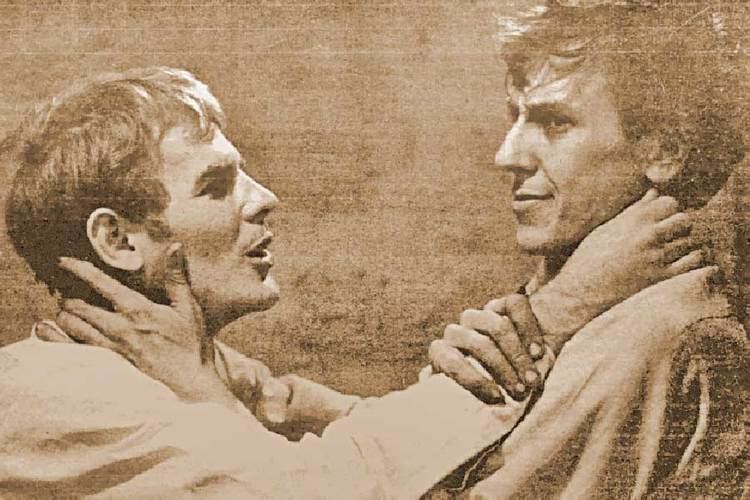 During the 1960s Patrick was a pioneer in Off-Off-Broadway theatre and the gay-theatre movement with over 300 productions of his plays during this decade in New York City alone. In 1972, the play publishing and licensing company Samuel French called Patrick "New York's Most-Produced Playwright."
In 1969, he won the "Show Business" Award for Joyce Dynel, Salvation Army, and Fog. That same year his play, Camera Obscura was produced on PBS starring Marge Champion and was also chosen to be in the all-star-playwright revue, "Collision Course."
In 1973, Patrick's Kennedy's Children opened obscurely in London in the back room of a pub, and instantly was signed for the West End and productions worldwide.
A 1974 production of The Haunted Host marked the first time Harvey Fierstein appeared on the legitimate stage as a male (having previously only acted as a drag performer). Years later, Fierstein included a recording of Patrick's monologue, Pouf Positive on his compact disc, This Is Not Going to Be Pretty. Pouf Positive was also filmed by Dov Hechtman in 1989.
1974 was also the first season of gay theatre in the United Kingdom, to which Patrick contributed three plays.
The Broadway-theatre production of Kennedy's Children (1975) earned Shirley Knight a 1976 Tony Award for Best Performance by a Featured Actress in a Play. She repeated her role in the 1979 CBS-Cable TV production of the play.
Patrick traveled widely, from Anchorage to Cape Town, seeing productions of Kennedy's Children. For ten years, he visited high schools and high-school-theatre conventions nationwide on behalf of the International Thespian Society.
My Cup Ranneth Over (1976) was commissioned by Marlo Thomas as a vehicle for her and Lily Tomlin. Although a production with them never happened, the play went on to become Patrick's most produced.
T-Shirts, first produced in 1979 and starring Jack Wrangler, was later chosen as the opening piece for Hoffman's anthology Gay Plays: A First Collection.
Blue Is For Boys was the first play about gay teenagers, and "Blue is for Boys Weekends" in honor of the play were declared by Manhattan Borough Presidents in 1983 and 1986.
The Trial of Socrates was the first gay play presented by New York City.
Hello Bob, an account of Patrick's experiences with the production of Kennedy's Children, was the last play he directed before leaving New York City.
Other works by Patrick include Untold Decades (1988), a history of gay-male life in the United States, told in a humorous vein; and Temple Slave, a "totally romanticized" novel about the early days of Off-Off Broadway and gay theatre.
Robert Patrick has also ghostwritten several screenplays for film and television; contributed poems and reviews to Playbill, FirstHand, and Adult Video News magazines; and had his short stories included in numerous anthologies.
Additionally, Patrick has appeared in the documentaries, Resident Alien (1990) (with Quentin Crisp) and Wrangler: Anatomy of an Icon (2008); and in the videos: O is for Orgy: The Sequel and O Boys: Parties, Porn, and Politics, both produced by the O Boys Network.
Most recently, he has published his memoirs, Film Moi or Narcissus in the Dark, and the plays: Hollywood at Sunset and Michelangelo's Models.
He reviews adult gay-male videos for several publications and maintains 70 pages of photographs at Caffe Cino Pictures.
He retired from theatre in 1990, and has lived in Los Angeles since 1993.
In 2010 he published a DVD of his lecture, Caffe Cino: Birthplace of Gay Theatre. and two books of poems, "A Strain of Laughter" and "Bitter with the Sweet" with Lulu.Com. In 2013 he was talked back onto the stage by young Los Angeles underground theatre people, appearing as a reader, singer, and actor, ultimately in March 2014 presenting a full-length one-man show about his career entitled, "What Doesn't Kill Me Makes a Great Story Later," featuring his a capella renditions of several songs also written by him.
Robert Patrick's Cheap Theatricks
Mercy Drop and Other Plays
Gay Plays: A First Collection (edited by Hoffman), includes T-Shirts
Contra/Dictions
The Mammoth Book of Gay Short Stories
Flesh & the Word 2 & 3
Best Gay Erotica 2009 & 2010
Up by Wednesday (2014)
Untold Decades: Seven Comedies of Gay Romance
"Benedicktion," published in RFD magazine #104
Ghost Story (TV) (1972)
High-Tide (TV) (1990)
Robin's Hoods (TV) (1994)
Delusion (film) 2004 Plus numerous ghost-written works
Resident Alien (1990)
O Is for Orgy: The Sequel
O Boys: Parties, Porn, and Politics
Wrangler: Anatomy of an Icon (2008)
Show Business Magazine Best Play Award, 1969
Glasgow Citizens Theatre Best World Playwrighting Award, 1973
The International Thespian Society Founders Award for Services to Theatre and to Youth, 1980 (first openly gay recipient)
Blue is for Boys Weekends in the Borough of Manhattan, 1983 and 1986
Robert Chesley Foundation Award For Lifetime Achievement In Gay Playwrighting, 1996
West Hollywood Gay and Lesbian Advisory Board's Rainbow Key Award for having been instrumental in the creation of gay theatre and the off-off-Broadway movement, 2008
New York Innovative Theatre Foundation, Artistic Achievement Award, 2011
Charles Rodman Award for 50 Years of Service to Gay Theatre, 2014