Occupation

ActorComedianWriter




Name

Robert Llewellyn





Role

Actor




Spouse

Judy Pascoe







Full Name

Robert Llewellyn




Born

10 March 1956 (age 67) (

1956-03-10

) Northampton, Northamptonshire, England


Known for

Kryten in Red DwarfScrapheap Challenge presenter


Television

Red DwarfScrapheap ChallengeHow Do They Do It?




Website

llewblog.squarespace.com




Books

The Man in the Rubber Mask, News from the Squares




Movies

MirrorMask, Christmas Carol: The Movie, it2i2, Prince Cinders, Skywhales, The Hit Squad, Moo(n), The Victor, Back2Hell


TV shows

Red Dwarf, Scrapheap Challenge, Red Dwarf: Back to Earth, Carpool, How Do They Do It?




Similar

Chris Barrie, Craig Charles, Danny John Jules




Profiles




Twitter

Google+
Robert llewellyn electric cars are rubbish aren t they
Robert Llewellyn (born 10 March 1956 in Northampton, Northamptonshire) is a British actor, comedian and writer best known as the mechanoid Kryten in the hit TV sci-fi sitcom Red Dwarf and as a presenter of the TV engineering gameshow Scrapheap Challenge. He is a science and technology enthusiast, a promoter of renewable technologies and electric cars and frequently gives talks at science and technology events. Llewellyn hosts and produces the weekly webseries Fully Charged.
Contents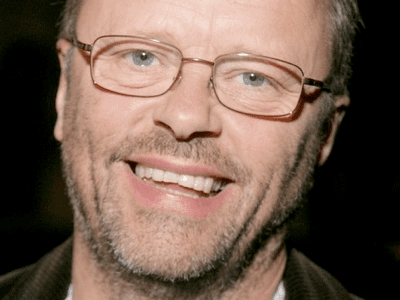 1 6 million barrels of misconception robert llewellyn at tedxjesmonddene
Early career
Llewellyn's first foray into the world of show business started out as a hobby, organising a few amateur cabaret evenings in a riverside warehouse overlooking Tower Bridge in London. The shows were a great success and he eventually helped form an alternative comedy theatre group called the Joeys. Within six months he had stopped working as a shoemaker and started performing professionally with the group alongside Bernie Evans, Nigel Ordish and Graham Allum. The group toured Britain and France in the early 1980s with an initial idea of exploring sexual politics between men. Llewellyn wrote much of the material, and also began writing novels. The group split in 1985, having toured for years and done thousands of shows.
Red Dwarf
Llewellyn's involvement with Red Dwarf came about as a result of his appearance at the Edinburgh Festival Fringe, performing in his comedy, Mammon, Robot Born of Woman; this show was about a robot who, as he becomes more human, begins to behave increasingly badly. This was seen by Paul Jackson, producer of Red Dwarf, and he was invited to audition for the role of Kryten.
Llewellyn joined the cast of Red Dwarf in 1989 in series 3 and has continued in the role up to 2016's eleventh series. In May 2015, it was announced that he would, again, be returning to Red Dwarf for the twelfth series. His skills as a physical performer encouraged Rob Grant and Doug Naylor to write him additional characters for the series, namely Jim Reaper ("The Last Day"), The Data Doctor ("Back in the Red"), Human Kryten ("DNA"), Bongo ("Dimension Jump") and Able ("Beyond A Joke"). Llewellyn co-wrote the Red Dwarf Series VII episode "Beyond A Joke" with Doug Naylor.
In the early days of Red Dwarf he would arrive to do makeup many hours before the rest of the actors, however that changed as time progressed as his fellow actors "have a little bit more help in the make-up department than they used to". In an interview with The Skeptic Zone, Llewellyn mentioned that he needs a special pair of glasses to be able to read the script with the Kryten mask on. In Red Dwarf, he worked hard to get the more technically difficult lines right because the show tried to be factually accurate in reference to scientific theories.
He was also the only British cast member originally to participate in the American version of Red Dwarf, though other actors such as Craig Charles and Chris Barrie were also approached to reprise their roles.
Other TV work
Llewellyn has presented a number of programmes for UK television. His first outing as a presenter was on Scrapheap Challenge, produced by Channel 4; the series sees teams of engineers competing to build machines to complete a given task from materials scavenged from a scrapheap. His other presenting roles include a version of Discovery Channel's How Do They Do It? and Hollywood Science, the latter being a joint production between the BBC and the Open University.
In 1992, Llewellyn appeared in the fourth episode of series 2 of Bottom, as a wounded Falklands War veteran named Mr. N. Stiles.
Llewellyn's project it2i2, was released on DVD in March 2006. Since 2006 he has had a YouTube video blog called "Llewtube". His latest book Sold Out: How I Survived a Year of Not Shopping – based on his YouTube series Making Do – was published in October 2008.
On 10 February 2009 Llewellyn was featured as a guest on the popular technology related podcast MacBreak Weekly with Leo Laporte (episode 127).
Recently, Llewellyn has starred in the CBBC show MI High as the Prime Minister, and become the presenter of Top Trumps.
Llewellyn reviewed the world of science and technology in his popular Machine of the Week report (The MoWer).
Llewellyn also provides the voice of news anchor Perry Flynn for PlayStation Home TV, a programme that started in December 2009 and airs in the Home Theatre of the European version of PlayStation Home, which is a 3D community for PlayStation 3.
Llewellyn has worked as a voice actor, providing the voices of the alien creatures in Skywhales (1983), the voice of Feeble for The Feeble Files (1997), Old Joe in Christmas Carol: The Film, and the perplexed Gryphon in the film MirrorMask (2005). He has described himself as "very much a 'don't want to do it now' kind of person" ("Dwarfing USA" documentary, Red Dwarf V DVD).
In November 2010, the Carpool series began broadcasting on UKTV channel, Dave, before having a months hiatus for Christmas and New Year, it then returned in January 2011. It is a spin-off from his web series, Carpool. On 4 January 2011, he appeared on Celebrity Mastermind answering questions on the specialist subject of electric cars. He has expressed an interest in working on a television show about technologies that we might use in the future.
Llewellyn was the narrator on the 2010 Channel 5 series The Boss is Coming to Dinner.
Llewellyn appeared in the Youtube Video "Ashens and the Quest for the GameChild", alongside Stuart Ashen, Warwick Davis and Chris Kendall in August 2013
Llewellyn presented the BBC Two show World's Busiest Railway 2015 alongside Dan Snow and Anita Rani.
Personal life
Prior to becoming a comedian, Llewellyn served an apprenticeship and became a professional shoemaker, working at James Taylor & Son and John Lobb Bootmaker in London. Speaking to Richard Herring, he said he still maintains an interest in the craft; "There is still a side of me that wants to develop a kind of 3D printed shoe thing... where you just put your foot in a thing and you just get a shoe and it's there. and it fits absolutely exquisitely, immediately."
Llewellyn, who is of Welsh ancestry, learnt to drive at age 11 (having been taught by his older brother in a go-kart); formerly a "petrol-head", he is now an electric car advocate. As well as being frequently interviewed on the subject, he has a related video blog called Fully Charged.
On the evening of 1 July 2009 while Llewellyn was en route to deliver Carpool footage to his editor, another vehicle hit him side on at a junction in Gloucestershire, writing off his Prius and rendering him unconscious for around ten minutes. The force of the impact was such that it bent his laptop "into a banana shape".
Llewellyn praised the honesty of the other driver for accepting full liability for the incident, and the hospital, police and other services for helping him. He also gave special praise to his "beloved Prius" for protecting him from the impact. He suffered concussion, minor whiplash and dizzy spells but escaped more serious injury.
In 2014 he drove, with David Peilow, a Nissan Leaf 400 miles from London to Edinburgh. Stopping 9 times, it took 12 hours, beating a previous time set by the BBC three years earlier which took 4 days in a Mini-E, as well as beating the faster time set by David Peilow in a Tesla roadster, which had left 2 days after the Mini-E, which took around 19 hours.
He is an atheist and sceptic, and has expressed that his major pseudoscientific irritations are astrology and climate change denial.
Llewellyn lives in Temple Guiting, Gloucestershire and is married to Australian author Judy Pascoe.
Books
Llewellyn is also the author of thirteen books, including Sold Out! and Therapy and How to Avoid It with Nigel Planer and seven novels.
The Reconstructed Heart: How to Spot the Difference Between a Normal Man and One Who Does the Housework, is Great in Bed and Doesn't Get All Iffy When You Mention Words Like Love and Commitment (1992) - Non-fiction
The Man in the Rubber Mask (1994) - (Updated in 2013) - Llewellyn's personal account of his career with Red Dwarf.
Therapy and How to Avoid it. (with Nigel Planer) (1996) - Non-fiction
Thin he was and filthy haired (1996) - Memoir
The Man on Platform 5 (1998) - A modern gender-reversed re-telling of Pygmalion of which the film rights were sold
Punchbag (1999) - Novel
Sudden Wealth (2000) - Novel
Behind the Scenes at Scrapheap challenge (2001) - Non-fiction
Brother Nature (2002) - Novel
Sold Out - How I survived a year of not shopping (2008) - Non-fiction
News From trilogy - Utopian science fiction
News From Gardenia (2012) (Part 1)
News From the Squares (2013) (Part 2)
News From the Clouds (2015) (Part 3)
Video podcasts
Carpool - a regular video podcast, released every Friday, in which Llewellyn interviews other celebrities while driving them somewhere in a car. Some of the shows have appeared on the UK TV channel Dave as well as still appearing online after broadcast.
Wet Liberal Whenever - an occasional video podcast where he does a monologue about subjects he is impassioned about, previously known as Wet Liberal Weekly
Fully Charged - previously known as Gearless it is a video podcast that was initially about alternative technology vehicles and is now also about The future of Energy,
Other
Woman Wizard - DVD of his one-man show
Blue Helmet - online science fiction comedy novel
Ashens and the Quest for the GameChild - An online independent film (Direct to YouTube - low budget).
In 2013 Llewellyn appeared as a guest on BBC Radio 4's The Museum of Curiosity with Cleo Rocos and Kevin Warwick.
Filmography
Actor
2020
Ashens and the Polybius Heist
as
The Professor
1989
Red Dwarf (TV Series)
as
Kryten / Data Doctor / Able / ...
- The Promised Land (2020) - Kryten
- Skipper (2017) - Kryten
- M-Corp (2017) - Kryten
- Mechocracy (2017) - Kryten
- Timewave (2017) - Kryten
- Cured (2017) - Kryten
- Siliconia (2017) - Kryten
- Can of Worms (2016) - Kryten
- Krysis (2016) - Kryten
- Officer Rimmer (2016) - Kryten
- Give & Take (2016) - Kryten
- Samsara (2016) - Kryten
- Twentica (2016) - Kryten
- The Beginning (2012) - Kryten
- Dear Dave (2012) - Kryten
- Entangled (2012) - Kryten
- Lemons (2012) - Kryten
- Fathers & Suns (2012) - Kryten
- Trojan (2012) - Kryten
- Back to Earth (Part Three) (2009) - Kryten
- Back to Earth (Part Two) (2009) - Kryten
- Back to Earth (Part One) (2009) - Kryten
- Pete: Part 2 (1999) - Kryten
- Pete: Part 1 (1999) - Kryten
- Only the Good- (1999) - Kryten
- Krytie TV (1999) - Kryten
- Cassandra (1999) - Kryten
- Back in the Red: Part 3 (1999) - Kryten
- Back in the Red: Part 2 (1999) - Kryten / Data Doctor
- Back in the Red: Part 1 (1999) - Kryten
- Nanarchy (1997) - Kryten
- Epideme (1997) - Kryten
- Beyond a Joke (1997) - Kryten / Able
- Blue (1997) - Kryten
- Duct Soup (1997) - Kryten
- Ouroboros (1997) - Kryten
- Stoke Me a Clipper (1997) - Kryten
- Tikka to Ride (1997) - Kryten
- Out of Time (1993) - Kryten
- Rimmerworld (1993) - Kryten
- Emohawk: Polymorph II (1993) - Kryten
- Gunmen of the Apocalypse (1993) - Kryten
- Legion (1993) - Kryten
- Psirens (1993) - Kryten
- Back to Reality (1992) - Kryten
- Demons & Angels (1992) - Kryten
- Quarantine (1992) - Kryten
- Terrorform (1992) - Kryten
- The Inquisitor (1992) - Kryten
- Holoship (1992) - Kryten
- Meltdown (1991) - Kryten
- Dimension Jump (1991) - Kryten / Bongo
- White Hole (1991) - Kryten
- Justice (1991) - Kryten
- D.N.A. (1991) - Kryten
- Camille (1991) - Kryten
- The Last Day (1989) - Kryten / Jim Reaper
- Timeslides (1989) - Kryten
- Bodyswap (1989) - Kryten
- Polymorph (1989) - Kryten
- Marooned (1989) - Kryten
- Backwards (1989) - Kryten
2019
Here Comes Hell
as
Jeffrey Bank
2017
The Hit Squad (rumored)
2013
Ashens and the Quest for the Gamechild
as
The Professor
2010
Beast Hunters (TV Series)
2007
M.I.High (TV Series)
as
The Prime Minister
- Asteroid Attack (2008) - The Prime Minister
- Nerd Alert (2007) - The Prime Minister
- The Sinister Prime Minister (2007) - The Prime Minister
2006
it²i² (Video short)
as
Robert Llewellyn / John Silverstine
2005
Hustle (TV Series)
as
Compere
- Eye of the Beholder (2005) - Compere
2003
Moo(n) (Short)
as
Narrator
2001
Christmas Carol: The Movie
as
Old Joe (voice)
1999
Discworld Noir (Video Game)
as
Jasper Horst / Leonard da Quirm / Sergeant Detritus / ... (voice)
1998
The Feeble Files (Video Game)
as
Feeble (voice)
1998
Can't Smeg Won't Smeg (TV Movie)
as
Kryten
1997
Captain Butler (TV Series)
as
Admiral Nelson
- Kiss Me Harder (1997) - Admiral Nelson
1996
Jim's Gift (TV Movie)
as
The Stranger
1995
Red Dwarf: Smeg Outs (Video)
as
Kryten / Self
1994
It's a Girl (TV Movie)
1994
Red Dwarf: Smeg Ups (Video)
as
Kryten / Self
1994
Grushko (TV Series)
as
Petrakov
- Episode #1.2 (1994) - Petrakov
- Episode #1.1 (1994) - Petrakov
1993
Prince Cinders (Short)
as
Ugly Brother (voice)
1993
Comic Relief: The Invasion of the Comic Tomatoes (TV Special)
as
Kryten
1993
Joking Apart (TV Series)
as
Tom
- Episode #1.4 (1993) - Tom
1992
Red Dwarf (TV Movie)
as
Kryten
1992
Bottom (TV Series)
as
Mr N. Stiles
- Parade (1992) - Mr N. Stiles
1992
The Reconstructed Heart (TV Movie)
as
Lecturer
1992
Boon (TV Series)
as
Mr. Fenton
- Walkout (1992) - Mr. Fenton
1992
KYTV (TV Series)
as
Phil
- KY Tellython (1992) - Phil
1991
Murder Most Horrid (TV Series)
as
Taxi Driver
- Mrs Hat and Mrs Red (1991) - Taxi Driver
1990
Alas Smith & Jones (TV Series)
- Comics Relief. (1991)
- Dumping Rubbish in The Countryside. (1990)
- Women's Shower Room. (1990)
- Womb With a View. (1990)
1990
Birds of a Feather (TV Series)
as
Tory Candidate
- You Pays Yer Money (1990) - Tory Candidate
1990
Colin's Sandwich (TV Series)
as
The Priest
- A Piece of Cake (1990) - The Priest
1989
Mornin' Sarge (TV Series)
as
David
- Perverts (1989) - David
1988
The Red Dwarf Affair (Video short)
as
Robert Llewellyn
1987
The Corner House (TV Series)
as
Dave
- Mellow Days (1987) - Dave
- Reflections in a Tea Urn (1987) - Dave
- Maternity Sweet (1987) - Dave
- Waffle and Daub (1987) - Dave
- Afternoons in Eltham (1987) - Dave
- Immovable Objects (1987) - Dave
1985
The Victor (Short)(voice)
1983
Ghost Dance
as
Leader of Americans
1983
Skywhales (Short)
as
Voices (voice)
1979
Not the Nine O'Clock News (TV Series)
as
Bob Hope
- Unaired Pilot (1979) - Bob Hope (voice, as Rhoodie Llewellyn)
Writer
2010
Fully Charged (TV Series documentary)
2006
it²i² (Video short) (written by)
2002
Nature (TV Series documentary) (writer - 1 episode)
- Big Red Roos (2002) - (writer)
2001
Christmas Carol: The Movie (screenplay)
1997
Red Dwarf (TV Series) (written by - 1 episode)
- Beyond a Joke (1997) - (written by)
1995
Red Dwarf: Smeg Outs (Video)
1995
I, Camcorder (TV Series) (written by - 6 episodes)
- Horror (1995) - (written by)
- Football (1995) - (written by)
- Birthday (1995) - (written by)
- Sports Day (1995) - (written by)
- Wedding (1995) - (written by)
- Beach (1995) - (written by)
1994
Red Dwarf: Smeg Ups (Video) (blooper script written by)
1993
Prince Cinders (Short) (adaptation)
1992
The Reconstructed Heart (TV Movie)
1987
The Corner House (TV Series) (writer - 6 episodes)
- Mellow Days (1987) - (writer)
- Reflections in a Tea Urn (1987) - (writer)
- Maternity Sweet (1987) - (writer)
- Waffle and Daub (1987) - (writer)
- Afternoons in Eltham (1987) - (writer)
- Immovable Objects (1987) - (writer)
Producer
2010
Carpool (TV Series) (executive producer - 10 episodes)
- Jim Jefferies and Richard Herring (2011) - (executive producer)
- Tim Vine and Doon Mackichan (2011) - (executive producer)
- Phill Jupitus and Toby Williams (2011) - (executive producer)
- David Baddiel and Tim Minchin (2011) - (executive producer)
- Jason Byrne and Jo Brand (2011) - (executive producer)
- Craig Charles and Paul Daniels (2010) - (executive producer)
- Ross Noble and Stephen K Amos (2010) - (executive producer)
- Rob Brydon and Jeremy Hardy (2010) - (executive producer)
- Chris Addison and Arthur Smith (2010) - (executive producer)
- Jason Manford and Rufus Hound (2010) - (executive producer)
2010
Fully Charged (TV Series documentary) (producer)
2006
it²i² (Video short) (producer)
Director
Soundtrack
1999
Red Dwarf (TV Series) (performer - 1 episode)
- Cassandra (1999) - (performer: "You Are The Sunshine of My Life")
Miscellaneous
1977
Joseph Andrews (production assistant - uncredited)
Thanks
2016
Or (Short) (financial contributor)
2009
Red Dwarf: The Making of 'Back to Earth' (TV Movie documentary) (thanks)
2006
Red Dwarf: The Tank - Series VIII (Video documentary) (thanks)
2005
Red Dwarf: Back from the Dead - Series VII (Video documentary) (thanks)
2005
Red Dwarf: The Starbuggers - Series VI (Video documentary) (thanks)
2004
Red Dwarf: Heavy Science - Series V (Video documentary) (thanks)
2004
Red Dwarf: Built to Last - Series IV (Video documentary) (thanks)
2003
Red Dwarf: All Change - Series III (Video documentary) (thanks)
1998
Red Dwarf A-Z (TV Movie) (thanks)
Self
2014
Pointless Celebrities (TV Series)
as
Self / Self - Contestant
- Sitcoms (2022) - Self - Contestant
- Writers (2014) - Self
- Comedy (2014) - Self
2021
Talking Bottom (Podcast Series)
as
Self - Guest
- Robert Llewellyn interview (2021) - Self - Guest
2020
Back to the... (TV Mini Series documentary)
as
Self
- 10s with Jimmy Carr (2020) - Self
- 90s with Vic Reeves (2020) - Self
2020
Red Dwarf: The First Three Million Years (TV Mini Series documentary)
as
Self - 'Kryten'
- Playing Pool with Planets (2020) - Self - 'Kryten'
- In Studio Space No One Can Hear You Scream (2020) - Self - 'Kryten'
- Boys from the Dwarf (2020) - Self - 'Kryten'
2017
Good Morning Britain (TV Series)
as
Self
- Episode dated 9 April 2020 (2020) - Self
- Episode dated 12 October 2017 (2017) - Self
2019
Celebrity Catchphrase (TV Series)
as
Self - Contestant
- Inside No. 9, Red Dwarf and Still Open All Hours (2019) - Self - Contestant
2019
Celebrity Antiques Road Trip (TV Series)
as
Self
- Episode #9.2 (2019) - Self
2018
Central Tonight (TV Series)
as
Self
- Episode dated 8 January 2018 (2018) - Self
2017
The Great Village Green Crusade (TV Movie documentary)
as
Self - Presenter
2009
The Gadget Show (TV Series documentary)
as
Self
- Episode #25.5 (2017) - Self
- Episode #12.20 (2009) - Self
- Episode #12.19 (2009) - Self
2017
We Have Been Watching (TV Series documentary)
as
Self
- Episode #1.5 (2017) - Self
- Episode #1.4 (2017) - Self
- Episode #1.3 (2017) - Self
- Episode #1.2 (2017) - Self
- Episode #1.1 (2017) - Self
2016
Red Dwarf XI: Behind the Scenes dvd-extra (Video documentary)
as
Self (uncredited)
2016
Sunday Brunch (TV Series)
as
Self - Guest
- Episode #5.32 (2016) - Self - Guest
2016
Geek? Cosplay, Cons and Culture (Documentary short)
as
Self
2015
Mumbai Railway (TV Series documentary)
as
Self - Presenter
- Episode #1.3 (2015) - Self - Presenter
- Episode #1.2 (2015) - Self - Presenter
- Episode #1.1 (2015) - Self - Presenter
- Episode #1.4 (2015) - Self - Presenter
2015
World's Busiest Railway 2015 (TV Series documentary)
as
Self - Presenter
- Episode #1.4 (2015) - Self - Presenter
- Episode #1.3 (2015) - Self - Presenter
- Episode #1.2 (2015) - Self - Presenter
- Episode #1.1 (2015) - Self - Presenter
2015
A Better Life: An Exploration of Joy & Meaning in a World Without God (Documentary)
as
Self
2014
Goodwood: Cars of the Future (TV Movie documentary)
2014
Richard Herring's Leicester Square Theatre Podcast (Podcast Series)
as
Self
- Robert Llewellyn (2014) - Self
2012
War Hero in My Family (TV Series documentary)
as
Self
- Episode #1.6 (2012) - Self
2012
Triangulation (TV Series)
as
Self
- Robert Llewellyn (2012) - Self
2012
SplinterBike (Documentary)
as
Narrator (voice)
2011
A Night with the Stars (TV Movie documentary)
as
Self (uncredited)
2011
Stephen Fry's 100 Greatest Gadgets (TV Movie documentary)
as
Self
2011
Compete for the Meat (TV Series)
as
Self
- Episode #1.3 (2011) - Self
2010
Carpool (TV Series)
as
Self - Driver
- Jim Jefferies and Richard Herring (2011) - Self - Driver
- Tim Vine and Doon Mackichan (2011) - Self - Driver
- Phill Jupitus and Toby Williams (2011) - Self - Driver
- David Baddiel and Tim Minchin (2011) - Self - Driver
- Jason Byrne and Jo Brand (2011) - Self - Driver
- Craig Charles and Paul Daniels (2010) - Self - Driver
- Ross Noble and Stephen K Amos (2010) - Self - Driver
- Rob Brydon and Jeremy Hardy (2010) - Self - Driver
- Chris Addison and Arthur Smith (2010) - Self - Driver
- Jason Manford and Rufus Hound (2010) - Self - Driver
2011
Mastermind (TV Series)
as
Self
- Celebrity Mastermind 2010/2011: Episode 7 (2011) - Self
2006
The Wright Stuff (TV Series)
as
Self - Guest Panelist
- Episode #14.64 (2010) - Self - Guest Panelist
- Episode dated 10 April 2006 (2006) - Self - Guest Panelist
2010
Fully Charged (TV Series documentary)
as
Self - Host
2010
Dive, Dive, Dive! (Documentary)
as
Self - Presenter
2010
Sidekick Stories (TV Movie documentary)
as
Self
2009
Electric Dreams (TV Mini Series)
as
Self - Narrator
- The 1990s (2009) - Self - Narrator (voice)
- The 1980s (2009) - Self - Narrator (voice)
- The 1970s (2009) - Self - Narrator (voice)
2009
Red Dwarf: The Making of 'Back to Earth' (TV Movie documentary)
as
Self
2008
Loose Women (TV Series)
as
Self
- Episode #13.149 (2009) - Self
- Episode #13.32 (2008) - Self
2009
We Need Answers (TV Series)
as
Self
- Motoring (2009) - Self
2009
Carpool Online (TV Series)
as
Self - Driver
2008
Who's Got God's Millions? (TV Movie documentary)
as
Self - Presenter
2008
Batteries Not Included (TV Series documentary)
as
Self
- Episode #1.6 (2008) - Self
- Episode #1.5 (2008) - Self
- Episode #1.4 (2008) - Self
- Episode #1.3 (2008) - Self
- Episode #1.2 (2008) - Self
2008
Top Trumps (TV Series)
as
Self - Presenter
- Earth Movers (2008) - Self - Presenter
- Helicopters (2008) - Self - Presenter
- Super Cars (2008) - Self - Presenter
- Rescue Rigs (2008) - Self - Presenter
- All Terrain Vehicles (2008) - Self - Presenter
- Warships (2008) - Self - Presenter
- Fire Engines (2008) - Self - Presenter
- Super Ships (2008) - Self - Presenter
- High Performance Planes (2008) - Self - Presenter
- Super Yachts (2008) - Self - Presenter
1998
Junkyard Wars (TV Series)
as
Self - Presenter
- Giant Archery (2008) - Self - Presenter
- Juice Free Dragsters (2008) - Self - Presenter
- Hovercraft (2008) - Self - Presenter
- Manphibious Machines (2008) - Self - Presenter
- Land Tugs (2008) - Self - Presenter
- Deep Sea Treasure (2008) - Self - Presenter
- Snow Shifters (2008) - Self - Presenter
- Fire Fighters (2008) - Self - Presenter
- Rocket Railway (2008) - Self - Presenter
- Powerboats (2008) - Self - Presenter
- Dune Bashers (2008) - Self - Presenter
- Decoration Dash (2008) - Self - Presenter
- Superbikes (2008) - Self - Presenter
- Scooter Shooters (2008) - Self - Presenter
- Scrap Speed Record (2008) - Self - Presenter
- Dozers (2007) - Self - Presenter
- Welly Wanging (2007) - Self - Presenter
- Sofa Speedway (2007) - Self - Presenter
- Paddle Boats (2007) - Self - Presenter
- Swamp Racers (2007) - Self - Presenter
- Drag Sleds (2007) - Self - Presenter
- Earth Movers (2007) - Self - Presenter
- Skid Pan Sumo (2007) - Self - Presenter
- Airboats (2007) - Self - Presenter
- Mechanical Mortars (2007) - Self - Presenter
- Giant Skateboards (2007) - Self - Presenter
- Snowmobiles (2007) - Self - Presenter
- Muscle Trains (2007) - Self - Presenter
- Monster Trikes (2007) - Self - Presenter
- Human Cannonball (2007) - Self - Presenter
- Flying Machines (2005) - Self - Presenter
- Rock Crawler (2005) - Self - Presenter
- Monster Drag (2005) - Self - Presenter
- Steeplechase (2005) - Self - Presenter
- Caber Tossers (2005) - Self - Presenter
- Polar Pinball (2005) - Self - Presenter
- Car Fishing (2005) - Self - Presenter
- Drag Boats (2005) - Self - Presenter
- AC-DC Dairy Dash (2005) - Self - Presenter
- Sharp Shooters (2005) - Self - Presenter
- Kung Fu Cars (2005) - Self - Presenter
- Underwater Cars (2005) - Self - Presenter
- Scrapheap Mega Challenge: Steam Locomotives (2004) - Self - Presenter
- Fastest Machines (2004) - Self - Presenter
- Favourite Machines (2004) - Self - Presenter
- The Best of Series 7 (2004) - Self - Presenter
- Juggernaut (2004) - Self - Presenter
- Roman Motor-Chariots (2004) - Self - Presenter
- Flame Flingers (2004) - Self - Presenter
- Landing Craft (2004) - Self - Presenter
- Spy Car (2004) - Self - Presenter
- Power Rower (2004) - Self - Presenter
- Propeller Car (2004) - Self - Presenter
- Jet Boat (2004) - Self - Presenter
- Off Road Rescue (2004) - Self - Presenter
- Bowling Banger (2004) - Self - Presenter
- Dam Buster (2004) - Self - Presenter
- Dunebuggy (2004) - Self - Presenter
- The Best of Series 6 (2003) - Self - Presenter
- Grand Prix racing cars (2003) - Self - Presenter
- Tanks (2003) - Self - Presenter
- Car Curler (2003) - Self - Presenter
- Fire Engine (2003) - Self - Presenter
- Speedboat (2003) - Self - Presenter
- Jet Car (2003) - Self - Presenter
- Giant Darts (2003) - Self - Presenter
- Ice Racer (2003) - Self - Presenter
- Amphi Bike (2003) - Self - Presenter
- Backpack Car (2003) - Self - Presenter
- Bomb Disposal (2003) - Self - Presenter
- Wheelie Car (2003) - Self - Presenter
- Scrapheap Mega Challenge: Wright Brothers Re-enactment (2002) - Self - Presenter
- The Best of Scrapheap Challenge (2002) - Self - Presenter
- Car Flinger (2002) - Self - Presenter
- Destroyers (2002) - Self - Presenter
- Diggers (2002) - Self - Presenter
- Tugs of War (2002) - Self - Presenter
- Monowheels (2002) - Self - Presenter
- Smooth Riders (2002) - Self - Presenter
- Clockwork Cars (2002) - Self - Presenter
- Railroad Racers (2002) - Self - Presenter
- Blind Navigation (2002) - Self - Presenter
- Golf Ball Gatling Gun (2002) - Self - Presenter
- Hovercraft (2002) - Self - Presenter
- Mud Monsters (2002) - Self - Presenter
- Scrapheap Mega Challenge (2001) - Self - Presenter
- Car Jousting (2001) - Self - Presenter
- Hydrofoil (2001) - Self - Presenter
- Tunneller (2001) - Self - Presenter
- Hill Climber (2001) - Self - Presenter
- Minesweeper (2001) - Self - Presenter
- Mobile Crane (2001) - Self - Presenter
- Snowmobile (2001) - Self - Presenter
- White Water Rider (2001) - Self - Presenter
- Street Cleaner (2001) - Self - Presenter
- Torpedo (2001) - Self - Presenter
- Monster Truck (2001) - Self - Presenter
- Egg Shooter (2001) - Self - Presenter
- Car Crusher (2000) - Self - Presenter
- Dragster (2000) - Self - Presenter
- Fireboat (2000) - Self - Presenter
- Giant Mower (2000) - Self - Presenter
- Steam-Powered Car (2000) - Self - Presenter
- Bridging Machines (2000) - Self - Presenter
- Missile Launcher (2000) - Self - Presenter
- Windmill (2000) - Self - Presenter
- Underwater Chariot (2000) - Self - Presenter
- Aerial Bomber (2000) - Self - Presenter
- Demolition (2000) - Self - Presenter
- Walking machine (1999) - Self - Presenter
- Marine Salvage (1999) - Self - Presenter
- Mileage Marathon (1999) - Self - Presenter
- Land Yachts (1999) - Self - Presenter
- Amphibious Vehicles (1999) - Self - Presenter
- Cannons (1999) - Self - Presenter
- Flying Machines (1999) - Self - Presenter
- Rockets (1998) - Self - Presenter
- Power Boats (1998) - Self - Presenter
- Offroad (1998) - Self - Presenter
- Sub-Aqua (1998) - Self - Presenter
- Power Pullers (1998) - Self - Presenter
- Siege (1998) - Self - Presenter
2008
Ready, Steady, Cook (TV Series)
as
Self
- Episode dated 4 June 2008 (2008) - Self
2006
The Cult of... (TV Series documentary)
as
Self - Narrator
- Tripods (2006) - Self - Narrator (voice)
- Blake's 7 (2006) - Self - Narrator (voice)
- Survivors (2006) - Self - Narrator (voice)
- Star Cops (2006) - Self - Narrator (voice)
- Doomwatch (2006) - Self - Narrator (voice)
- Adam Adamant Lives! (2006) - Self - Narrator (voice)
2006
The Cinema Show (TV Series)
as
Self
- The Strange World of Planet UK (2006) - Self
2006
Red Dwarf: The Tank - Series VIII (Video documentary)
as
Self
2005
Red Dwarf: Back from the Dead - Series VII (Video documentary)
as
Self
2005
Have I Got News for You (TV Series)
as
Self
- Episode #29.6 (2005) - Self
2005
Red Dwarf: Return to Laredo (Video documentary short)
as
Self
2005
Red Dwarf: The Starbuggers - Series VI (Video documentary)
as
Self
2004
Red Dwarf: Dwarfing USA (Video documentary short)
as
Self (uncredited)
2004
Red Dwarf: Heavy Science - Series V (Video documentary)
as
Self
2004
Ultimate Sci-Fi Top 10 (TV Mini Series documentary)
as
Self
2004
Comedy Connections (TV Series documentary)
as
Self
- Red Dwarf (2004) - Self
2004
Celebrity Going Home (TV Series documentary)
as
Self
- Episode #1.4 (2004) - Self
2004
Happy Birthday BBC Two (TV Movie documentary)
as
Self
2004
Britain's Best Sitcom (TV Series)
as
Self
- The Live Final (2004) - Self
2004
Red Dwarf: Built to Last - Series IV (Video documentary)
as
Self
2004
Scrapheap Challenge: The Scrappy Races (TV Series)
as
Presenter
2003
Hollywood Science (TV Series documentary)
as
Self
- Escapes (2003) - Self
2003
Red Dwarf: All Change - Series III (Video documentary)
as
Self
2003
Red Dwarf: Building a Better Universe - A Tribute to Mel Bibby (Video documentary short)
as
Self
2003
Red Dwarf: Hattie's DJ Diary (Video documentary short)
as
Self (uncredited)
2003
Junkyard Wars (TV Series)
as
Self - Host
- Junkyard Wars: Mega Wars-Flight of the Century (2003) - Self - Host
2001
Richard & Judy (TV Series)
as
Self
- Episode dated 30 November 2001 (2001) - Self
2001
Top Ten (TV Series documentary)
as
Self
- TV Sci-Fi (2001) - Self
2001
The Bob Downe Show (TV Series)
as
Self
- Episode #1.14 (2001) - Self
1999
The Vanessa Show (TV Series)
as
Self
- Episode dated 18 February 1999 (1999) - Self
1999
The Flow of Time (TV Movie documentary)
as
Self - Narrator (voice)
1998
Computers Don't Bite: The Beginner's Guide (TV Series)
as
Self
- Episode #2.5 (1998) - Self
1998
Red Dwarf A-Z (TV Movie)
as
Self
1998
Universe Challenge (TV Special short)
as
Self
1997
Swirly Thing Alert: Four Days with Robert & Craig (TV Special)
as
Self
1997
Space Cadets (TV Series)
as
Self
- Morks vs. Mindys (1997) - Self
1996
Bottom Fluff (Video)
as
Self
1995
I, Camcorder (TV Series)
as
Self - Presenter
- Horror (1995) - Self - Presenter
- Football (1995) - Self - Presenter
- Birthday (1995) - Self - Presenter
- Sports Day (1995) - Self - Presenter
- Wedding (1995) - Self - Presenter
- Beach (1995) - Self - Presenter
1995
You Bet! (TV Series)
as
Self
- Episode #8.8 (1995) - Self
1994
Denton (TV Series)
as
Self (1995)
1993
Carnal Knowledge (TV Series)
as
Self - Co-Host
- Episode #1.0 (1993) - Self - Co-Host
1992
Parallel 9 (TV Series)
as
Self
- Episode #1.13 (1992) - Self
1991
Amnesty International's Big 30 (TV Special)
as
Kryten
1991
Comic Relief (TV Special)
as
Kryten
1989
The Scandal Story (TV Movie documentary)
as
Self (voice)
1983
The English Programme (TV Series)
as
Self - Member of 'The Joeys'
- Language 2: Words Fail Us (1983) - Self - Member of 'The Joeys'
Archive Footage
2018
Hangover in Death Valley (Video)
as
Meat
2015
Comedy Bloopers (TV Movie)
as
Kryten (uncredited)
2012
The Big Fat Quiz of the Year (TV Special)
as
Kryten (uncredited)
2010
Mad and Bad: 60 Years of Science on TV (TV Movie documentary)
as
Kryten (uncredited)
2006
Timeshift (TV Series documentary)
as
Kryten / Bongo
- Parallel Worlds: A User's Guide (2006) - Kryten / Bongo (uncredited)
2006
The Smith & Jones Sketchbook (TV Series)
as
Bankrobber / Sailor
- Episode #1.4 (2006) - Bankrobber
- Episode #1.2 (2006) - Sailor (uncredited)
2005
Have I Got News for You: The Best of the Guest Presenters - Volume 2 (Video)
as
Self
2005
The (Almost) Complete A to Z of 'HIGNFY' (Video documentary short)
as
Self (uncredited)
2005
Forty Years of Fuck (TV Movie documentary)
as
Kryten (uncredited)
2003
More Great Comedy Moments (Video)
as
Kryten
References
Robert Llewellyn Wikipedia
(Text) CC BY-SA