8

/

10

1

Votes

Alchetron

Rate This





Developed by

Roberto Aguirre-Sacasa




Composer(s)

Blake Neely




First episode date

26 January 2017




Genres

Teen drama, Mystery







Narrated by

Cole Sprouse




Country of origin

United States




Network

The CW






Based on

Characters by Archie Comics




Starring

KJ Apa Lili Reinhart Camila Mendes Cole Sprouse Marisol Nichols Madelaine Petsch Ashleigh Murray Mädchen Amick Luke Perry




Cast

KJ Apa, Lili Reinhart, Ross Butler, Mädchen Amick, Luke Perry




Profiles




Twitter

Facebook

Instagram
Riverdale 2017 tv series extended trailer 1 hd
Riverdale is an American teen drama television series based on the characters by Archie Comics. It was ordered to series at The CW in May 2016, and the 13-episode first season premiered on January 26, 2017. It was adapted for television by Archie Comics' chief creative officer Roberto Aguirre-Sacasa and executive produced by Greg Berlanti. On March 7, 2017, The CW renewed the series for a second season.
Contents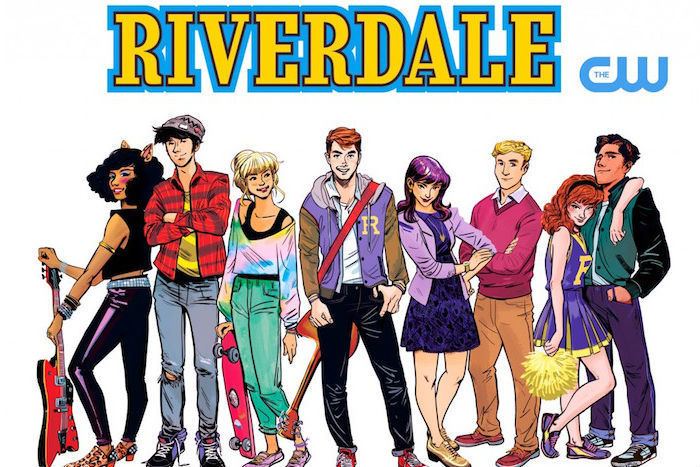 The show features an ensemble cast based on the characters of Archie Comics, with KJ Apa in the role of Archie Andrews, Lili Reinhart as Betty Cooper, his next door neighbor who also happens to be crushing on him, Camila Mendes as Veronica Lodge, his new love interest that just strolled into town and Cole Sprouse as Jughead Jones, his ex-best friend and the narrator of the show. The show also features Ashleigh Murray as Josie McCoy, the lead singer of the Pussycats and Madelaine Petsch as Cheryl Blossom, the twin sister of Jason Blossom, who is at the center of the series' mystery. Other characters in the show include Fred Andrews, Alice Cooper and Hermione Lodge, the parents of Archie, Betty, and Veronica.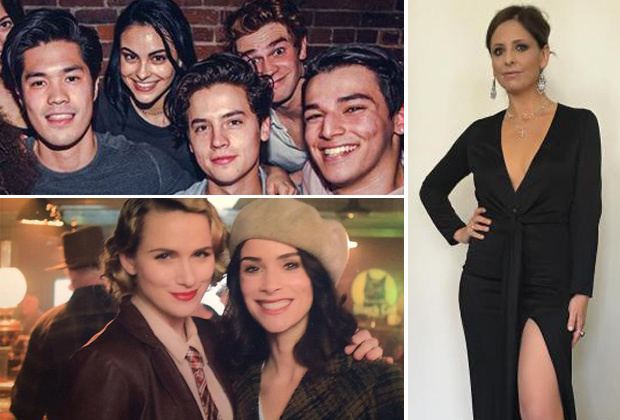 Main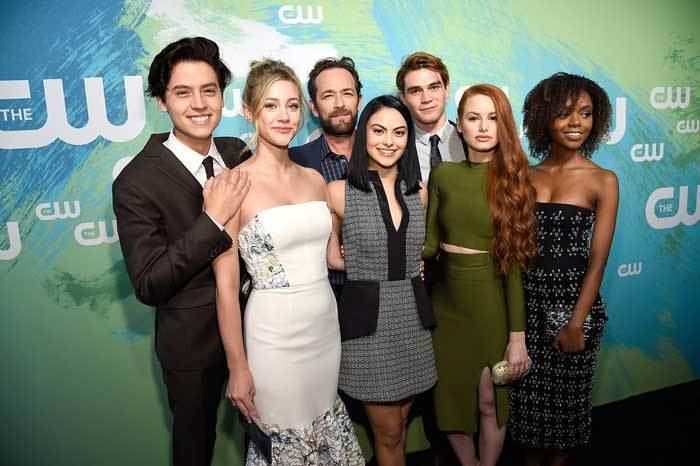 KJ Apa as Archibald "Archie" Andrews: An intense, conflicted teen, a boyish high school sophomore who got pumped up over the summer working at his father's construction business and is now juggling the interest of several girls, as well as trying to balance his passion for writing and performing music—against the wishes of his father and his football coach.
Lili Reinhart as Elizabeth "Betty" Cooper: A sweet, smart, eager-to-please and beautiful girl with a longtime crush on her best friend, Archie. She is tired of being the perfect daughter, student, sister, etc., so she turns to her new friend, Veronica, for life advice—much to the consternation of her emotionally brittle mother.
Camila Mendes as Veronica Lodge: A sophisticated, confident, popular, silver-tongued and beautiful high school sophomore. Veronica returns to Riverdale from New York, eager to reinvent herself after a scandal involving her father.
Cole Sprouse as Forsythe "Jughead" Jones III and the narrator of the series: A philosophically bent heartthrob who was once the best friend of Archie, who is still dealing with the rift that came between them. His father is the leader of a local motorcycle gang called the Southside Serpents.
Marisol Nichols as Hermione Lodge: Veronica's mother, who has returned to Riverdale with her daughter to continue a deal established by Lodge Enterprises and to establish an affair with Fred Andrews following the recent incarceration of her husband Hiram Lodge.
Madelaine Petsch as Cheryl Blossom: A wealthy, entitled, and manipulative seventeen-year-old girl who recently lost her twin brother in a mysterious accident.
Ashleigh Murray as Josephine "Josie" McCoy: A striving, competitive, fierce, snooty, and ambitious girl who is the lead singer for the popular band Josie and the Pussycats.
Mädchen Amick as Alice Cooper: Betty's mother, who is the editor of the local paper. She is a controlling and demanding perfectionist who places exceedingly high expectations on her daughter.
Luke Perry as Frederick "Fred" Andrews: Archie's father, who owns a construction firm that he hopes his son will take over one day.
Recurring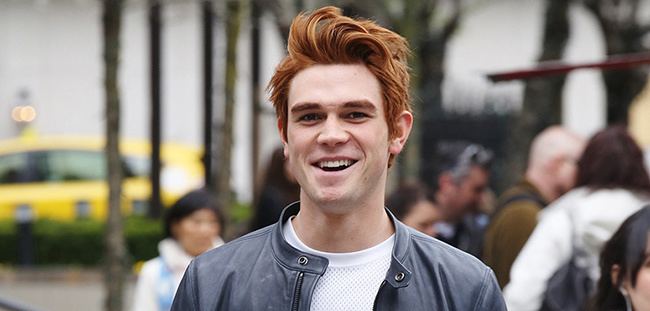 Casey Cott as Kevin Keller: An openly gay high school student who is friends with Betty Cooper and Veronica Lodge. He is the son of Riverdale's sheriff.
Cody Kearsley as Marmaduke "Moose" Mason: Archie's bicurious jock friend who propositions Kevin.
Ross Butler as Reginald "Reggie" Mantle: Archie's long-time friend and rival, a football player at Riverdale High and town prankster.
Sarah Habel as Miss Geraldine Grundy: Riverdale High School's young music teacher, who had a sexual relationship with Archie over the summer. It is revealed in the fourth episode of Riverdale that Grundy moved to Riverdale after changing her name from Jennifer Gibson after her divorce, to escape from an abusive relationship. Since then Grundy has moved from Riverdale to avoid police capture because of her relationship with Archie.
Trevor Stines as Jason Blossom: Cheryl's twin brother, whose murder hangs over the town of Riverdale.
Lochlyn Munro as Hal Cooper: The father of Betty and Polly, and husband to Alice Cooper.
Asha Bromfield as Melody Valentine: The drummer for the popular band Josie and the Pussycats.
Hayley Law as Valerie Brown: The songwriter, bassist, and backup vocalist for the popular band Josie and the Pussycats.
Olivia Ryan Stern as Tina Patel: The super-smart little sister of Archie Comics character Raj Patel, Tina has been described as an Indian Veronica. Tina is one of Queen Bee Cheryl Blossom's best friends.
Caitlin Mitchell-Markovitch as Ginger Lopez: One of Cheryl's best friends.
Major Curda as Dilton Doiley: The smartest kid in town. Daniel Yang portrayed Dilton in the Pilot episode.
Robin Givens as Sierra McCoy: the Mayor of Riverdale and mother of Josie McCoy.
Nathalie Boltt as Penelope Blossom: The mother of Cheryl and Jason.
Barclay Hope as Cliff Blossom: The father of Cheryl and Jason.
Tiera Skovbye as Polly Cooper: The older sister of Betty, and the daughter of Alice and Hal Cooper.
Colin Lawrence as Coach Clayton: The father of Chuck, and coach of the Riverdale Bulldogs football team.
Jordan Calloway as Chuck Clayton: A football-star jock at Riverdale High School with a reputation for being a player
Peter James Bryant as Mr. Waldo Weatherbee: the principal of Riverdale High School.
Martin Cummins as Sheriff Keller, the town's police chief and Kevin's father.
Alvin Sanders as Pop Tate: The owner of the local diner; Pop's Chock'lit Shoppe.
Tom McBeath as Smithers: The butler for the Lodge family.
Adain Bradley as Trev Brown: The younger brother of Valerie.
Guest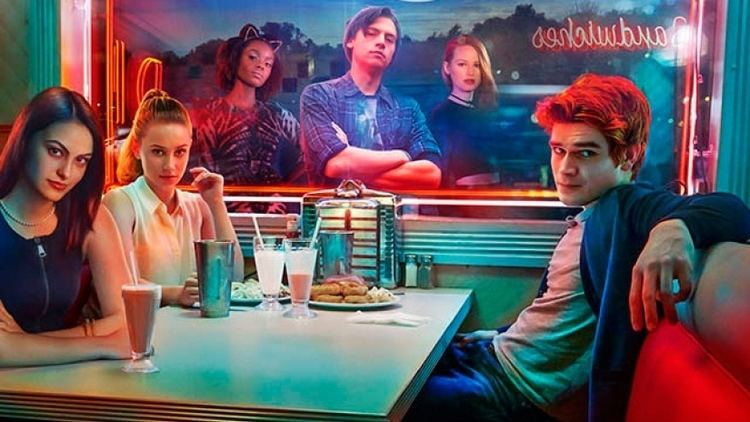 Shannon Purser as Ethel Muggs: Ethel has a major crush on Jughead in the comics, but on Riverdale, Ethel will find herself in a romantic relationship with someone very different and will also be drawn into a friendship with Veronica and Betty after they team up for a revenge plot on Chuck Clayton.
Skeet Ulrich as Forsythe Jones II: The leader of the Southside Serpents, a gang of criminals that live and operate on the fringes of Riverdale. He is Jughead's estranged father.
Rob Raco as Joaquin: The youngest member of the Southside Serpents, who finds himself tied between a romantic relationship and the mystery of Jason Blossom's murder.
Raúl Castillo as Oscar Castillo: A serious and successful songwriter from New York who is a visiting professor at Riverdale's Carson College who agrees to audition Archie in the hopes of possibly mentoring the aspiring singer-songwriter.
Tiera Skovbye as Polly Cooper: The daughter of Hal and Alice Cooper and the older sister of Betty. She was in a relationship with Jason Blossom before his death, and the two were set to run away together to start a new life. She was sent away by her parents to a home for troubled youth after becoming pregnant.
Molly Ringwald as Mary Andrews: The mother of Archie, who left two years ago to follow her dreams, but returns to Riverdale in her family's hour of need. She not only reconnects with Archie and her husband, Fred, but also her former high school friends Hermione and Alice.
Episodes
The final episode of the season is scheduled to air on May 11, 2017.
Production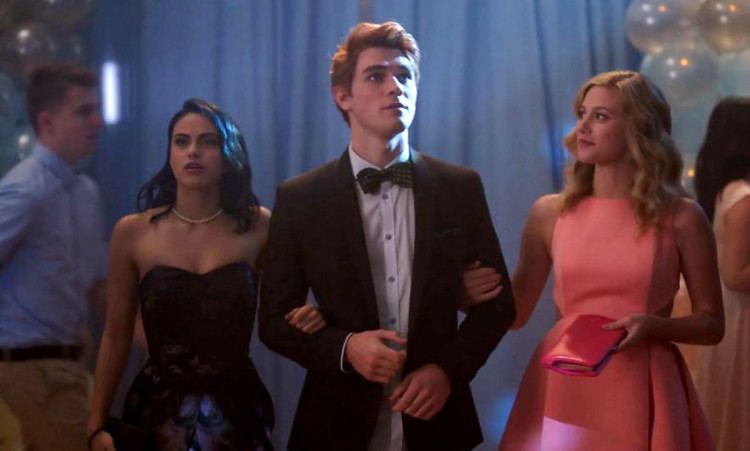 Riverdale was originally in development at Fox, with the network landing the project in 2014 with a script deal plus penalty. However, Fox did not go forward with the project. In 2015, the show's development was moved to The CW, which officially ordered a pilot on January 29, 2016. Filming of the pilot began on March 14 and ended on April 1.
Production on the remaining 12 episodes of season one began on September 7 in Vancouver. Sets include Pop Tate's Chock'lit Shoppe, a copy of the functioning diner used in the pilot that is so realistic that a truck driver parked his 18-wheeler, believing that it was open.
On March 7, 2017, The CW announced that the series had been renewed for a second season.
Broadcast
Netflix acquired the exclusive international broadcast rights to Riverdale, making the series available as an original series to its platform less than a day after their original U.S. broadcast.
Marketing
In July 2016, members of the cast and the executive producers attended San Diego Comic-Con to promote the upcoming series, where they premiered the first episode "Chapter One: The River's Edge". The first trailer for the series was released in early December 2016, while additional teasers followed later that month and into 2017. The CW also sponsored multiple Tastemade videos, where they cooked several foods that are popular in the Archie universe.
Comic book adaptation
Along with heavily promoting the TV series in their regular comics since January 2017, Archie Comics are planning to release a comic book adaptation of Riverdale, featuring auxiliary story arcs set within the television series' own continuity. The comic book adaptation is being headed by Roberto Aguirre-Sacasa himself, along with various other writers from the show. Alongside a one-shot pilot issue, illustrated by Alitha Martinez, released in March 2017, the first issue of the on-going Riverdale the comic book series is set to release starting April 2017.
In addition to the adaptation, Archie Comics are releasing a series of compilation graphic novels branded under the title Road to Riverdale. This series features early issues from the All-New Riverdale reboot line, introducing the audience of the TV series to the regular on-going comic series that inspired it. Archie Comics plans to re-print the volumes of Road to Riverdale in subsequent months as digest magazines. The first volume was released in March 2017.
Critical response
The first season of Riverdale has received generally positive reviews from critics. On Rotten Tomatoes, it has fresh rating of 87% based on 45 reviews, with a weighted average of 6.62/10. The site's critical consensus reads, "Riverdale offers an amusingly self-aware reimagining of its classic source material that proves eerie, odd, daring, and above all addictive." On Metacritic, the season has a normalized score of 67 out of 100 based on 35 critics, indicating "generally favorable reviews". TVLine gave the series a "B+" saying, "Riverdale actually turns out to be an artfully crafted, instantly engaging teen soap with loads of potential."
References
Riverdale (2017 TV series) Wikipedia
(Text) CC BY-SA