Nationality

Indian




Role

Fashion designer




Occupation

Fashion designer




Spouse

Bobby Chadha (m. 2004)




Labels

Ritu Beri




Siblings

Navin Beri




Name

Ritu Beri





Awards

Chevalier dans l'Ordre des Arts et des Lettres




Education

University of Delhi, Army Public School, Dhaula Kuan, National Institute of Fashion Technology




Parents

Indu Beri, Balbir Singh Beri




Similar People

Ritu Kumar, Rohit Bal, Manish Arora, Tarun Tahiliani, Manish Malhotra
Pcj delhi couture week 2013 in association with audi ritu beri
Ritu Beri (Hindi: रितु बेरी) (Punjabi: ਰਿਤੂ ਬੇਰੀ) is a New Delhi based international fashion designer. Ritu Beri's name is synonymous with the explosive globalization of India's fashion industry.
Contents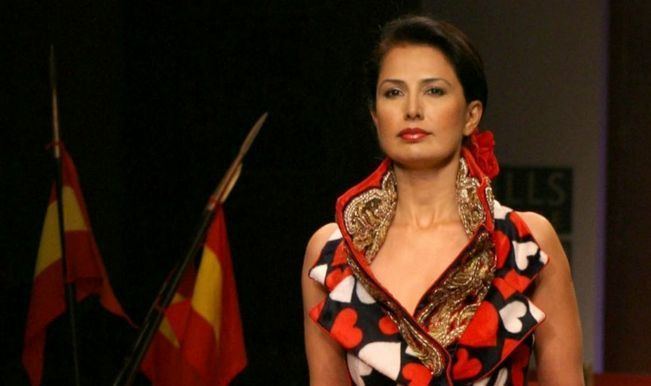 She learned the Art of Fashion at the National Institute of Fashion Technology, New Delhi, affiliated to F.I.T. New York in 1990. A Protégé of Francois Lesage, the famous French embroiderer, Beri launched her label in India in December 1990.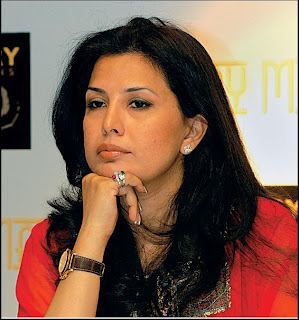 She was the First Asian Designer to head a French fashion brand, Jean-Louis Scherrer, in March 2002.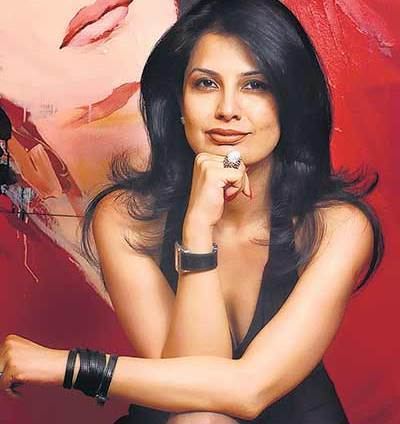 Recently, she launched The Luxury League, a not-for-profit organisation, to promote creativity & innovation in the luxury industry of India. Ritu Beri was recently appointed Advisor to Khadi & Village Industries Commission (KVIC), a part of the Ministry of Micro, Small & Medium Enterprises, Government of India. She is also associated with USTTAD (Upgrading Skills & Training in Traditional Arts/ Crafts for Development) launched by the Union Ministry of Minority Affairs in 2015.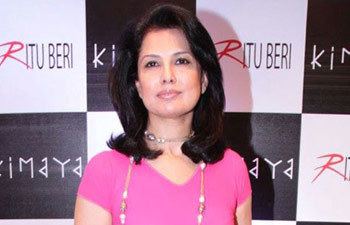 Ritu beri aap ki adalat part 1
Personal life
Ritu Beri comes from an Army background. Her father, Col. Balbir Singh Beri, belonged to the elite regt. of the Indian Army 'THE BRIGADE OF THE GUARDS', he was commissioned into 3 GUARDS (1 RAJ RIF) and he was an adjutant at IMA, Dehradun. Her mother, Indu Beri, is an entrepreneur & her Brother, Navin Beri, is a businessman.
The designer, in 2004, married Bobby Chadha, who is a pioneer in Corporate Aviation in India. The couple have a daughter, Gia, born in August 2007.
Education
Ritu Beri did her schooling from Many Schools all over India due to her father's army background. She graduated from Lady Shri Ram College after which she went on to study fashion at the National Institute of Fashion Technology (NIFT), New Delhi in 1987. The designer is amongst the first batch of NIFT which included only 25 students. Her final collection at NIFT was titled 'Maharanis of India'. "Back then fashion was not considered a serious business - it was a plaything for a small elite. It was then that I first understood where I was heading…To be a fashion designer!", says Ritu Beri.
Early career
Ritu Beri launched her label, Lavanya, in December 1990.
In 1992, Liberty, London (Regent Street), bought a huge consignment, marking her first grand success in the international arena.
In 1997, she created Ritu Beri Fashion Fraternity (RBFF), as a stepping stone for young designers wanting to launch their brands. And this was India's First Fashion Week.
In 1997, Ritu Beri also became the First Indian Designer to be featured in PROMOSTYL's Acuastyl, a prestigious magazine which forecasts fashion trends worldwide.
In August 2000, Ritu Beri flagged off the first Lakme India Fashion Week, in New Delhi.
Paris
Ritu Beri was the first Indian designer to present a Couture show in Paris, where she successfully launched her first luxe collection in 1998. Her success led her to be named by The Time magazine as the person to watch in international business. Suzy Menkes, the fashion editor of the international Herald Tribune quoted, 'Ritu Beri from Delhi gave a lesson in high fashion aesthetics and client pleasing clothes – the essence of couture'. Newsweek quoted, "By Blending Indian & Western Styles, designer Ritu Beri is fashioning her own successful International Brand."
Francois Lesage, the world's most famous embroiderer was Ritu Beri's mentor, guide & philosopher. 'He gave me the confidence to never give up hope but to go after my dreams.' says Ritu Beri.
From showcasing at the prestigious Paris fashion week to dressing up noted international celebrities such as Bill Clinton, Prince Charles and Nicole Kidman, The designer's journey is a perfect representation of Indian fashion's inroads into the worldwide fashion scenario.
In 2000, Ritu Beri was the first Asian Designer to head a French Fashion House, Jean Louis Scherrer, to design their pret-a-porter collections. She was hired to inject a fresh vision and excitement into their conservative French Label.
She also presented her first international Ready-to-wear collection, Spring Summer 2001, at the Petit Palais in Paris in 2000. She, thus placed India on the world map, the first international face from the Indian Fashion industry.
Her famous couture show in July 2001 at the Buddha Bar in Paris was covered live by Fashion TV. It was an extravagant spectacle and drew immense attention.
In July 2006, Ritu Beri presented her 15th show in Paris at the world famous Lido at the Champs Elysees. She also launched her book, 'Firefly – A Fairytale' at the show.
Ritu Beri, in 2010, was bestowed the title of Chevalier des Arts et des Lettres (Knight of the Order of Arts and Letters) by the French government.
Publications
She is the author of the 5 books: The Designs of A Restless Mind, The Fire of A Restless Mind, Style File, Firefly - A Fairytale & 101 Ways to Look Your Best.
101 ways to look your Best was her first book, about making fashion a part of people's everyday living. Style File is her travel exploration from different parts of the world and an introduction to the simple unique things that challenge set notions & explore the discrete, exclusive, intimate space of living.
She wrote the Most Expensive Indian Book, Firefly - A Fairytale. The book was priced at Rs 1 lakh and is published by Ritu Beri herself. The book deals with topics like architecture, history, women and their beauty. It also talks about Ritu Beri's experiences in Paris which were important in shaping her career. François Lesage, the guru of embroidery, has written the foreword to the book. Firefly - A Fairytale was a limited edition of only 100 copies . The book was also sold at the Louis Vuitton flagship store at Champs Elysee in Paris.
On 9 April 2016, Beri launched The Designs of A Restless Mind & The Fire of A Restless Mind. In The Designs of A Restless Mind, Ritu Beri shares her story in stunning pictures & her iconic style. This book is a fashion inspiration & an ode to beauty. The Fire of A Restless Mind carries first hand account of the designer's experiences that she encountered in her effort to create an Indian global Brand.
Clients
Her notable international clients are former US President Bill Clinton, Prince Charles, Nicole Kidman, Hollywood actress Andie MacDowell, Supermodel Laetitia Casta, famous Parisian Socialite Mrs. Lagerdere, Langes Swarovski & The Swarovski family, Elizabeth Jagger, Jerry Hall to name a few.
Her notable Indian clients are Madhuri Dixit, Rani Mukherji, Preity Zinta, Vidya Balan, Sushmita Sen, Shobha De, Dia Mirza, Akshay Kumar, AR Rahman, Rekha, Hema Malini, Hon'ble Minister Smt Sushma Swaraj, Shazia Ilmi, Meenakshi Lekhi, Smt. Najma Heptullah, Parmeshwar Godrej, Shobha De to name a few.
Ritu sells her creations through boutiques in France and a store in New Delhi.
Charity
Ritu Beri is an active volunteer fund Raiser for the Indian Red Cross Society and has received meritorious certificates for fund raisings from The New Delhi Branch.
In 1998, at a fund raiser for AIDS by Richard Gere,Ritu Beri's ensemble was auctioned and was one of the highest fund raisers.
Selected amongst the World's Biggest names in fashion, Ritu Beri for Scherrer designed clothes for 'A ten year old princess' as Part Of A Fund Raising Auction During Euro Disney's Ten Year Celebrations in Nov. 2002.
Ritu Beri is an honorary PATRON of "Savera", a popular charity involved in work to uplift the condition of the Indian Woman.
Ritu Beri also created & launched a product line 'Caring Means Sharing' for an animal protection fund raiser, People for Animals.
In 2009, She also launched Blessed Hearts Foundation, a charity to improve and uplift the condition of the less fortunate children as well as to create awareness of autism. Ritu Beri has also launched Baby Beri, her line of occasion wear for kids, in support of the charity.
Honours
2016 - The Inspirational Power Brands Glam Award
2015 - Icon of the year Award
2014 - The Lady of the Order of Civil Merit by the Spanish Government
2013 - Conferred as Honorary Doctorate by Rai University
2013 - Declared by Tag Heuer as their 'Link Lady of India'
2013 - Delhi's Most Stylish
2012 - Today's Traveler Award for Indian Fashion Icon
2010 - Chevalier de l'ordre des Arts et des Lettres by the French Government
2010 - Amity Leadership Award
2007 - Kalpana Chawla Excellence Award
2005 - AIAC Arch of Excellence Award
2005 - Whirlpool GR8 Women Award
2005 - Wisitex Foundation Award "Fashion Design Ratna"
2004 - The "Best Award" in Paris
2004 - Global Excellence Award
2003 - Designer of the Year at Bollywood Fashion awards, New York.
2003 - India Times Asmi Woman Award
2001 - Sir Syed National Award- 2001
2001 - Rashtriya Ratan Award' 2001
2001 - Hind Gaurav Outstanding National Citizen award.
2001 - Pune Festival Outstanding Award
2001 - Kingfisher Designer Achievement Award
2000 - All India Feroze Gandi Memorial Award
2000 - Millennium Achiever's Biographical Record
2000 - Gem of India Award
2000 - Pride of the Millennium Award
2000 - Dadabhai Naoroji Award
1999 - Achiever of the Millennium Award
1997 - Rashtrya Udyog Award
1997 - Hind Gaurav Award
1996 - Hind Gaurav Award
1996 - Creative Woman of the Year Award
1996 - Bharat Nirman Award
1996 - Akea Best Delhi Designer Award
1995 - Mescos Award for Best Design
1995 - Hind Gaurav Award
1994 - KLM Cargo Competition
1994 - International Excellence Award
1994 - Mahila Shiromani Award by the First Lady of India
1994 - Jewel of India Award
1994 - Udyog Gaurav Award
1992 - Udyog Gaurav Award
1992 - Yuva Ratan Award
1992 - Hind Gaurav Award
References
Ritu Beri Wikipedia
(Text) CC BY-SA