Kingdom

Animalia




Order

Coleoptera




Subfamily

Dryophthorinae




Scientific name

Sitophilus oryzae




Rank

Species




Phylum

Arthropoda




Family

Curculionidae




Genus

Sitophilus




Higher classification

Sitophilus






Similar

Sitophilus, Insect, Wheat weevil, Maize weevil, Beetle
The rice weevil (Sitophilus oryzae) is a stored product pest which attacks several crops, including wheat, rice, and maize.
Contents
Description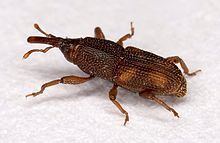 The adults are around 2 mm long with a long snout. The body color appears to be brown/black, but on close examination, four orange/red spots are arranged in a cross on the wing covers. It is easily confused with the similar looking maize weevil, but there are several distinguishing features:
Biology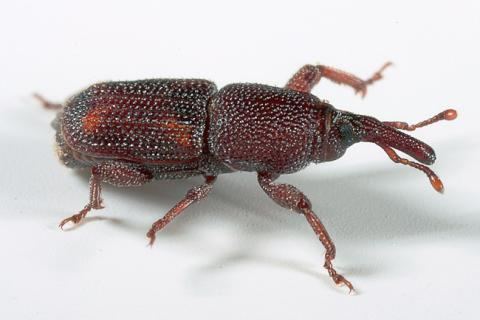 Adult rice weevils are able to fly, and can survive for up to two years. Females lay 2-6 eggs per day and up to 300 over their lifetime. The female uses strong mandibles to chew a hole into a grain kernel after which she deposits a single egg within the hole, sealing it with secretions from her ovipositor. The larva develops within the grain, hollowing it out while feeding. It then pupates within the grain kernel and emerges 2–4 days after eclosion.
Male S. orzyae produce an aggregation pheromone ((4S,5R)-5-Hydroxy-4-methylheptan-3-one) to which males and females are drawn. A synthetic version is available which attracts rice weevils, maize weevils and grain weevils. Females produce a pheromone which attracts only males.
Control
Control of weevils involves locating and removing all potentially infected food sources. Rice weevils in all stages of development can be killed by freezing infected food below -17.7 °C (0 °F) for a period of three days, or heating to 60 °C (140 °F) for a period of 15 minutes.
References
Rice weevil Wikipedia
(Text) CC BY-SA