Covid-19
Germany


74.6 km2



109,596 (2012)




North Rhine-Westphalia




Beate Wilding (SPD)








Urban districts of Germany



Remscheid ( [ˈʁɛmʃaɪt]) is a city in North Rhine-Westphalia, Germany. It is, after Wuppertal and Solingen, the third largest municipality in Bergisches Land, being located on the northern edge of the region, on south side of the Ruhr area.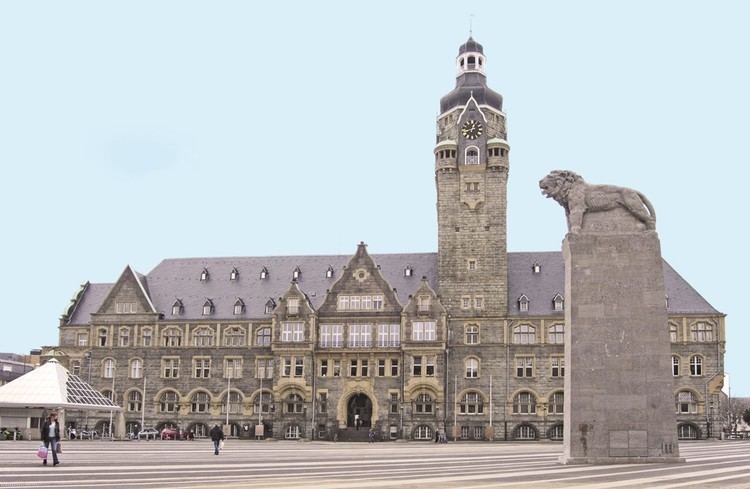 Remscheid had around 109,000 inhabitants in 2015.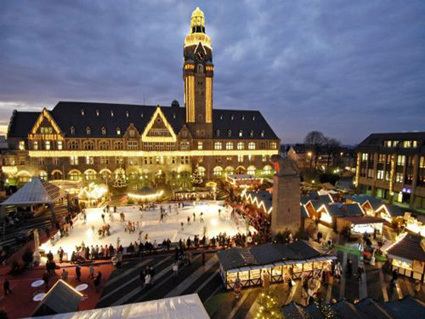 Its highest point is the Brodtberg (378 m).
Remscheid was founded in the 12th century, but remained a small village until the 19th century. Early spellings for the city included Remissgeid (1217), Rymscheyd (1351), Reymscheyd (1487) and Rembscheid (1639). The economic growth of the entire Rhine-Ruhr region led to an increase of the population of Remscheid. Mechanical engineering and toolmaking were the main industries practised within the town. This is carried on today with the Hazet tool company which has two factories in Remscheid. Remscheid was part of the Prussian Rhine Province from 1822–1945.
On 31 July 1943, during the second World War, Remscheid was almost completely destroyed during a British bombing raid which caused a firestorm. During 14 and 15 April 1945, Remscheid was captured by the 78th Infantry Division (United States).
An A-10 Thunderbolt II crashed in the city on 8 December 1988. Six people died.
Today, Remscheid comprises four boroughs, Alt-Remscheid, Remscheid-Süd, Lennep, and Lüttringhausen.
The Müngstener Brücke is a railway bridge crossing a valley and connecting Remscheid with the neighbouring town of Solingen. It is 107 m above the ground, making it the highest railway bridge in Germany. It was constructed in 1897 and originally named the Kaiser-Wilhelm-Brücke after Wilhelm I (whose 100th birthday would have been in 1897).
The Eschbachtalsperre, the first dam built in Germany for the supply of drinking water is located here. It was built in 1891.
The old city of the borough Lennep consists of 116 houses from 1756.
Caspar Georg Carl Reinwardt; (1773-1854), world-famous scientist.
Gottfried Duden, (1789-1856), German writer, traveled to the United States mostly in Missouri and wrote Bericht über eine Reise nach den westlichen Staaten Nordamerikas ("Report of a journey to the western states of North America")
Johannes Fastenrath; (1839-1908), German lawyer, writer and translator
Wilhelm Röntgen, (1845-1923), discoverer of x-rays, was born in Lennep, which is today a borough of Remscheid. There is a museum in Remscheid (Deutsches Röntgen-Museum) commemorating Röntgen's life and discoveries .
Johann Vaillant, (1851-1920), founded the famous heating company Vaillant in Remscheid in the late 19th century.
August Gissler; (1857-1935), German treasure hunter who lived from 1889 to 1908, with brief interruptions on the Cocos Island (Costa Rica)
Walter Freitag; (1889-1958), Member of Bundestag and Member of Landtag North Rhine-Westphalia (SPD), Chairman of IG Metall, chairman of the German trade union federation DGB (1952-1956)
Otto Jungtow; (1892-1961), German football player.
Otto Kuhler, artist and designer of locomotives, born in Remscheid in 1894.
Hans Stammreich, (1902-1969), Raman spectroscopist later living in Brazil, was born in Remscheid.
Teo Otto, (1904-1968), stage designer, was born in Remscheid
Karl Michael Vogler, (1928-2009), actor, was born in Remscheid
Wolfgang Seiler, (born 1940), biogeochemist and climatologist was born in Remscheid
Peter Brötzmann, (born 1941), free jazz saxophonist, born in Remscheid
Michael Bacht (born 1947), German artist
Frank Plasberg, (born 1957), German journalist, born in Remscheid.
Armin Mersmann, (born 1955),German Artist, born in Remscheid.
Wolfgang Tillmans, a photographer, was born in Remscheid in 1968.
Georg Wurth, CEO and owner of the Deutscher Hanf Verband (German Hemp Association) (DHV), the largest organization of the hemp movement in Germany was born in Remscheid in 1972.
Christel Frese, (born 1972), athlete (short and medium range) and 1972 olympian
Harry Luck, (born 1972), writer and journalist
Christiane Soeder (born 1975), German-Austrian cyclist
Prešov, Slovakia
Quimper, France
Kirsehir, Turkey
Remscheid Wikipedia