Redford High School was a secondary school in Detroit, Michigan. A part of Detroit Public Schools, the school opened in September 1921 and ceased operations in June 2007. Staffed and operated by the Detroit Public Schools; Redford High School served the sub-communities of Old Redford, Grandmont, Rosedale Park and Brightmoor.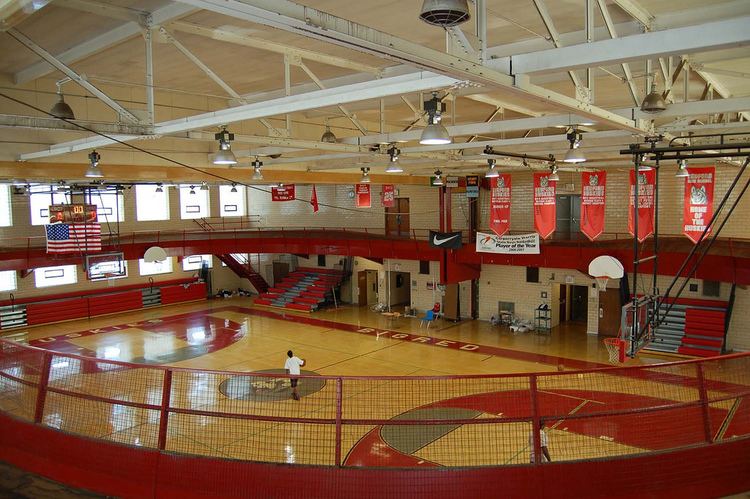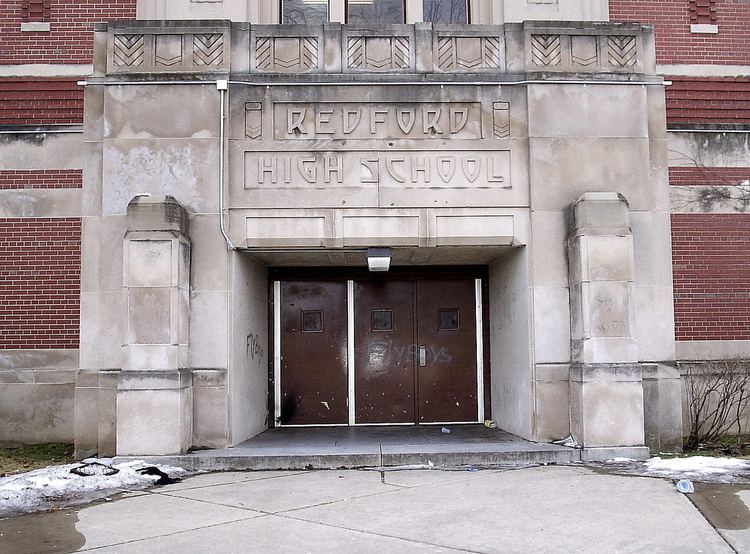 Producer, Director and Academy Award winning actor George C. Scott was born in Virginia and raised in Detroit; Mr. Scott graduated from Redford High School in 1945.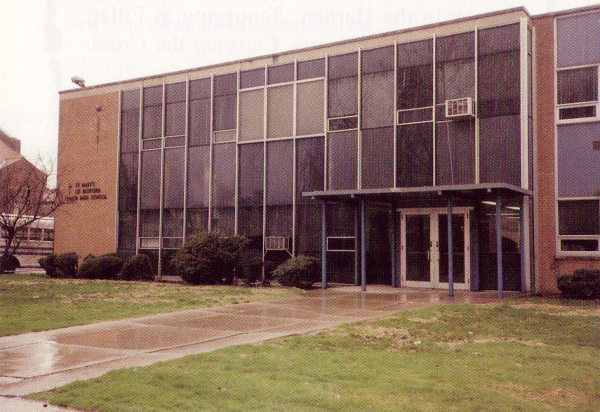 Actor Michael Dunn (born Gary Neil Miller; Class of 1951) was best known for his recurring role as Dr. Miguelito Loveless on CBS television's, The Wild Wild West.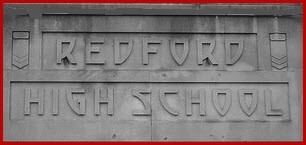 Former Wayne County Executive Edward H. McNamara graduated from Redford High School in 1944. McNamara was Mayor of Livonia, Michigan from 1970 to 1986 and as Wayne County Executive from 1986 to 2002.
NFL player Kevin Belcher graduated from Redford.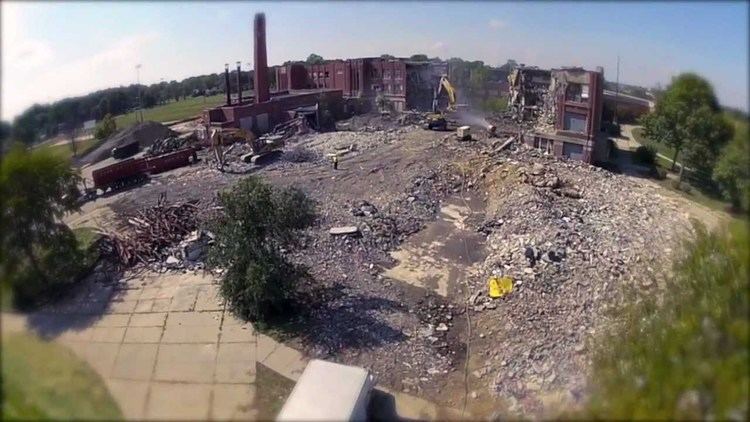 In the Sciences, Rob Hale (Class of 1974) has made substantial contributions in the field of environmental chemistry. He has published over 100 scientific articles in journals such as Nature and Environmental Science and Technology. Most notably, Hale's efforts led to the recognition of the substantial environmental and human health risks associated with our heavy use of brominated flame retardants in common household articles such as furniture and electronics.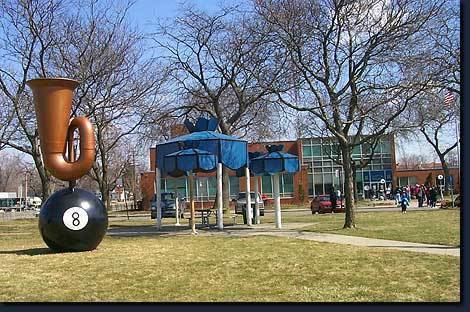 International industrialist and entrepreneur, Steven Glogowski graduated from Redford in 1977. Glogowski transformed the implementation of automation utilization throughout the automotive manufacturing industry globally in the 1980s and 1990s. Glogowski has over 40 domestic and International patents associated with automation and lean solutions.
Gary Reed, comics writer and publisher of Caliber Comics, was a graduate.
Chastity Pratt of the Detroit Free Press wrote, "when it was built, Redford was the jewel of the district." Redford offered university preparatory classes for its students such as Business Law and Fashion merchandising to mention a few.
In December 2006, the Detroit Public School District announced that it planned to close Redford; concerned alumni and parents mounted a valiant yet unsuccessful drive to prevent the closure. 2007, the school's third floor was empty. The property was purchased by Meijer, Inc., as a site for a future store complex; the high school facilities were demolished in September 2012.
Detroit's Cooley and Cody High School absorbed much of the attendance area from Redford; including Brightmoor and Grandmont. Henry Ford High School assumed jurisdiction over the remaining northern neighborhoods.
In June 2015 a Meijer store opened on the Redford site. As of 2015 it was Meijer's second Detroit location. This store uses stonework from the former Redford building.
From the earliest days, in a wide variety of sporting endeavors, the Huskies of Redford High School were a dominant force.
The golf team won three consecutive Michigan High School Athletic Association championships (1928, '29, '30). The girls' golf team won four consecutive city golf championships from 1942–45 led by Shirley Spork. The boys' tennis team won four consecutive Public School League (DPSSAL) titles (1958–61). The baseball team won city championships in 1963 and 1965. Bill Zepp, who went on to pitch at the University of Michigan and with the Detroit Tigers and Minnesota Twins, led the 1963 squad.
The cross-country squad, coached by Bruce Waha, won consecutive DPSSAL championships in 1958, '59 and '60. Redford also won MHSAA cross-country titles in 1961 and 1962; they finished as runners-up at the 1964 MHSAA finals. Coach Waha is a 1978 inductee to the Michigan Interscholastic Track Coaches Association Hall of Fame.
From 1957 through 1975, Redford's football team produced a record of 117–30–1; representing an impressive winning percentage of 791. Redford ended the 1968 season ranked fifth in statewide polling by the Associated Press. During the early 1970s, Coach Andy Kincannon and the Huskies produced consecutive undefeated seasons (1973–74), finishing the 1974 campaign ranked third by the AP.
The boys' swimming team won consecutive dual meet and championship DPSSAL titles in 1972, 1973 and 1974. In 1973 the team won every event in every dual meet of the season. They were undefeated in dual meets in the DPSSAL in 1974. During this interval nearly every existing team record and most of the pool records were broken.
As the 21st century unfolded, Redford was a fixture atop the Detroit Public Secondary School League standings in boys' basketball; the Huskies won DPSSAL championships in 2001, 2005, 2006, and 2007. Redford High School also finished as runners-up for the MHSAA title in 2002 and 2007. Although not listed here, the Redford High School women had spectacular teams in swimming, field hockey, basketball, and tennis. Prior to Title 9, Redford treated female athletes with the respect of equality.
Kenneth "Red" Simmons (1929) was a championship athlete at Redford; Simmons also enjoyed great success at Michigan State Normal College. While attending MSNC, Simmons won three varsity letters in track, the intramural boxing championship, and three wrestling championships. In later years, upon retirement from the Detroit Police Department, Simmons began teaching at the University of Michigan; he also served as assistant track coach. At Michigan, Simmons initiated the first Ann Arbor women's track club; the club won numerous state AAU championships. Simmons was then asked to start a U of M women's track team; his varsity squads won seven national championships and nineteen state titles. A former member of the Eastern Michigan University Alumni Association's Board of Directors, Simmons was elected to the EMU Athletic Hall of Fame in 1978; he was also the first person elected to the U of M Women's Track and Field Hall of Fame. More recently, in January 2011, Mr. Simmons celebrated his 101st birthday.
Golfer Chuck Kocsis played golf for Redford High School in the late 1920s and early 1930s. The Golf Association of Michigan voted Chuck the amateur golfer of the century. He was also elected into the Michigan Golf Hall of Fame.
Golfer Shirley Spork graduated from Redford High School in June, 1945. In 1947 she won the National Collegiate Championship for women athletes. In 1950 she was one of the 13 founding members of the LPGA (Ladies Professional Golf Association). She was elected into the Michigan Golf Hall of Fame and the Eastern Michigan University Sports Hall of Fame.
World-class swimmer and 1948 Redford graduate, Clarke Scholes won an Olympic gold medal in the 100 meter freestyle at the 1952 Games of Helsinki; Scholes also won gold at the 1955 Pan American Games. As a RHS senior, Scholes won city league titles in the 50- and 100-yard freestyle. Although not the fastest swimmer in the state, Clarke was persuaded to swim collegiately for Michigan State University. While under the direction of Coach Charles McCaffree, Scholes was transformed into a five-time All-American and three-time NCAA champion in the 100-yard freestyle. Clarke Scholes was inducted to the International Swimming Hall of Fame in 1980.
Multi-sport standout Archie Matsos was a 1952 Redford graduate; Archie played collegiate football for the Spartans of Michigan State. During the 1960s, Matsos was a three-time Pro Bowl selection and seven-year veteran of the National Football League
Dennis Holland (class of 1961) was a nationally renowned track and field athlete for Western Michigan University; from 1962 to 1965, Dennis set or shared thirteen WMU records. As a long jumper, Holland earned All-America honors by placing third at the 1965 National Collegiate Athletic Association outdoor championships; he was also runner-up in the 1965 World rankings. Dennis won three Mid-American Conference long jump titles; he still holds the WMU varsity record (7.99 meters). A retired CEO of two Michigan marinas, Dennis Holland is the inventor and patent holder of a commercially successful swivel handle used in water skiing; he currently resides in Paia, Hawaii.
1962 RHS graduate, Richard Sharkey was co-captain of the (1960) Detroit Public School League championship and (1961) Michigan High School Athletic Association championship cross-country teams. Sharkey later captained the Michigan State University cross-country squad, leading the Spartans to a Big Ten Conference title in 1963. That same season, Sharkey placed 10th at the NCAA Championships to earn a spot on the 1963 All-America Team.
Phyllis Lindblade (1962) was a four-year letter winner in field hockey; she was honored by the University of Michigan in 2009 as a "pioneer woman athlete". Phyllis was also granted an honorary UM varsity letter and membership in the Block M Club.
Palmer Byrd (1968) is a professional pool and billiards player. She won several professional pool tournaments. She was inducted into the New England Pool and Billiards Hall of Fame in 2011
John Gillary (1970) was a finalist in the 50-yard (6th place) and 100-yard freestyle (5th place) at the 1970 Michigan High School swimming and diving championships.
During his senior year, Clarence Chapman became Redford's first individual state champion, taking 1st place in the long jump event at the 1972 Michigan High School Athletic Association finals. Chapman also played football at Eastern Michigan University, and in the National Football League - with the New Orleans Saints, Cincinnati Bengals and Detroit Lions.
Ralph Clayton (1976) was an All-City tailback on Redford's undefeated football teams, in 1973 and 1974. Clayton also performed at the collegiate level for the University of Michigan (1976–79), and as a professional with the St. Louis Cardinals (1981).
Randall Woodson, Melvin Matthews, Ahamed Lile and Monty Callendar comprised the quartet that took first place in the mile-relay event at the 1977 MHSAA championships. The following season, in addition to reprising his role on the 1st place mile-relay team; Woodson was the 1978 MHSAA gold medalist at 440-yards.
Edward Biggs (1988) won the All-City Detroit Tennis Championship, he later took a tennis scholarship to Southern University in Louisiana (August 1988) and later joining the U. S. Navy in May 1994 serving 20 years. He is now working in Federal Government as an Special Agent.
James Woods (1979) won the 440-yard dash and ran on the 1st place mile-relay squad at the 1979 MHSAA track and field championships.
Curtis Duncan (1983) played collegiate football for Northwestern University; Curtis was also a seven-year performer with the Houston Oilers, of the National Football League.
Omar Ziegler (1998) won All-City and All-State honors in 1997 and 1998. As a Junior, led the Redford to a 68-51 loss to Grand Rapids Ottawa Hills in the MHSAA State Championship game. Played collegiate basketball at Central Michigan;
Autry Parker Brantley (2000) won All-City Tennis honors in 1999. Graduated from Hampton University, where he was a student assistant men's basketball coach. Worked for college and professional teams, including the 2004 NBA Finals Champion Detroit Pistons, Orlando Magic, FIBA Americas and Tiffin University.
Dion Harris (2003) The 6-foot-3 Harris averaged 24.6 points and 8.7 rebounds per game his senior year for Head Coach, Derrick McDowell. Harris helped lead Redford to Class A state championship game his juniors season but the Huskies lost to Pontiac Northern, 66-58. A four-year player at Redford, Harris won a PSL title as a sophomore and lost in the finals as both a freshman and senior. Perhaps one of Harris' biggest claims to fame as a prep was three inter-state matchups with Akron St. Vincent – St. Mary High School's and its star LeBron James. Harris was also named Hal Schram 2003 Mr. Basketball by the Detroit Free Press; he was a unanimous selection to the 2003 All-State Team. While attending the University of Michigan, Harris played guard and was named team MVP. Since departing Michigan, Harris is and has played professionally overseas for Gigantes (Venezuela), TSV Troester (Germany), Achilleas (Cyprus), Al Karameh (Syria), KK Swiecie (Poland)
Manny Harris (2007) led Redford High School to consecutive DPSSAL basketball titles in 2005, 2006 and 2007 for Head Coach,Ken Flowers.. Harris was also named Hal Schram 2007 Mr. Basketball by the Detroit Free Press; he was a unanimous selection to the 2007 All-State Team. Harris averaged 33.5 points and 12 rebounds per game in leading his Huskies to the Class A state championship game (they lost to Saginaw, 79-57). Along the way, Harris collected 52 points against Henry Ford and was the first PSL player since Jalen Rose and Voshon Lenard (Southwestern 1989-91), to start on three consecutive PSL Championship teams. Manny Harris played three seasons as an All-Big Ten Conference guard for the University of Michigan. Upon conclusion of his junior year, Harris opted to forgo his final season of collegiate eligibility to enter the 2010 NBA Draft. Harris went undrafted in 2010, but eventually he signed with the Cleveland Cavaliers, played NBA Summer League, preseason, made the 15-man roster and eventually worked his way into the starting lineup. He began his second year injured and rehabbed for two months in the NBA D-League with Cavaliers' affiliate, the Canton Charge, before being re-signed by the Cavaliers. While playing for Canton, Harris, the D-League's third-leading scorer, all but forced his way back into the NBA with his last two games, averaging 41.0 points, 9.0 rebounds, 6.0 assists and 3.5 steals. He registered a 46-point game against Rio Grande Valley.