Razorlight are an English indie rock band formed in 2002 by lead singer and rhythm guitarist Johnny Borrell. The band are primarily known in the UK, having topped the charts with the 2006 single "America" and its parent self-titled album, their second. Along with Borrell, the current lineup of the band consists of drummer David Sullivan Kaplan, bassist João Mello and lead guitarist Gus Robertson.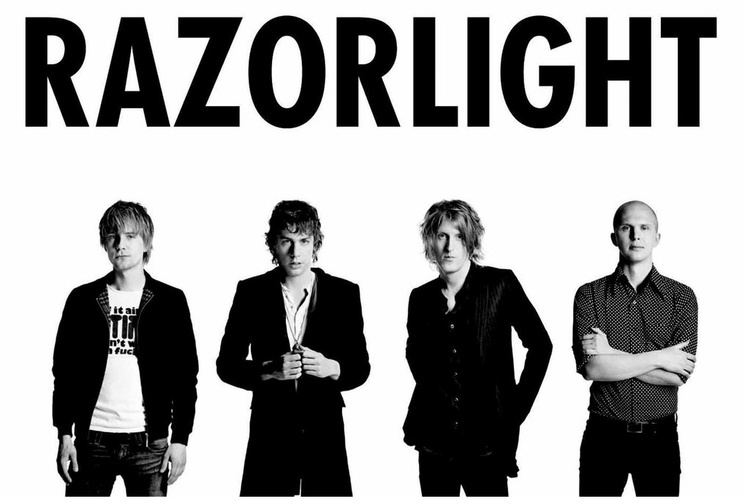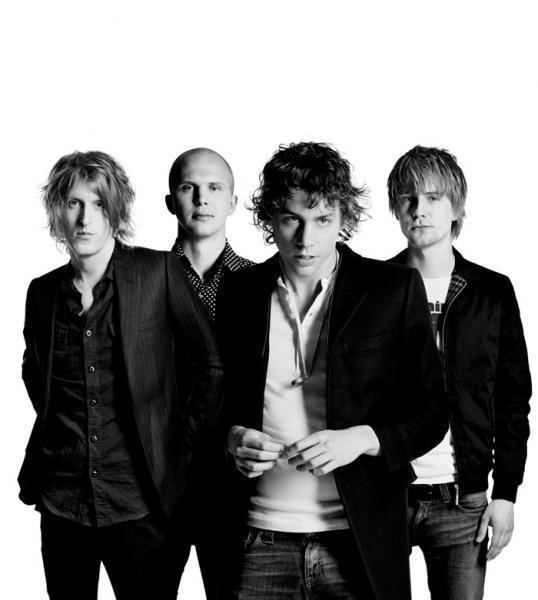 At the beginning of their career Johnny Borrell's new outfit spent six months rehearsing in a decaying factory space in east London. After his earlier incarnation as a solo acoustic singer/songwriter supporting bands like The Libertines, Johnny Borrell fashioned Razorlight as an intense electric rock band with hooky songs and took the band out on the road. On 17 September 2002 they played their first show with all four founder members, Johnny Borrell (vocals, guitar) Carl Dalemo (bass), Christian Smith-Pancorvo (drums) and Björn Ågren (guitar), at Dingwalls, supporting The Von Bondies. Former NME journalist Roger Morton, who had been managing the band from the beginning, began looking to get the band into a recording studio and a session was booked by A&R man Justin Cross at Liam Watson's Toe Rag Studios to record early versions of tracks "Rip It Up", "Rock 'n' Roll Lies" and "In the City". Collaborating alongside Watson and Cross on production was John Fortis. Off the back of these tracks they began getting serious A&R heat due to the songs' success on radio stations such as the John Kennedy Show on XFM.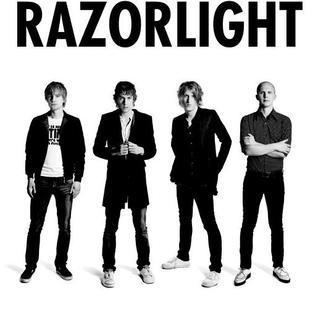 Following a signing race the band finally settled with Mercury Records and then were steered by A&R Richard O'Donovan.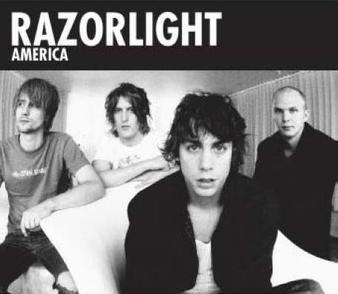 Razorlight debut album, Up All Night, was released on 28 June 2004, reaching number 3 in the UK album charts. The critical reception was generally good, receiving good reviews from NME, Q magazine and Billboard, although they were also accused of lack of imagination and unoriginality for allegedly borrowing ideas from other influential bands such as The Strokes. Following the successful release of their debut album, drummer Christian Smith-Pancorvo left the group and was replaced by Andy Burrows. Up All Night was re-issued in April 2005, including the previously unreleased single "Somewhere Else", which peaked at Number 2.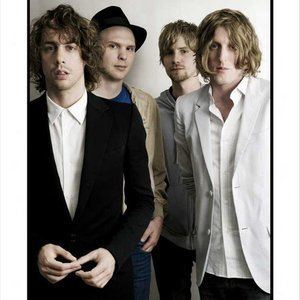 In July 2005, the band performed at Hyde Park, London as part of the Live 8 series of concerts. However, the band came under fire for being the only band that did not donate their extra revenue to charity. The band subsequently claimed that due to their "fledgling status", they were unable to make such a commitment.
Razorlight contributed the song "Kirby's House" to the War Child charity album Help!: A Day in the Life. The song, which was originally over 4 minutes long, was later cut down almost in half and re-mastered, appearing as the eighth track on the band's second album, Razorlight.
In the midst of their first American headlining tour in support of Up All Night, Razorlight created a stir in Denver, Colorado, when they stormed off the stage five songs into their set during a show at the Larimer Lounge. After stumbling around stage, frontman Borrell shouted into the microphone "I'm going to kill myself now," and ran off the stage. The band's official statement was that he was suffering from stagefright.
A later laryngitis infection led to the cancellation of the subsequent Los Angeles date of the tour.
Continuing their association with The Who which started at the Live 8 gig, Razorlight debuted some of the new songs from their forthcoming second album live on 30 March 2006, in one of a chain of Teenage Cancer Trust concerts, organised by Roger Daltrey. Later that year, on 2 July, they played to a sellout Hyde Park Calling, where they were preceded by The Zutons, and opened for The Who. The band went on to play on the beach opposite Brighton's West Pier on 12 July in a free concert as part of a Vodafone TBA event broadcast on Channel 4.
Razorlight released their second album Razorlight on 17 July 2006, in the United Kingdom and it debuted at No. 1 in the UK Albums Chart a week later. It received mixed reviews, Q magazine giving it a rare 5/5 rating, whilst Pitchfork Media gave it 2.8/10. The lead single from the album, "In the Morning" was released as a single on 3 July 2006, which peaked at No. 3 in the UK Singles Chart. To date, it is their third biggest single after "Somewhere Else", which peaked at No. 2, and "America", which peaked at #1. It also reached No. 2 on iTunes. In 2007, Razorlight were nominated for two BRIT Awards – one for 'Best British Band' and the other for 'Best Song', "America". They were also nominated for two NME Brit Awards for 'Best Band' and 'Best Album'.
Razorlight supported Queen + Paul Rodgers on 15 July, in front of 60,000 people. This gig had been rescheduled following the July 2005 London bombings. In December of the same year, they supported Oasis, at Cardiff's Millennium Stadium. They also supported The Rolling Stones at their gigs in Cologne and Paris. During the Christmas season the band played an intimate show at the Railway Inn in Winchester. They were supported by up and coming London band Captain Phoenix, who are fronted by drummer Andy Burrows' younger brother Ben. The band played their biggest tour to date in October–November 2006 and also supported Richard Ashcroft in his homecoming gig at the Lancashire County Cricket Club on 17 June. They headlined Reading on 24 August, and Leeds on 25 August 2007. They also played the Main Stage on 19 May in Preston for Radio 1's Big Weekend alongside bands such as Kasabian and the Kaiser Chiefs. On 7 July 2007, Razorlight performed at both the UK leg of Live Earth at Wembley Stadium, London, and T in the Park in Balado, Scotland. In November 2006 the band had to be hospitalised after traces of radioactive poisoning was detected on their plane. Their British Airways return flight from Moscow was a scheduled route used by Russian ex-spy Alexander Litvinenko. The same month they supported the Mando Diao "Ode to Ochrasy Tour" in Germany.
Razorlight was intended to perform for BBC Children in Need 2008, but cancelled due to Borrell reporting vocal problems. The band still made a donation to the charity.
After many months of producing new material, some of which was written on the Isle of Tiree in the Inner Hebrides, Razorlight released their third studio album, Slipway Fires, on 3 November 2008 with the lead single, "Wire to Wire", being released on 20 October 2008. The second single taken from Slipway Fires was "Hostage of Love"; however, having received little critical or commercial attention, it failed to enter the charts. As a result, a planned release of 'Burberry Blue Eyes', as the album's third single, was dropped. On 5 March 2009, NME.com confirmed that Andy Burrows had quit the band to 'pursue other musical ventures'. Johnny Borrell was adamant that the band would continue, although he would miss the drummer. New Yorker David 'Skully' Sullivan Kaplan took over the drums, initially it was reported he would be in the band as a touring member until the end of 2009, although since then he has become an official member. With a top 5 album and single in Germany, the band toured America, Australia and Europe before returning to the UK for shows in May at The O2 and Manchester Evening News Arena followed by UK festivals. At the end of their "Slipway Fires" tour Razorlight previewed a new song called "Dr. Boushitan" in several German cities.
In an interview with Teletext, Borrell announced that the band was working with Steve Lillywhite and Dave McCracken on a new record and that they were eager to get the new songs out "soon". However, it was revealed on 26 January 2011 that following unproductive recording sessions in late 2010, Dalemo and Ågren were no longer in the band, leaving Borrell as the only original member of the band. They have since been replaced by Freddie Stitz and Gus Robertson. Borrell previewed the line-up as a new band during a solo UK and Europe tour throughout September and October 2010 before announcing it as the new Razorlight line-up in January 2011. A press photo of the new unannounced line-up was also posted to the band's We Are Razorlight website in December.
In March 2011, Razorlight announced a London festival exclusive with their new line-up, and played at Get Loaded In The Park on Clapham Common on Sunday 12 June. Following that, they headlined both Guilfest on 16 July 2011 and Shakedown Festival in Brighton on 17 September 2011. Razorlight headlined at OsFest in Shropshire on 3 June 2012, as well as the Splendour Festival in Nottingham on 21 July 2012, and Bingley Music Live on 1 September 2012. They continued working on a fourth album, but on 27 March 2013, Borrell announced that Razorlight was to be put on hold whilst he prepares to release solo material. In November 2013, he released a commercially unsuccessful solo album, Borrell 1.
Razorlight were confirmed to play at the following 2014 festivals: Y Not Festival, Tartan Heart Festival in Scotland, Festival Internacional de Benicàssim and Volksfest in Plymouth.
Asked in an April 2014 interview whether there would be new Razorlight material, Borrell responded positively, but added that finding the right record label was the problem: "I'd quite like to, but I find it very hard getting on with the record companies in this country. As soon as you mention 'Razorlight' the dollar signs appear in their eyes. It's been so long since we've done anything, and yet the band is still treated like a cash cow."
On 4 June 2014 at the Electric Ballroom in Camden, Razorlight played on the tenth anniversary of their debut album. João Mello, an 18-year-old Brazilian who played saxophone on Borrell's solo project, played bass.
Studio albums
Up All Night (2004)
Razorlight (2006)
Slipway Fires (2008)