Rangpo (Nepali: रम्फु) is a town in East Sikkim in the Indian state of Sikkim. The town borders West Bengal and is situated along the Teesta river. It is the first town in Sikkim on NH 10 that links Siliguri to Gangtok. It is about 200 m above sea level with a sub-tropical climate. All vehicles entering Sikkim have to stop here. Foreign tourists require documents to enter Sikkim state and have to show them at the border police post.It is the Gateway to Sikkim.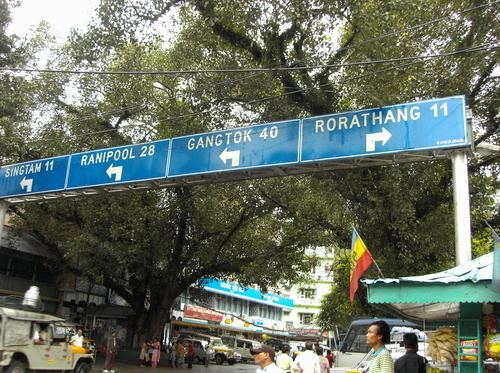 Rangpo has a large population of Nepalis and Bhutias. Marwari and Bihari businessmen have settled in the town and own most of the shops among them are few old settlers in town who have history of business since 1912.
Rangpo is located at 27.18°N 88.53°E / 27.18; 88.53. It has an average elevation of 333 metres (1093 feet).
As of 2001 India census, Rangpo had a population of 3,724. Males constitute 55% of the population and females 45%. Rangpo has an average literacy rate of 70%, higher than the national average of 59.5%: male literacy is 75%, and female literacy is 63%. In Rangpo, 13% of the population is under 6 years of age.
The foundation stone for construction of a new railway line from Rangpo railway station to Sevoke railway station on the border of Sikkim and West Bengal was laid in October 2009 by the vice president of India. In 2008, the line was proposed to be 53 km long. However, the 1,676 mm (5 ft 6 in) broad gauge track may finally be 45 km long, 1 km of which will be in Sikkim state and the rest in West Bengal state. 32 km of the track will be in tunnels with an almost equal number of bridges over deep gorges and valleys with a proposed 65 km per hour speed limit. New railway stations will be constructed at Melli, Tista Bazar, Geil Khola, Riang, and Rangpo. The track will be constructed through the foothills of the Kanchanjungha mountain range and the Teesta river valley and will offer very beautiful views.
The new railway line will be beneficial to the people of Sikkim for easier access to the rest of India through Siliguri. It will boost the state's economy and tourism.
In 2008 the project was planned to be completed in 2015 at an estimated cost of INR 13.4 billion, but is likely to be delayed as the construction had not started by March 2013. The Indian Railways signed a contract with the construction company, IRCON, only in May 2010 and the work has been progressing at a very slow pace. The final alignment had not been fixed for the first 22 km through elephant sanctuary forest in 2013 and the final clearance of environment ministry had not been received. To obtain approval of the environment and forest ministry, the railways made a proposal in February 2013 to install elephant sensors along the stretch of the proposed railway line in Mahananda elephant sanctuary or run the trains at a speed of only 20 km per hour in the forest area and stop when an elephant is sighted close to the track.
People of two villages in East Sikkim, through which a 3.5 km stretch of the 45 km long railway line has been planned, had not agreed to give their land for laying the track.
Mining Ground is a cricket ground in Rangpo and was established in 1997 when a match of Vijay Merchant Trophy was played between Sikkim Under-16s and Bihar Under-16s. Previously, the ground belongs to Sikkim Mining Corporation was handed over to the Sikkim Cricket Association in 2002 to be developed as a cricket stadium.
Rangpo is now the center for many pharmaceuticals company .The small town is also one of the fastest growing towns in the state.
Rangpo has many premium school for the elementary education namely Little Bells' School which is around 30-year-old school, Ivana memorial school and Tiny tots School .Also nearby Government high school in Rangpo Mamring area is the hub for students growing their.