Children

1 daughter 1 son

Name

Rangarajan Kumaramangalam

Siblings

Lalitha Kumaramangalam







Succeeded by

L. Ganesan (Tiruchirapalli)

Constituency

Salem

(from 1981 to 1996), Tiruchirapalli(from 1998 to 2000)

Died

August 23, 2000, New Delhi

Similar People

Mohan Kumaramangalam, Lalitha Kumaramangalam, P Subbarayan, Charu Majumdar, M N Roy
Former Union Power Minister Rangarajan Kumaramangalam (1952 - 2000)
Phanindranath Rangarajan Kumaramangalam (12 May 1952 – 23 August 2000) was a prominent politician of the Indian National Congress and later the Bharatiya Janata Party and a Member of parliament, Lok Sabha from the Salem constituency from 1984 to 1996 and Tiruchirapalli constituency from 1998 to 2000. He served as the Minister of State for Law, Justice and Company Affairs in the P. V. Narasimha Rao government from July 1991 to December 1993 and as the Union Minister for Power in the Vajpayee Government from 1998 to 2000. He was the grandson of former Chief Minister of Madras, P. Subbarayan and the nephew of former Indian Chief of Army, General P. P. Kumaramangalam.
Contents
Murli Manohar Joshi, Rangarajan Kumaramangalam swearing-in ceremony in 1998
Personal life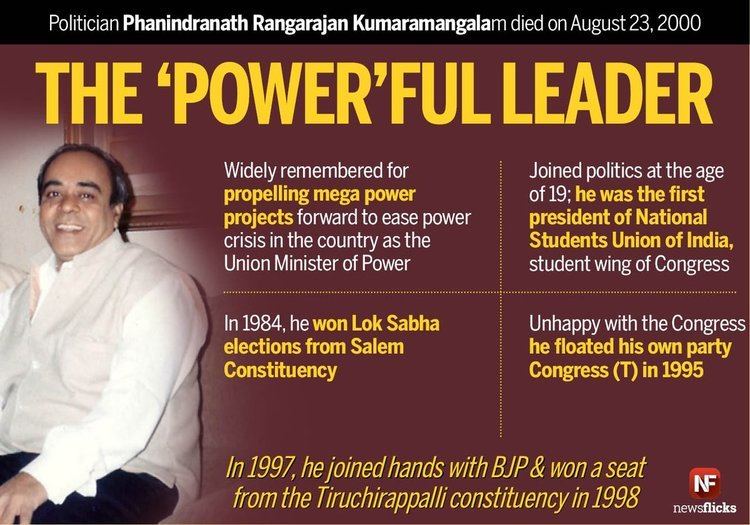 Rangarajan was born on 12 May 1952 in a family of Zamindars of Thiruchengode. His grandfather Paramasiva Subbarayan was the Chief Minister of Madras province from 1925 to 1926 and a Cabinet Minister under later Governments. His uncle, General P.P. Kumaramangalam was a veteran of the Second World War and a former Chief of Army Staff. Rangarajan's father Mohan Kumaramangalam was an important theorist and organiser of the undivided Communist Party of India. His mother Kalyani Mukherjee was the niece of Ajoy Mukherjee, sometime Chief Minister of West Bengal, and of Biswanath Mukherjee, husband of the communist ideologue and parliamentarian Geeta Mukherjee.
Politics
Ranga was deeply involved in student politics right from the earliest stages, as one of the founding members and the first president of the National Students Union of India (NSUI). It was no less a person than Prime Minister Indira Gandhi, whose great personal favourite he was, who called him to take up this post after going through due process. By 1973, he had also been elected a member of the All India Congress Committee. In 1977, on obtaining a degree from Kirori Mal College, Delhi University, he moved to Madras to practice in labour law. When the Congress was re-elected in 1980, Rangarajan was asked by his very dear friend, soon-to-be-Prime Minister Rajiv Gandhi, to play an active role in politics. He contested and won the 1984 elections from Salem Lok Sabha constituency.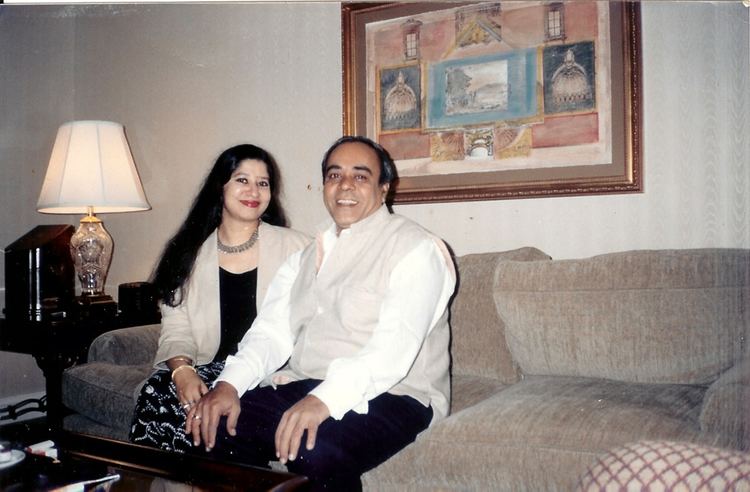 P.V. Narasimha Rao appointed him Minister of State for Law, Justice and Company Affairs in July 1991. Despite his personal sense of loyalty to Narasimha Rao, Ranga was unable to support him in what was increasingly being seen as a corrupt congress regime. In a letter to the President he raised several issues with regards to corruption allegedly purported by the Prime Minister based on documents he had in his possession and that formed the basis of the Vohra Committee report. In this letter he asked the President to ask the Prime Minister to step down and face an investigation against the charges.
In late 1993, Rangarajan resigned as Cabinet Minister. In May 1995, Rangarajan resigned from the primary membership of the Indian National Congress and along with Arjun Singh, N.D. Tiwari, Sheila Dikshit and others, founded the Congress(T). However, Rangarajan lost his seat in the 1996 Parliamentary elections during which his new party suffered a crushing defeat. In December 1997, Rangarajan joined the Bharatiya Janata Party. He won from the Tiruchirapalli Lok Sabha constituency in 1998 and 1999 and became one of the torch-bearers of the BJP in Tamil Nadu. He served with distinction as the Union Minister for Power and Parliamentary Affairs, holding additional charge of Law, Justice and Company Affairs, and Mines, in the Second Vajpayee Ministry from 1998 to 1999 and in the Third Vajpayee Ministry from 1999 until his death in 2000.
One of the most charismatic and brilliant leaders in post independent India, Ranga was loved and respected across party lines. His capacity to get bills passed in parliament was unmatched, because of this unique quality. Additionally, he was one of that rare breed of Indian leaders who delivered on his promises, never forgetting the welfare of the common rural Indian, and the farmer, while, simultaneously, propelling mega power projects forward with matchless administrative and managerial capability.
Death
Rangarajan died on 23 August 2000 at the All India Institute of Medical Sciences at the age of 48 as a result of acute myeloid leukaemia (blood cancer). At the time of his death, he was the Power Minister in the then A. B. Vajpayee ministry. He was cremated with full state honours on the same day.
References
Rangarajan Kumaramangalam Wikipedia
(Text) CC BY-SA