By the mid-1990s, Travis saw a decline in his chart success. In 1997, he left Warner Bros. Records for DreamWorks Records and changed his musical focus to gospel music. Although the career shift produced only one more number-one country hit "Three Wooden Crosses," Travis went on to earn several Dove Awards, including Country Album of the Year five times. In addition to his singing career, he pursued an acting career, appearing in numerous films and television series, including The Rainmaker (1997) with Matt Damon, Black Dog (1998) with Patrick Swayze, Texas Rangers (2001) with James Van Der Beek, and seven episodes of the Touched by an Angel television series.
Travis has sold over 25 million records, and has earned 22 number-one hits, six number-one albums, six Grammy Awards, six CMA Awards, nine ACM Awards, 10 AMA Awards, eight Dove Awards, and a star on the Hollywood Walk of Fame. In 2016, Travis was inducted into the Country Music Hall of Fame.
Randy Bruce Traywick was born on May 4, 1959 in Marshville, North Carolina, the second of six children of Bobbie (née Tucker), a textile factory worker, and Harold Traywick, a horse breeder, turkey farmer, substitute school teacher, and construction business owner. He is a descendant of Cornish immigrant Robarde Traweek, whose son Robert was born in 1700 in Stafford County, Virginia and died in 1788 in Onslow County, North Carolina, establishing the North Carolinian roots of the Traywick family.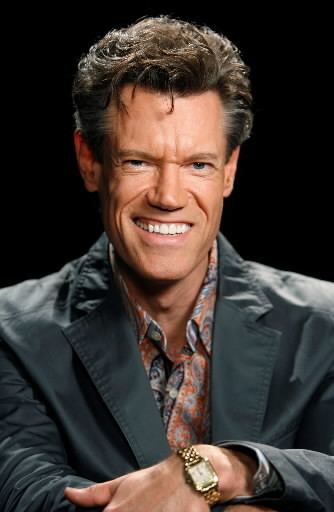 Randy and his brother Ricky were encouraged to pursue their musical talents by their father, who was a fan of Hank Williams, George Jones, and Lefty Frizzell. In 1967, at the age of eight, Randy began playing guitar and sang in the church of Christ as a boy. Two years later, he and his brother began performing at local clubs and talent contests, calling themselves the Traywick Brothers. Randy often fought with his father and soon dropped out of high school. He became a juvenile delinquent and was arrested for various offenses, including auto theft and burglary. Travis has since voiced regret for his past misdeeds.
In 1975, while his brother was serving time in jail for a high-speed car chase, Randy won a talent contest at a nightclub, Country City USA, in Charlotte, North Carolina. The club's owner, Elizabeth "Lib" Hatcher, took an interest in the young singer, hired him as a cook, and gave him regular singing jobs at the club. During the late 1970s, Randy worked and sang at Country City USA. Still in his late teens, Travis had one more encounter with the law. At his hearing, the judge told Travis that if he ever saw the singer back in his court, he should be prepared to go to jail for a long time. Travis was released into the guardianship of Hatcher, who also became his manager. The two began to focus on his career full-time.
In 1978, he recorded a self-titled album, Randy Traywick, for Paula Records. The following year, he released two unsuccessful singles, "She's My Woman" and "Dreamin'". Travis moved in with Hatcher, which put further strain on her already fragile marriage. She eventually left her husband and, in 1982, she and Travis moved to Nashville, Tennessee. During this time an unlikely romance began to form between the two. Travis would later comment, "I think we discovered how much we needed each other." He and Hatcher eventually came forward with their relationship and were married in a private ceremony in 1991.
During the early 1980s, Travis was rejected by every major record label in Nashville. His early demo tapes were criticized by record executives as being "too country." To support them, Hatcher took a job as manager of a nightclub, The Nashville Palace, and hired Travis as a cook and singer, where he performed under the name Randy Ray. In 1982, Travis recorded an independent album Live at the Nashville Palace, and Hatcher used the album to secure a deal with Warner Bros. Records. As part of the contract, label executives insisted they keep their romance a secret, and changed his stage name again, to Randy Travis. In 1985, Warner Bros. Records released the single "On the Other Hand" which peaked at No. 67 on the country charts. His next single, "1982", became a Top 10 hit single. In 1986, Warner Bros. re-released "On the Other Hand", which became Travis' first number-one hit.
His debut album, Storms of Life, went on to sell more than four million copies. In the late 1980s he had a string of hits, including "No Place Like Home" and "Diggin' Up Bones". His 1985 hit "Lazy Mooncricket Nights" was inspired by the birth of his cousin, William Garner "Spud" Simpson. A song from his second Warner Brothers album Always and Forever titled "Forever and Ever, Amen" arguably launched the neo-traditionalist country era. For two years in a row, Travis won the Grammy Award for Best Male Country Vocal Performance, for the albums Always & Forever in 1988, and for Old 8x10 in 1989. He also won the ACM award for Best Country Newcomer in 1986. Off the success of his first two albums, Old 8x10 was certified platinum, and Always and Forever was number-one for 43 weeks.
In 1991, Travis took part in Voices That Care, a multi-artist project that featured other top names in music for a one-off single to raise money for the allied troops in the Gulf War. The project included fellow singers Garth Brooks, Kenny Rogers and Kathy Mattea. In addition, Travis recorded the patriotic song "Point of Light" in response to the Thousand points of light program initiated by President George H. W. Bush. Its release prompted New York freelance writer Lina Accurso to file a complaint with the Federal Election Commission charging that the single qualified as political advertising since Bush media consultant Roger Ailes produced the song's video and White House publicist Sig Rogich was credited as a co-writer. The FEC rejected the complaint, ruling that the song and video "neither expressly advocate the election of, nor solicit contributions on behalf of, Mr. Bush."
In 1992, Travis took a break from music to concentrate on acting and landed roles in several Western-genre films. He returned to recording with the 1994 album This Is Me and the hit single "Whisper My Name". Three years later, Travis parted ways with Warner Brothers and signed with DreamWorks Nashville. He recorded You and You Alone, which produced the top 10 hits "Out of My Bones", "The Hole" and "Spirit of a Boy, Wisdom of a Man". After good friend George Jones died in April 2013 Travis recorded "Tonight I'm Playin' Possum," in Jones' memory.
After the 1999 release of A Man Ain't Made of Stone, Travis shifted away from mainstream country and focused on gospel. During this time, he recorded the albums Inspirational Journey (2000), Rise and Shine (2002), and Worship & Faith (2003). The single "Three Wooden Crosses" from the Rise and Shine album reached No. 1 and won the CMA song of the year in 2003. That same year, Travis ranked No. 13 on CMT's 40 Greatest Men of Country Music. Additionally, he continued to act in film and television; he appeared in several episodes and in the series finale of Touched by an Angel. His album, Passing Through was released in November 2004 and included his song about mothers titled "Angels." It combined the country music of his earlier years with the gospel influences from his latest albums. After the release of Glory Train: Songs of Faith, Worship, and Praise in 2005 and the Christmas album Songs of the Season in 2007, Travis released his brand new single "Faith in You" as a free download from his official website. It heralded the July 2008 release of his album, Around the Bend, his first collection of mainly secular recordings in nearly a decade.
In February 2009, Travis' "I Told You So" was released as a single by Carrie Underwood, who had recorded the song for her 2007 album Carnival Ride. The next month, radio stations were sent a duet version of the song featuring Randy Travis on vocals. From that time on, he was credited with Underwood on the single, which peaked at No. 2 on the country charts and No. 9 on the U.S. Hot 100. That month, Travis released the two-disc greatest hits compilation I Told You So: The Ultimate Hits of Randy Travis. In June 2011, he released the album, Anniversary Celebration. In September 2013, he released the album Influence Vol. 1: The Man I Am.
In 2016, Travis was selected as one of 30 artists to appear in the music video for "Forever Country", a mash-up track of Take Me Home, Country Roads, On the Road Again and I Will Always Love You which celebrates 50 years of the CMA Awards.
Travis and Lib Hatcher divorced on October 29, 2010 after a 19-year marriage, and their business relationship ended thereafter. He married Mary Davis on March 21, 2015.
Travis was arrested in February 2012, when he was found in a parked car outside of a church in Sanger, Texas with an open bottle of wine and smelling of alcohol. Travis's Chrysalis Ranch is outside Tioga, Texas, about 20 miles from Sanger.
On August 7, 2012, state troopers in Grayson County, Texas responded to a call that an unclothed man was lying in the road. Troopers reported that they arrived to find Travis unclothed and smelling of alcohol. The Texas Highway Patrol said that Travis crashed his car in a construction zone, and that when they attempted to apprehend him, Travis threatened the lives of the troopers. Travis was subsequently arrested for driving while intoxicated and terroristic threat against a public servant. He posted bail in the amount of $21,500. Earlier in the same evening, just prior to the DUI arrest, Travis allegedly walked into a Tiger Mart convenience store naked, demanding cigarettes from the cashier, who in turn called the authorities. According to the store clerk, Travis left the store upon realizing he did not have any money to pay for the cigarettes.
On January 31, 2013, Travis pleaded guilty to his August 7 incident and received two years probation, a $2,000 fine and a 180-day suspended jail sentence.
On July 7, 2013, Travis was admitted to a Dallas area hospital for viral cardiomyopathy after a viral upper respiratory infection. His condition was classified as critical. Three days later, Travis suffered a massive stroke and had surgery to relieve pressure on his brain. On July 15, 2013, it was reported that Travis was awake and alert after undergoing brain surgery, that his heart was pumping without the assistance of machines, and that he was on the road to recovery. He was released from Baylor Heart Hospital in Plano, Texas on July 31, 2013, and entered a physical therapy facility. Following his stroke, and despite physical therapy, Travis was unable to sing or speak and for more than a year had to rely on a cane to walk. As of November 2014, he was slowly recovering, could walk short distances without assistance and was relearning how to write and play the guitar, according to his then-fiancée Mary Davis.
In 2016, it was reported he had recovered his voice after about three years of rehabilitation and therapy and could perform again. He attended his induction into the Country Music Hall of Fame on October 16, 2016, where he performed a rendition of "Amazing Grace."