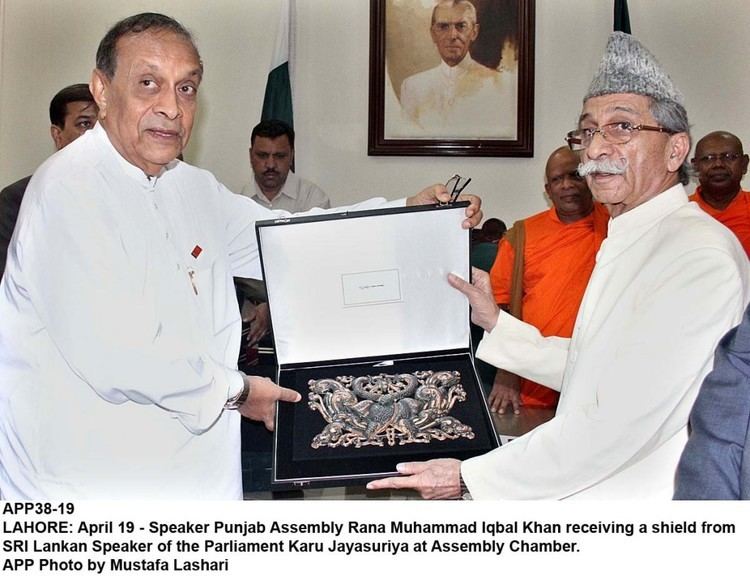 Muhammad Iqbal Khan belongs to a family of politicians. His father Rana Phool Muhammad Khan was elected a Member of Provincial Assemblies on six occasions and also served as Provincial Minister between 1988–1990 and 1990–1993. His cousin, Rana M Hayat Khan was MNA and Parliamentary Secretary from 1990 to 2007. Another cousin, Rana Muhammad Ishaq Khan, is a sitting MNA. His cousin, Rana M Hayat Khan is sitting MNA, elected in the current elections of 2013.
Khan traces its roots back to Karnal, Punjab, India. After the independence of Pakistan in 1947 his father migrated with Sufi Abdul Hameed to Lahore, Pakistan.
Khan is the father of seven children. Rana was educated at Govt. Islamia College, Civil Lines, Lahore
His eldest son, Rana Muhammad Javaid Iqbal is a lawyer and serves as an attorney at Lahore High Court (LHC) in Punjab, Pakistan.
Khan represents the constituency PP-184 (Kasur-X) as Member of Punjab Assembly of Pakistan and is a member of the Centre-right-conservative party the Pakistan Muslim League-N (Nawaz).
Khan was elected unopposed to the Provincial Assembly of the Punjab in a 1993 by-election but was unable formally to swear the oath and take his seat as a member before the dissolution of the Assembly in June 1993. He was then re-elected to the Assembly and subsequently also re-elected at the next elections, in 1997. Between 1997 and 1999 he served as a Provincial Minister and held the portfolios of Livestock and Dairy Development, Forest, Wildlife, Fisheries and Tourism.
In August 2008, Khan was appointed the acting governor of Punjab.
Having been elected to the Assembly for a fourth term, Khan was installed as Speaker on 11 April 2008, having been elected unopposed as such. As Speaker, Khan resides in the Speaker House Punjab in Lahore.
Khan was elected as the member of the executive committee of Commonwealth UK in June 2011 for a period three years.
Khan maintains strong family ties with the incumbent Chairman of Punjab Bait-ul-Maal Committee of Kasur Mr. Rana Abdul Sami Khan.
Before entering politics, Khan, practised law as a professional lawyer. He holds a L.L.B. degree from Punjab University, Pakistan. Khan served as secretary, Tehsil Bar Associate, Bar Association, Chunian during 1975–1976. He started his political career from Markaz Council and served as the chairman of Markaz Council and of Union Council, Phool Nagar during 1979–1983. He was vice-chairman of Zila Council, Kasur, between 1983 and 1987, then becoming its chairman for two consecutive terms between 1987 and 1993.
Khan is also an agriculturist by profession. His late father left behind more than 200 Acres of agricultural property in Tehsil Pattoki for his family to which Khan is an heir. His agricultural property is located at Lambay Jagir, Pattoki, Kasur.