India




345 m




Hindi




Uttarakhand




Nainital



Ramnagar (Hindi: ) is a small town and municipal board in the Nainital district of Uttarakhand, India. It is located approximately 65 kilometres (40 mi) from Nainital, the headquarters of the district.
Ramnagar is the gateway to the Jim Corbett National Park, the oldest national park and a famous tourist destination of India. Garjiya Devi Temple and Seeta Bani Temple located nearby also attract many visitors.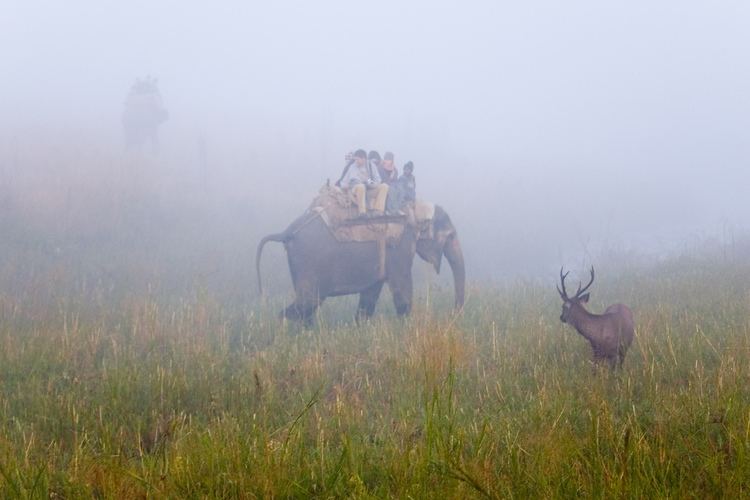 The ancient name of the place was Ahichhatra the capital of Northern Panchala of Mahabharata times. The town was re-established and settled by Commissioner H. Ramsay in 1856–1884. During the British Rule tea gardens were developed in Ramnagar and nearby villages in Uttarakhand. But these tea gardens have been closed since a long time. The nearby Jim Corbett National Park is named after the hunter turned conservationist Jim Corbett who played a key role in its establishment. It is the oldest national park in India and attracts lots of tourists from India and other countries.
Corbett National Park is 51 km north of Ramnagar. Established in 1936 as the Hailey National Park, Corbett National Park is the oldest and one of the most sought after national parks in India. It is Indias first sanctuary to come under Project Tiger. The park was named after the hunter-naturalist turned author and photographer, Jim Corbett who lived in the region and contributed in setting up this park. Visitors can move about in vehicles inside the park area after making entries at the respective gates. Tourists can drive their own cars inside Corbett or can hire vehicles from Ramnagar. Permits are necessary for entering Corbett Tiger Reserve. For day visits, permits are obtained at the respective Entry Gates. However, permits for night halts are issued at the CTR Reception Office at Ramnagar. Other places worth visiting in the region are the Crocodile Pool, Dhikala Machaan, Getheryo Library (Dhikala), Corbett Museum(Dhangadi gate), Corbett falls. There is a booking counter where bookings can be made for the guest house and Safari jeep.
Ramnagar, Uttarakhand Wikipedia
(,)http://upload.wikimedia.org/wikipedia/en/a/a0/Sambar_Deer_in_Jim_Corbet_National_Park.jpg(,)http://upload.wikimedia.org/wikipedia/commons/7/78/Bengal-Tiger_Corbett_Uttarakhand_Dec-2013.jpg(,)http://upload.wikimedia.org/wikipedia/commons/a/a9/United_Provinces_1903.gif(,)http://upload.wikimedia.org/wikipedia/commons/1/1a/Schematic_Tourist_Map_of_Uttarakhand.jpg(,)http://upload.wikimedia.org/wikipedia/commons/0/01/Srinagar,_Garhwal,_19th_century.jpg(,)http://www.nainitaltourism.com/Places-To-See-Visit-Sightseeing/Ramnagar-Dam.jpg(,)http://topnews.in/law/files/Uttarakhand-map.gif(,)http://previews.123rf.com/images/sundeepgoel/sundeepgoel1111/sundeepgoel111100006/11116830-120-yrs-old-suspension-bridge-over-Kosi-river-near-the-near-Garjiya-Temple-Ramnagar-Uttarakhand-Indi-Stock-Photo.jpg(,)http://i1.trekearth.com/photos/99012/tiger_in_fog.jpg(,)http://i.ytimg.com/vi/7itSrjhk8dI/0.jpg(,)http://i.ytimg.com/vi/GcnI0pk6TrA/hqdefault.jpg
(,)http://media-cdn.tripadvisor.com/media/photo-s/01/5f/8d/3f/jim-corbett-tiger-reserve.jpg(,)http://www.usrindusociety.org/images/about-us.jpg(,)http://www.nainitaltourism.com/Places-To-See-Visit-Sightseeing/Ramnagar.jpg(,)http://amarbharat.com/wp-content/uploads/2013/02/ramnagar-nainital.jpg(,)http://images6.mygola.com/619df759b4825ac8dae30bcd15ef84f4_1359298909_l.jpg(,)http://www.rchm.co.in/images/dhm.jpg(,)http://www.namastay.in/accoimages/travacco54630/Uttaranchal_Ramnagar_Resort_Tiger%2520Camp_0.jpg(,)http://www.rchm.co.in/images/Introduction.jpg(,)http://www.euttaranchal.com/tourism/photos/ramnagar-660846.jpg