Duration




Director

R. R. Chandran




Language

Tamil


Release date

28 September 1956





Similar

Nallavan Vazhvan, Rangoon Radha, Thaai Magalukku Kattiya Thaali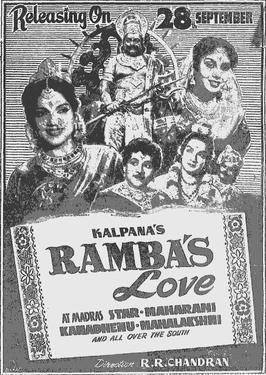 Rambaiyin Kaadhal (Tamil: ரம்பையின் காதல்) is a Tamil movie starring P. Bhanumathi, K. A. Thangavelu & M. N. Rajam. The movie is a remake of a 1936 movie by Central Studios, was released in 1956.
Contents
Plot
On one of her sojourns to the earth, the celestial nymph Rambha is struck by the serene, picturesque beauty of an obscure spot. Tired of the ostentatious splendour of the Indra's court, she is filled with a quiet rapture at discovering the idyllic, rustic charm of this earthly setting. So entranced is she by the place that she is late for her usual dance recital in the hall of the King of Gods. When Indra comes to know the reason for her belated arrival, he flies into a rage and curses Rambha to be transformed into a statue during the day in the very place that had so transfixed her.
In that hamlet, there lived a young simpleton who was always the target of everyone's taunts and tricks. A group of mischief mongers lead him blindfolded to the statue and performing a sham ceremony, declare that the statue is his wife. Rambha too falls in love with her gullible husband. The events that follow are hilarious at times, moving and heartwarming in other parts.
Crew
Producer: R. R. Chandran
Production Company: Kalpana Kala Mandhir
Director: R. R. Chandran
Music: T. R. Pappa
Lyrics: Thanjai N. Ramaiah Dass & A. Maruthakasi
Story: Epic
Screenplay: P. Raghu, R. R. Chandran & K. Narayanan
Dialogues: A. L. Narayanan
Art Direction: C. Raghavan
Editing: J. P. Raj
Choreography: T. C. Thangaraj
Cinematography: S. Rajamani
Stunt: None
Dance: Jeyanthi, Kamal, Santhi & Saroja
Soundtrack
The music was composed by T. R. Pappa. Lyrics were by Thanjai N. Ramaiah Dass & A. Maruthakasi. Singer is P. Bhanumathi . Playback singers are Seerkazhi Govindarajan, T. M. Soundararajan, S. C. Krishnan, S. V. Ponnusamy, K. H. Reddy, P. Leela, Jikki, P. Suseela, N. L. Ganasaraswathi & A. G. Rathnamala.
The song Samarasam Ulaavum Idame and Bagavaane Mounam Eno by Seerkazhi Govindarajan were very popular.
References
Rambaiyin Kaadhal (1956 film) Wikipedia
(Text) CC BY-SA
Rambaiyin Kaadhal (1956 film) IMDb