Rilli the traditional quilt sindh arts crafts

Ralli quilts are traditional quilts made by women in the areas of Sindh, Pakistan, western India, and in surrounding areas. They are just now gaining international recognition, even though women have been making these quilts for hundreds, maybe thousands of years. Rallis (also known as rillis, rellis, rehlis, and other names) are a cultural symbol for the regions where they are made. The most common uses are for a single person sized bedcover (used on the traditional wooden charpoy bed) or as small bag or eating cloth. Traditionally rallis were made at home, from recycled and hand dyed cotton cloth, for use by the family. Now there is some commercial production of rallis as colourful quilts, table runners and cushions and pillows. This production can be found in Sindh in Umerkot and Tharparkat as well as in the Indian States of Rajasthan and Gujarat.
Contents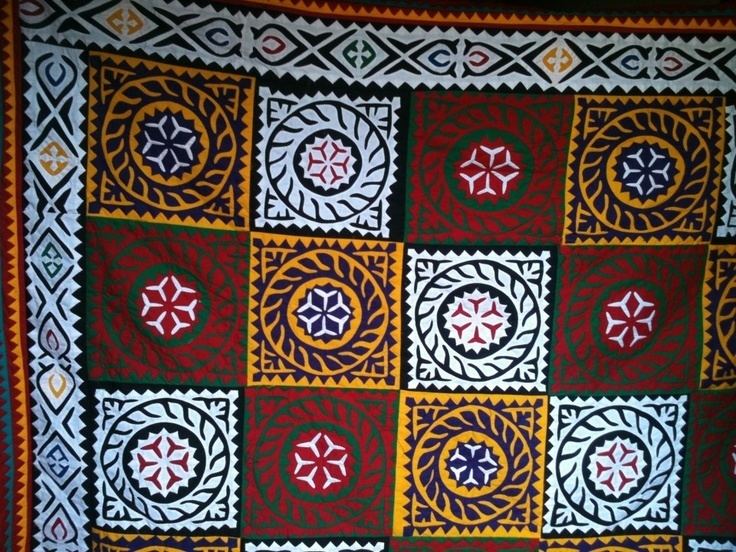 In the past decade, rallis have gained much popularity and notice. Articles about rallis have appeared in many popular American quilting magazines and other publications. Rallis have been exhibited for the first time in several quilt museums in the US with the first exhibit at the International Quilt Festival in Houston in 2003 Rallis were in the news as a result of the terrible flooding in Pakistan in August 2010. Many people escaped the floods with only their families and their rallis. Women in the refugee camps used their time to make more rallis to use or to sell.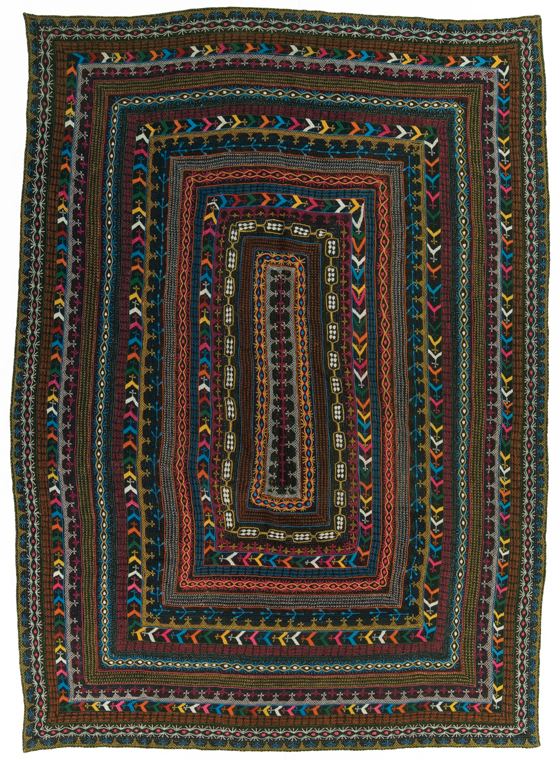 In Pakistan, Quilting Ralli Applique work particularly for women's clothing
Types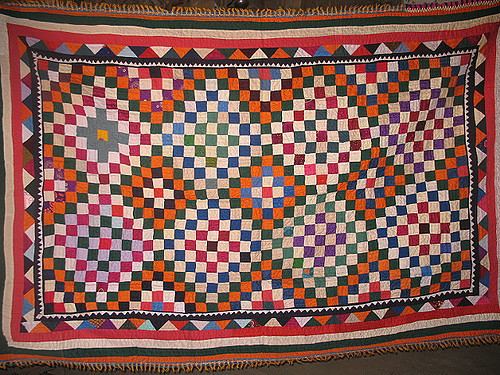 The rallis come in three categories of design: patchwork, appliqué, and embroidery. Patchwork is the most common and is found on most village beds. Many of the designs are very complex. The designs are not written down but are held in the women's memories and are passed down from mother to daughter. Applique designs are also found throughout the ralli region. Small squares of fabric are cut out (similar to a paper "snowflake"), edges are turned under and sewn unto the block fabric. Embroidery quilts are the speciality of a few nomadic groups especially the Saami. These quilts generally use a large piece of whole or patched cloth and using colored thread, have stitching in embroidery designs go through all the layers of the cloth. Many regions and communities have their own special colors and patterns in their rallis. The traditional colors of rallis are called "satrangi" or seven colors (white, black, red, yellow orange, dark green, blue and purple.) Some communities will prefer other colors; for example the Hindus like pink and light green and the Jogis like brown and orange.
Methodology
Rallis are made in a simple way with only fabric, thread, needles and scissors. The top of the quilt (the decorated portion) is usually the work of one woman. When the top portion is all pieced and sewn together, she will start to sew it together. A reed mat is placed on the ground. The cloth that is to be the back or bottom of the quilt is placed on the mat. On top of that is placed small scraps of fabric (usually 3-5 layers) that will be the filling of the quilt. These are basted to the bottom with large stitches. The top fabric is then positioned and it is sewn to the pieces starting from the outside edges. Often a group of women will work on sewing a quilt together (much like the western "quilting bee"). The stitches are often very close together (1/8-1/2 inch apart)in long parallel lines extending the length of the quilt.
Celia Eddy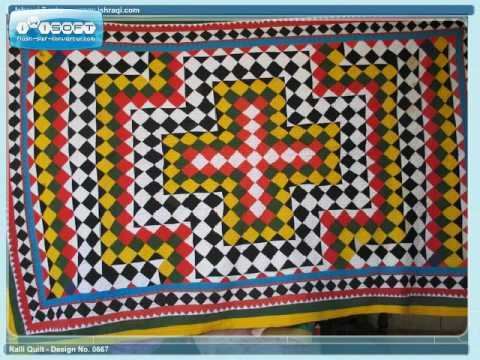 Celia Eddy, an English author and teacher of quilting, has a made detailed study of ralli quilts. She has written about ralli quilts in her book Quilted Planet. Of ralli quilts, she says that their patterns and colors "embody all the romance and exoticism of the East." Many rallis are made for dowries to this day, and the word 'ralli' means to 'mix' or 'connect'. One of the quilts pictured is a bar quilt of flying geese, surrounded by a thin sawtooth border and a wider border of square-in-a-square on point.
Patricia Stoddard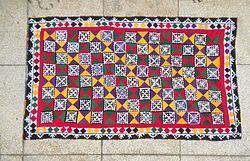 Patricia Ormsby Stoddard, Ph.D. is an American quilt researcher, lecturer and museum curator. She and her husband lived in Pakistan for several years, where she came to collect and research ralli quilts firsthand. She wrote the book "Ralli Quilts: Traditional Textiles of Pakistan and India" in 2003 and is the only book solely on rallis to this point. In addition to pictures of dozens of rallis, one of the interesting findings in that book is how closely the patterns of today's rallis follow the painted pottery of the Indus Region from over 3,000 years ago.
Stoddard worked to bring the beauty of rallis to the attention of the world. She held her first exhibit of rallis in Islamabad, Pakistan in 1998, followed by the International Quilt Festival in Houston in 2003; LaConner, Washington; Lincoln, Nebraska; and the European Patchwork meeting in France in 2011. She has also sent rallis to be part of many other exhibits. She has lectured nationally and internationally and has authored many articles for magazines. She has been a part of the annual exhibition of ralli quilts at the International Folk Art Market in Santa Fe, New Mexico, since 2004. A major exhibit is planned for Canada in 2013.
References
Ralli quilt Wikipedia
(Text) CC BY-SA