India




Baba Ghulam Shah Badshah University




Urdu, Gojri, Dogri




Jammu and Kashmir




Rajouri



Rajouri (r???o:r?) (Hindi: ) is a town and a municipal council in Rajouri district in Jammu and Kashmir. Rajauri is about 130 kilometres (81 mi) from Jammu city on the Poonch Highway. Rajauri is known as the Vale of Lakes as there are many lakes around the city. Baba Ghulam Shah Badshah University is based in the town.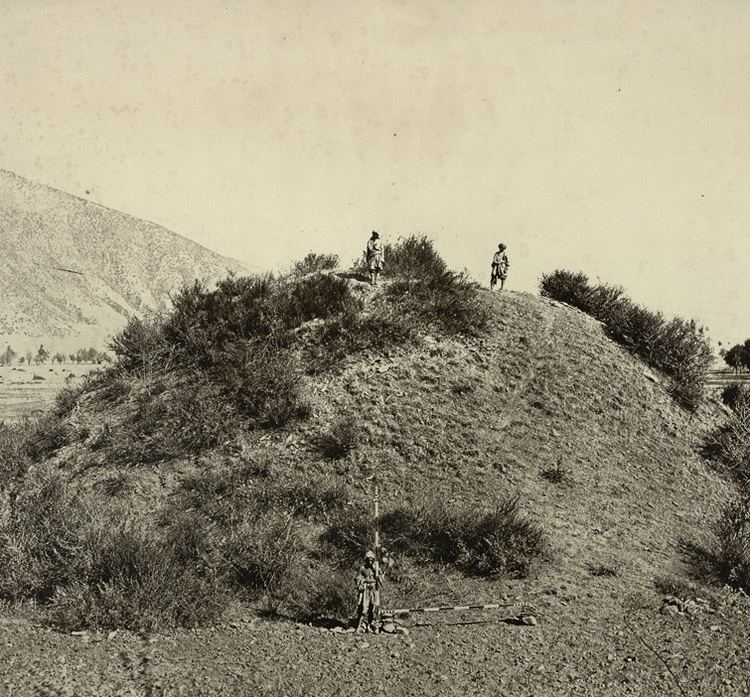 Rajouri saw some of the toughest fighting during Pakistani intervention in Kashmir during Operation Gibralter. The Town was initially Captured from Indian Army by under cover Pakistani Commandos with the aid of local Mujahideen, However because of overall failure in Operation and an all out war imminent with India, Pakistan withdrew its troops. Major Malik Munawar Khan Awan a Pakistani Commando officer who led the ferocious attack on Rajouri on the night of 6 August 1965 was later entitled with the name "King of Rajouri" by Pakistani Government.
Rajauri is located at 33.38°N 74.3°E? / 33.38; 74.3. It has an average elevation of 915 metres (3001 feet).
Rajauri Wikipedia
(,)http://upload.wikimedia.org/wikipedia/commons/1/16/Buddhist_tope_baramula1868.jpg(,)https://fbexternal-a.akamaihd.net/safe_image.php%3Fd%3DAQB5VMOLSv9BVgHY%26w%3D720%26h%3D547%26url%3Dhttp%253A%252F%252Fupload.wikimedia.org%252Fwikipedia%252Fcommons%252Fthumb%252Ff%252Ff6%252FRajouris2.jpg%252F720px-Rajouris2.jpg(,)https://d2h6m9ihko7kz3.cloudfront.net/data/pictures/7/3077/97169e619b394894890dc7cc7ad4b43a_featured_v2.jpg(,)http://upload.wikimedia.org/wikipedia/commons/0/02/Map_of_Vedic_India.png(,)http://www.esamskriti.com/photograph/4_9733.jpg(,)http://2.bp.blogspot.com/-KUyet58we_Y/TfSc2wf0-XI/AAAAAAAAAIo/R8w4qvwVjAc/s1600/chingas%252Bold%252B2.jpg
(,)http://www.buzzoop.com/wp-content/uploads/2014/07/Rajouri.jpg(,)https://c2.staticflickr.com/6/5166/5308875142_7ed25c79ec_z.jpg(,)http://www.tourmyindia.com/blog/wp-content/uploads/2014/02/rajouri.jpg(,)https://chalatmusafir.files.wordpress.com/2010/11/palma-mata-27.jpg(,)http://www.tourmyindia.com/blog/wp-content/uploads/2014/02/sonmarg.jpg(,)http://homegardenair.com/wp-content/uploads/2014/02/classic-garden-apk.jpg(,)http://homegardenair.com/wp-content/uploads/2014/02/classic-dreamland-garden.jpg(,)http://i.ytimg.com/vi/yXeedNe0qqg/0.jpg
(,)http://image6.buzzintown.com/files/venue/upload_8000/upload_original/376667-the-golden-dragon-bar-and-restaurant-rajouri-garden.PNG(,)http://theyoungbigmouth.com/wp-content/uploads/2014/04/california-boulevard-restaurant.png(,)http://img.grouponcdn.com/deal/u56bM75xSa8ypHkpaEJV/Zg-700x420(,)http://im.timescitycontent.com/blog/wp-content/uploads/2014/04/hadippa.jpg(,)http://theyoungbigmouth.com/wp-content/uploads/2014/04/the-california-boulevard.png(,)http://image6.buzzintown.com/files/venue/upload_12000/upload_original/392780-black-pepper.jpg(,)http://www.redfoodie.com/uploads/thumbs/business/global-food-factory-rajouri-garden-new-delhi/600x470_10262139_363173097179415_1953522135832847238_n-global-food-factory-rajouri-garden-new-delhi-2222ae90c9985aa36f6ad7937c11b633.jpg(,)http://indianfoodfreak.com/files/2013/06/XTC1.jpg(,)http://tunnn.com/upload/The_Royal_turban_Rajouri_1.jpg(,)http://indianfoodfreak.com/files/2013/11/CB-Interiors.jpg(,)https://images-grouptable.netdna-ssl.com/system/photos/photos/000/013/618/original/2.jpg%3F1402937375(,)http://c.meraparty.com/delhi/pho/aanch/aanch-photo1.jpg(,)http://eveningflavors.com/DynamicImages.war/Restaurant/Delhi/20554/base/profileBase/Z5iWClJwUY.JPG