Key people

Sanjay GuptaManish GuptaManoj GuptaAnupam Sinha

Type of business

A division of Raj Pocket Books
Rakshak nagraj tv serial episode 3
Raj Comics is a line of Indian comic books published through Raja Pocket Books, launched in 1986 by Rajkumar Gupta. Some of its most well known characters include Nagraj, Super Commando Dhruva, Bhokal, Doga, Parmanu, Shakti, Inspector Steel, Tiranga, Kobi/Bheriya, and Anthony. Raj Comics is credited as being one of the leading comic book distributors in India.
Contents
The company mainly publishes four types of comics: medieval fantasies, horror, mystery, and Superhero-centric comics, with a predominant focus on superhero content. Their comics are usually published in the Hindi language, with only a few titles and special editions in English. It has produced close to 35,000 comics to date and has been read by people in India and abroad. Raj Comics also publishes stories that do not focus on superhero characters in genres and topics such as mystery, Fantasy, and knight tales. The company also publishes an online exclusive web series named Raj Rojana, with a new page uploaded every day.
Raj Comics publishes in multiple formats, which include e-book, print, and motion comics. The company also sells hardcovers of their old and new comics, as well as bundled collections of their characters. A film based upon the character Doga is currently in planning as of 2014.
In 2008 Raj Comics was the focus of a research project conducted through The Sarai Programme at CSDS's Sarai Media Lab. The resulting research was published as a free PDF via the Sarai website.
King Comics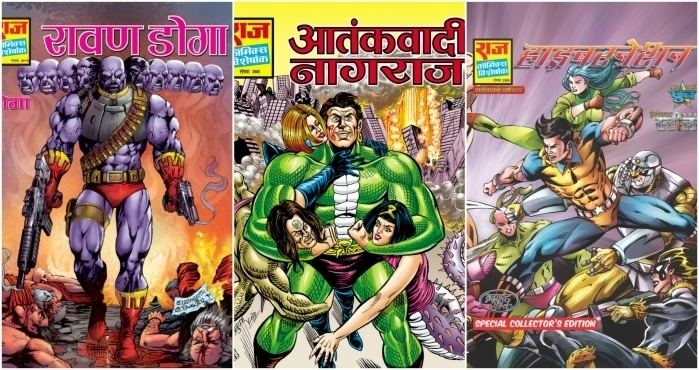 King Comics was a line of comics published through Raja Pocket Books. While the division was initially successful, its popularity declined and the line went defunct after only about 2-5 years of activity. It was intended that many of King Comic's characters would be merged into Raj Comics, but only a few characters such as Gamraj were merged. During its run the division published six monthly comics.
Jubilee And Kalpana-lok awards
In 2010 Raj Comics celebrated its Silver Jubilee by launching the Kalpana-lok Awards. Participants are nominated by editors at Raj Comics and can be voted on by readers and fans on the Raj Comics website.
Major and Active Characters
The major characters in Raj Comics divided among their respective
Members of team Brahmand Rakshak (Protectors Of the Universe):
Doga
Bheriya
Tiranga (comics)
Pret Uncle
Vakra
Members of team Research and Investigation Paranormalism [RIP] :
Gagan
Vinashdoot
Monty
Tahira
Characters based in ancient times :
Ashwraj
Tilismdev
Prachanda
Shukral
Adig
Comedy characters :
Fighter Toads
Gamraj
Bobby
Tuffy
Cherry
Damru
Inactive characters :
Abhedya
Blind Death
Liza
Vega
Goldheart
Hunter Sharks
Friendie
Jaadugar
Jasoos Topichand
Khayaliram
Raja
Johar
Barrister Vishwanath
Shaktimaan
Virat
Member of vistrit bhramand rakshAk ( extended protectors of universe)
samri
visarpi
Dhananjay
kaaldoot
pralayanka
faceless
karigi
Chandika
Blackcat
Cancer
Karigi
Members of W.A.R
badman(comics)
nakshatra
kaali vidhwa
inspector cheeta
Sheena
black cat
Lomdi
madam X
Kirtiman
adrishya hatyara
Ongoing series
Sarvanayak (Nearly all major RC characters)
Balcharit (Origin Series of Super Commando Dhruva)
Doga Unmoolan (Doga ) almost complete
Akhiri-Last Survivors ( Multistarrer)
Sarvanayak Vistar ( Multistarrer)
Rajnagar Rakshak ( Super Commando Dhruva, Inspector Steel)
Kshatipoorti ( Aatankharta Nagraj)
Upcoming series
Sheelbhang (Nagraj)
Kyon hai Doga (Doga)
Swamibhakt Rakhawale (Doga)
Pappu Doga (Doga)
Dead Gods (Multistarrer)
Mind Games / illusion - Series (Super Commando Dhruva)
Neo (Super Commando Dhruva)
Shaktirupa (Super Commando Dhruva)
Naag Granth (Narak Nashak Nagraj and Krodh Ketu Kobi)
Sins of the father (Anthony-Multistarrer)
Punarotthaan (Multistarrer)
Mahanagayan (Multistarrer)
Shuddhikaran ( Kobi - Bhediya)
Adharmeshwar (Multistarrer)
Agdam-Bagdam (Bankeylal, Nagraj, Dhruv)
Fighter Force (Fighter Toads and Hunter Shark Force)
Past and current series
Tune Mara doga ko ( Doga )
Thrill-Horror-Suspense Series
Huoooo-Series
X-Series
Friendy Series
Goldheart Series
Kaal Series (Ashwaraj, Gojo, Bhokal, TilismDev, Parmanu, Ins. Steel, Super Indian)
Nagayan Series (Nagraj-Super Commando Dhruv)
AmarPrem Series (Kobi-Bheriya-Bhokal)
Japan Series (Aatakharta harta Nagraj)
City Without A Hero (Multistar)
Khazana series (Nagraj)
Trifana Series (Nagraj)
Maharavan Series (Bhokal)
Dracula Series (Multistar)
Narak Nashak Nagraj origin Series (Narak Nashak Nagraj)
Crow Series (Anthony)
Born In Blood Series (Doga)
Express Way Series (Doga)
Aatankawadi nagraj series (Multistarrer)
Chamatakari bhokal series ( Bhokal )
Mard aur murda series ( Doga-antony )
Mahanagayan series
Parmatma series ( Parmanu )
Raktadaan series ( Doga )
Jalyash series ( Bankelal )
Tilismi olympic series ( Bhokal )
Raj 20 ( Amazing friends of nagraj )
Nagraj ke badd series (Nagraj )
Swarna nagri ( Nagraj-Super Commando Dhruv- fighter toads)
Belmunda ka khajana series ( Nagraj-Super Commando Dhruv- Fighter Toads)
Genius series ( Super commando dhurva )
Aadamkhoro ka swaraga series ( Super commando dhurva )
Axe series ( Super commando dhurva )
Aakhri dhurva series ( Super commando dhurva )
Pagal nagraj series ( Nagraj )
Made in India series ( Ins.Steel)
Wafa series ( Doga )
Doga diries series (Doga )
Doga collection series ( Doga )
Mritiyjivi series ( Narak nashak nagraj )
Makbara series ( Narak nashak nagraj-gagan-Vinashdoot-tahira- Monty)
Kar Bura ho Bhala series ( Bankelal )
Aag series ( Tiranga)
Tandoor series ( Doga )
Bankelal lok se lok series ( bankelal )
Bankelal nagar se nagar series ( Bankelal )
Nagina series (Nagraj )
Nahi bachega nagraj series ( Nagraj )
Rajnagar rakshak series ( Super commando dhurva- Ins. Steel)
Curfew series ( Doga )
Aarambha series ( Yoddha)
Hedron series ( Nagraj-Super Commando Dhurva )
Champion killer series ( Super commando dhurva)
Guru bhokal series ( Bhokal )
Game over series ( Super commando dhurva )
Andhi maut series ( Super commando dhurva )
Aagraj series ( Nagraj )
Doga Hindu Hai Series ( Doga )
Khoon series ( Doga-Super Indian)
Palra series ( Multistarrer )
Mai hu bheriya series (Bheriya- Nagraj-Super Commando Dhruv - Doga- Parmanu)
Ins.chetta series ( Doga )
Nikal pada doga series ( Doga )
Nagraj hai na series ( Nagraj )
Lavva series ( Nagraj )
Hatyara kaun series ( Super commando dhurva )
Candakaal series ( Super commando dhurva )
Khoni khandan series ( Super commando dhurva )
Aab marega parmanu series ( Parmanu)
Lakshya purusha series ( Doga )
Ek katora au Do Ktora Khoon series ( Thrill-Horror-Suspense)
Chamatakari bhokal series ( Bhokal )
Jalyash series ( Bankelal )
Germany series ( Aatakharta nagraj)
Italy series ( Aatakharta nagraj)
Raktabeej series( Multistarrer)
References
Raj Comics Wikipedia
(Text) CC BY-SA