Badawi was arrested in 2012 on a charge of "insulting Islam through electronic channels" and brought to court on several charges, including apostasy. In 2013 he was convicted on several charges and sentenced to seven years in prison and 600 lashes. In 2014 his sentence was increased to 10 years in prison, 1000 lashes, and a fine. The flogging was to be carried out over 20 weeks. The first 50 lashes were administered on 9 January 2015. The second flogging has been postponed more than twelve times. The reason for the most recent postponement is unknown, but the previous scheduled floggings were delayed due to Badawi's poor health. Badawi is known to have hypertension, and his health has worsened since the flogging began.
His wife, Ensaf Haidar, who took refuge in Canada after her life was threatened in Saudi Arabia, has said Badawi will not be able to survive further flogging. Ensaf Haidar has given a series of televised interviews about Badawi's plight, including at the 2016 Geneva Summit for Human Rights and Democracy.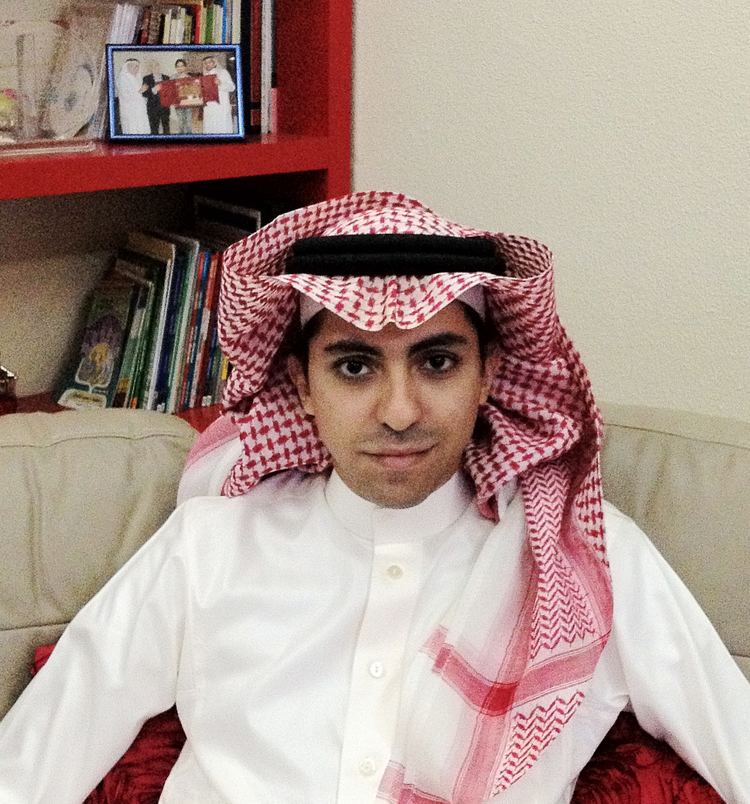 First detained on apostasy charges in 2008, Badawi was released after a day of questioning. He was prevented from leaving Saudi Arabia, and both his and his wife's bank accounts were frozen in 2009. The family of Badawi's wife subsequently filed a court action to forcibly divorce the couple on grounds of Badawi's alleged apostasy. On 17 June 2012, he was arrested on a charge of "insulting Islam through electronic channels", and the following December he was also cited for apostasy, a conviction which carries an automatic death sentence. Human Rights Watch stated that Badawi's website had hosted material criticizing "senior religious figures". Badawi had also suggested that Imam Muhammad ibn Saud Islamic University had become "a den for terrorists."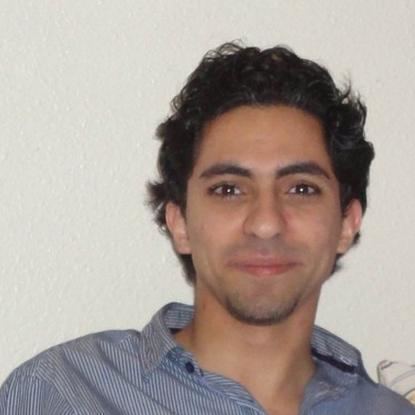 Following the 2012 arrest, Amnesty International designated Badawi a prisoner of conscience, "detained solely for peacefully exercising his right to freedom of expression", and said: "Even in Saudi Arabia where state repression is rife, it is beyond the pale to seek the death penalty for an activist whose only 'crime' was to enable social debate online". Calling for the government to drop the charges, Human Rights Watch stated: "The charges against him, based solely to Badawi's involvement in setting up a website for peaceful discussion about religion and religious figures, violate his right to freedom of expression".
Charged with "setting up a website that undermines general security", "ridiculing Islamic religious figures", and "going beyond the realm of obedience", Badawi appeared before a district court in Jeddah on 17 December 2012. The judge referred the charge of apostasy to a higher court, saying he "could not give a verdict in a case of apostasy." On 22 December, the General Court in Jeddah decided to proceed with the apostasy case. The higher court refused to hear the case and referred it to the lower court.
On 30 July 2013, Saudi media reported that Badawi had been sentenced to seven years in prison and 600 lashes for founding an Internet forum that "violates Islamic values and propagates liberal thought". The court also ordered the website closed.
On 26 December 2013, Badawi's wife Ensaf Haidar told CNN a judge had ruled that her husband should go before a high court for the apostasy charge which would result in a death penalty if convicted. On 7 May 2014 Badawi's sentence was increased to 1000 lashes,10 years in prison, and a fine of 1 million riyal (equal to about $267,000), for "insulting Islam". In mid-January 2015, the case was passed to the Saudi Supreme Court for review. On 1 March 2015, Badawi's wife told reporters that judges in Saudi Arabia's criminal court wanted to retry him for apostasy, and that if found guilty he would be sentenced to death.
A few days after a court hearing, Badawi's wife Ensaf Haidar started receiving anonymous death threats. She fled to Sherbrooke in Québec, Canada, with their three children. On 27 January 2015, Canadian politician Marc Garneau announced in an opinion piece that he and his political colleague Irwin Cotler would "[assist] Badawi's wife in her efforts to save her husband." Addressing the UN Human Rights Council as a representative of the International Humanist and Ethical Union (IHEU), Kacem El Ghazzali criticized Saudi Arabia for sentencing Badawi to 7 years in prison and 600 lashes, calling it a "gratuitous, violent sentence".
Badawi's lawyer Waleed Abulkhair (also transcribed as Abu al-Khair) was imprisoned after setting up Monitor of Human Rights in Saudi Arabia, a Saudi human rights organization. He is charged with "setting up an unlicensed organization" and "breaking allegiance with the ruler". His requests to license the organization were denied. On 7 July 2014, Abulkhair was sentenced to 15 years imprisonment, followed by a 15-year travel ban. The Specialized Criminal Court in Jeddah found him guilty of "undermining the regime and officials", "inciting public opinion", and "insulting the judiciary".
Abulkhair told the BBC Badawi had confirmed in court that he was a Muslim and had told the judge, "Everyone has a choice to believe or not believe."
On 9 January 2015, Badawi received 50 lashes before hundreds of spectators in front of a Jeddah mosque, the first in a series of 1,000 lashes to be carried out in over twenty weeks. The incident was condemned by Amnesty International's Deputy Director for the Middle East and North Africa, Said Boumedouha: "The flogging of Raif Badawi is a vicious act of cruelty which is prohibited under international law. By ignoring international calls to cancel the flogging, Saudi Arabia's authorities have demonstrated an abhorrent disregard for the most basic human rights principles." Prince Zeid bin Ra'ad of Jordan said: "Such punishment is prohibited under international human rights law, in particular the convention against torture, which Saudi Arabia has ratified. I appeal to the king of Saudi Arabia to exercise his power to halt the public flogging by pardoning Mr Badawi, and to urgently review this type of extraordinarily harsh penalty." Sebastian Usher, Middle East analyst for the BBC said he suspected that Saudi leaders had been unprepared for the scale of international protest in response to the flogging.
Raif Badawi's wife Ensaf Haidar said after hearing about the flogging: "What I felt was indescribable. It was an indescribable mixture of sadness and pain... It was painfully horrible to imagine what was happening to Raif." She also said, "I appreciate all the attention that Raif's case has been getting. I hope that all the governments in the world will intensify their efforts to pressure the authorities to stop what they intend doing [sic] to my husband. I believe they can do it, if they speak directly to the government in Saudi." Further lashings were postponed because the injuries from the first had not healed and Badawi was in poor medical condition. Badawi is a diabetic with a slim build. He was to receive the punishment 50 lashes at a time every Friday for 20 weeks until the sentence was complete.
There was an international campaign to free Badawi, comprising street protests, petitions, letters, and social media activity. The hashtag "JeSuisRaif", echoing Je suis Charlie, trended in January 2015. The readiness of some Saudi doctors to perform medical assessments prior to floggings has been questioned, and described as doctors participating in acts of torture. UK Foreign Secretary Philip Hammond raised the issue with the Saudi ambassador for the United Kingdom, and a Foreign Office spokesperson said: "We are seriously concerned by Raif Badawi's case. The UK condemns the use of cruel, inhuman or degrading punishment in all circumstances."
Eighteen Nobel laureates signed an open letter urging Saudi academics to condemn the flogging of Badawi. The Independent commented that many leading western scientists, uneasy about working with Saudi academics because of the "inexcusable" human rights situation there, may refuse to work with Saudis if the open letter is disregarded.
As of 22 January 2015, Amnesty International's petition to release Badawi from prison had nearly 800,000 signatories. Badawi was again a trending topic on Twitter a week later and his wife told the BBC that the family suffered "perpetual anxiety". Urging Canadian Prime Minister Stephen Harper to intervene with Saudi authorities, she also told an all-party group of Canadian Members of Parliament that "Raif's health condition is getting worse and worse" according to several doctors who had examined her husband in the previous week, and that she was "very concerned about him. It is impossible for a human being to be able to withstand 50 lashes weekly."
After the second series of lashes was postponed for the third time on 30 January 2015, with no reason given, there was hope that Badawi might be released. On 5 February 2015, it was reported that he had appeared in court the day before the next scheduled flogging. Amnesty and others again expressed concern. In Québec, where Badawi's family now live as refugees, and where his situation is seen as symbolic of the worldwide struggle for free speech, the public have taken up his case and protests in Sherbrooke and elsewhere are regular. The flogging was postponed a fourth time, with the postponement announced close to the scheduled time, keeping Badawi and those concerned about him in suspense. The following week, the National Assembly of Québec unanimously passed a motion condemning Badawi's flogging and calling on the governments of Québec and Canada to do everything possible to secure his freedom. By the end of February, the next flogging had been postponed seven times.
67 members of the United States Congress sent a bipartisan letter to the King of Saudi Arabia on 3 March 2015, calling for the release of all prisoners of conscience, including Raif Badawi and Waleed Abu Al-Khair. The same day, South Africa's Archbishop Desmond Tutu sent a letter to King Salman in support of Badawi, saying "We are all members of faiths that underscore mercy and forgiveness." On 6 March, a group of Northern Ireland trade union leaders including journalists Eamonn McCann and Felicity McCall published an open letter in the Belfast Telegraph condemning the "barbaric punishment" of Raif Badawi and calling for his release, and German journalist Constantin Schreiber announced that Badawi's first book would be published in April.
In early March 2015, Ensaf Haidar petitioned Sigmar Gabriel, Germany's Minister of Economic Affairs, to use his influence to free Badawi during an upcoming visit to Saudi Arabia. Katrin Göring-Eckardt, a German parliamentary leader, also called on Gabriel to bring up the case during his visit. As Gabriel left for Saudi Arabia on 7 March, protesters at the airport urged him to support Badawi. Gabriel said he intended to broach the subject of Badawi with the royal family. In Riyadh he told reporters, "I think it's quite normal that people the world over are interested in something like this. And that shouldn't surprise anyone here." He added, "The harshness of this sentence, especially the corporal punishment, is something unimaginable for us, and of course it weighs on our relations (with Saudi Arabia)." The Saudi Arabian government responded by rejecting criticism of its human rights record and asserting that "it does not accept interference in any form in its internal affairs."
Sweden's foreign minister, Margot Wallström, has spoken publicly about Badawi's case and other Saudi Arabian human rights issues. In March 2015, Saudi Arabia blocked Wallström's speech at an Arab League meeting in Cairo to which she had been invited as an honorary guest. Sweden then cancelled its longstanding arms agreement with Saudi Arabia. German news magazine Der Spiegel reported in March that Badawi had written from prison that he "miraculously survived 50 lashes [...] [while he was] surrounded by a cheering crowd who cried incessantly 'Allahu Akbar' ('God is greatest')". Protests and vigils outside Saudi embassies continued.
The Saudi Supreme Court upheld the sentence and there were fears Badawi could be flogged again after Friday prayers on 12 June 2015. The punishment was delayed again, hours before it was due to be inflicted. Badawi's wife believes he is in poor physical and psychological health, and fears his sentence may be "a slow death".
The Independent reported in October 2016 that sources close to Badawi's family fear flogging could restart imminently, literally at any time during the year. Governments with ties to Saudi Arabia are urged to make representations on Badawi's behalf. Ensaf Haidar, Badawi's wife said, "I was totally shocked by the news. I'm worried and scared that they'll carrying [sic] on whipping him. (...) I'm concerned about Raif's health, which is not good - either mentally or physically [sic]. I really hope that Saudi Arabia will not go ahead and implement the sentence. I would hope that the Saudi authorities strip Raif of his citizenship and then deport him to Canada to be with us." Badawi has reportedly been on sustained hunger strike at least twice. Stephane Dion Canadian Foreign Affairs Minister said "We are trying to have the most accurate information possible, because if this information is true, it would be shameful. Canada completely condemns this type of lashing."
Raif Badawi married Ensaf Haidar in 2002 in Saudi Arabia, and they have two daughters and a son.
Badawi's wife and children were granted political asylum by the Government of Canada in 2013.
Liberal International Prize for Freedom 2016.
Prix Voltaire 2016, from IPA Freedom to Publish committee.
Sakharov Prize 2015, from the European Parliament, for the defence of freedom of thought and human rights
Swiss Freethinker Prize 2015, shared with Ensaf Haidar and Waleed Abulkhair
Sir Karl Popper Prize 2015, from the Österreichischer Freidenkerbund
PEN Pinter Prize 2015, shared with British poet and literary critic James Fenton
Strasbourg Award Medal of Honor 2015
Franco-German Journalism Prize 2015
Thomas Dehler medal, from the Free Democratic Party, Germany
Press Freedom Prize 2015, from Reporters Without Borders, Sweden
Freedom of Speech Award 2015, from Deutsche Welle
Courage Award 2015, from the Geneva Summit for Human Rights and Democracy
Aikenhead Award 2015, from the Scottish Secular Society
One Humanity Award 2014, from PEN Canada
Netizen Prize 2014, from Reporters without Borders.
One of the Leading Global Thinkers of 2015, By Foreign Policy.
One Of The Boss List 2015, By AskMen.
Honorary citizenship, Sherbrooke, Québec
Honorary Title for Freedom of Expression, bestowed by Brussels University Alliance (VUB and ULB), 2015.
Honorary membership, PEN Canada.
Honorary membership, PEN Denmark.
Honorary membership, PEN Germany.
Man Of The Year 2015, By The Fifth Column.
Nobel Peace Prize, 2015
Nobel Peace Prize, 2016
2014 Freedom Award, from Spain's Individual Freedom Party (P-LIB)
Freedom to Publish Prize 2014, from the International Publishers Association.
Badawi, Raif; Schreiber, Constantin, editor; Hetzl, Sandra, translator, 1000 Peitschenhiebe : weil ich sage, was ich denke [1000 Lashes: Because I Say What I Think]. Ullstein, Berlin 2015, ISBN 978-3-550-08120-0 (germ.)
Badawi, Raif; Schreiber, Constantin, editor; Ahmad Danny Ramadan, translator, 1000 Lashes: Because I Say What I Think. Vancouver 2015, ISBN 978-1771642095 (Canada)