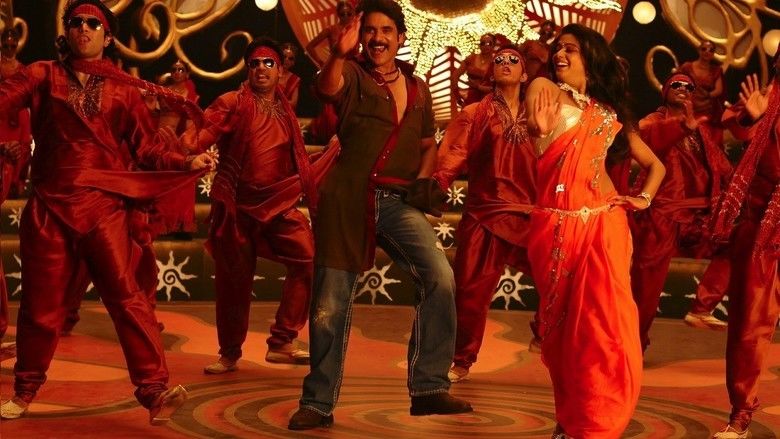 The movie starts out with Devudu (Tanikella Bharani) trying to kill an innocent man, who is against Pedhanna (Pradeep Rawat). Devudu is killed by Jairam, who is one of Peddhanna's followers. Peddhanna is the biggest goon in all of AP, and he has 3 major followers who murder people for him. These followers are, Jairam, Bhagavan, and Nanda (Sushant Singh). The next scene introduces Satya Reddy (Akkineni Nagarjuna), getting off a truck and getting involved in a fight, which is between GK (Dev Gill) and Peddhanna. Satya helps GK, who makes him his partner. Satya only works for money. GK's love, Sirisha (Anushka Shetty) falls in love with Satya. Satya sees Ashtalakshmi (Priyamani) being chased by rowdies. Satya saves her. Ashtalakshmi and her Brahmin family start living with Satya for few days.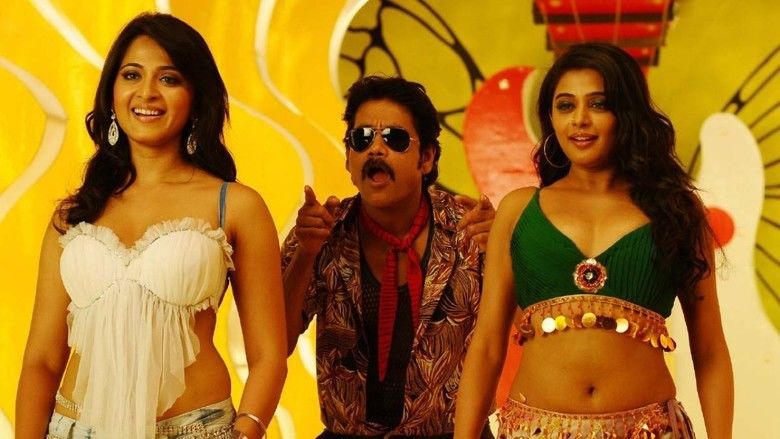 Satya tells a good plan to GK, to fight Peddhanna. In one fight, Jairam captures Sirisha, Satya saves her by killing Jairam. Ashtalakshmi also loves Satya. Sirisha meets a tattooed friend in pub which Satya notices. In a restaurant during lunch with Sirisha and Ashtalakshmi, Satya is attacked by Bhagavan's henchmen. Satya goes to Bhagavan's house and kills him and his son, which makes Peddhanna his enemy.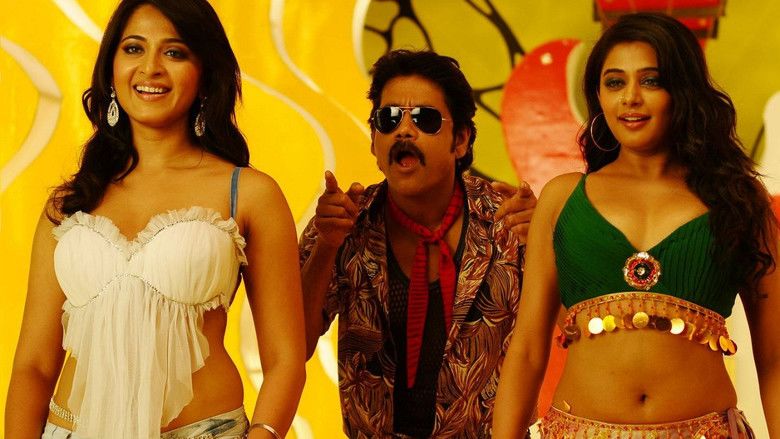 The movie jumps to Satya's flashback, where they find out that Satya is an orphan, taken into care by a loving doctor, who is like Mother Teresa. The people of this city, Kadapa, worship her like a god. Devender, a political campaigner and brother of Pedhanna, kidnaps the doctor's daughter, to make sure she tells everyone to vote for him, to which she does not do. Satya enters on cue and beats up Devyander's men. It is later found out that he has to get 72 crores to keep the doctor's hospital running, as Devyander's dad donated the land to the hospital. Peddhena kills the doctor by his 3 goons as Satya has beaten his brother. So, to get the money and to take revenge against the goons who killed the doctor, Satya joins GK.
At this time, Satya is back in his house and is dealing with Ashtalakshmi's parents who are weeping uncontrollably. He finds out that Peddhanna's men long ago kidnapped Ashtalakshmi's elder brother. Satya goes to the headquarters where her brother is held and frees him. Then he finds out that Ashtalakshmi is not who she says she is, and actually robbed 180 crores from Peddhanna with the help of her brother.
Ashtalakshmi and her brother run away to Bangkok. Satya finds out and takes Sirisha with her to Bangkok. It is revealed that Ashthalakshmi doesn't have money, Sirisha and Ashtalakmi are friends, and Ashtalakshmi is the same tattooed girl from the pub. Satya reveals to them that he knew about their plan from the start and that he has the 180 Crores. He is actually here to Kill Nanda as Satya knew Ashtalakshmi's brother will follow Nanda to get his share of money. Satya kills Nanda, returns to India,Peddhanna kidnaps Satya's younger sister and tries to kill her and bury her, Satya kills Peddhanna, saves the hospital, and takes his revenge.
Jay Dev Banerjee as Director Of Indigo Creation
Kamakshi Movies & Indigo Creation Production House
Music composed by S. Thaman. Lyrics were written by Ramajogayya Sastry. Music released on ADITYA Music Company. The audio was launched on 29 November 2010 amidst the fans at the Shilpa Kala Vedika in Hyderabad. Almost all the members of Akkineni family, including Akkineni Nageswara Rao, Nagarjuna, Naga Chaitanya, Akhil, Sumanth, and Sushanth, besides hundreds of fans, attended the function. Akkineni unveiled the audio CD and handed over the first piece to Nagarjuna.