Slovenia




4.9 km2



Radovljica ([ɾaˈdoːu̯ljitsa]; German: Radmannsdorf) is a town in the Upper Carniola region of northern Slovenia. It is the administrative seat of the Municipality of Radovljica.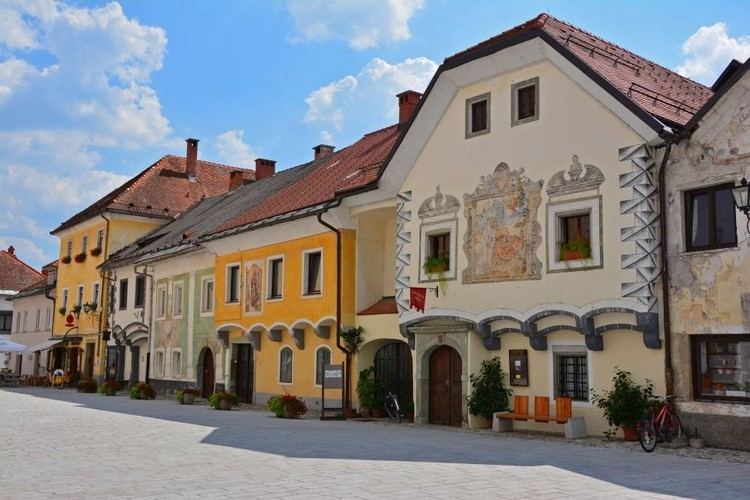 The town is located on the southern slope of the Karawanks mountain range, about 6 km (3.7 mi) of Lake Bled at the confluence of the Sava Dolinka and the Sava Bohinjka, both headwaters of the Sava River. It lies at the southern end of the Radovljica Plain (Slovene: Radovljiška ravnina, also known as Dežela).
Radovljica station is a stop on the Tarvisio–Ljubljana Railway line.
The settlement around a church built at the behest of the Patriarchs of Aquileia in the March of Carniola was first mentioned in a 1296 deed, it received market rights from Duke Henry of Carinthia in 1333. In the 14th century it was held by the Carinthian Counts of Ortenburg, was inherited by the Counts of Celje in 1418, and, upon the death of Count Ulrich II of Celje in 1456, fell to the Habsburg Emperor Frederick III.
With the Duchy of Carniola, Radovljica was incorporated into the Inner Austrian lands of the Habsburg Monarchy and received city rights. From 1867 until 1918, the town's post office used the bilingual name Radmannsdorf - Radovljica. The town was in the Cisleithanian (Austrian) side of the Austro-Hungarian Empire after the Compromise of 1867 and the administrative capital of a district of the same name, one of the 11 Bezirkshauptmannschaften in the crown land of Carniola.
Radovljica is the site of a mass grave associated with the Second World War. The Andrejc Field Mass Grave (Slovene: Grobišče Andrejčevo polje) is located in a meadow in the middle of a back-filled trench west of the settlement, between the road to Lesce and the railroad. It contains the remains of two unidentified prisoners from the former prison in Radovljica.
Notable people that were born or lived in Radovljica include:
Anton Füster (1808–1881), politician
Ivan Hribovšek (1923–1945), poet
Anton Tomaž Linhart (1756–1795), playwright and historian
Ivan Vurnik (1884–1971), architect
Radovljica Wikipedia